News
JMU Debate Team
---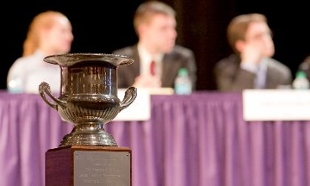 The James Madison University Debate Team is one of the top collegiate policy debate teams in the country heading into the second half of the season.
Out of 127 schools in its category, JMU is currently ranked third by the National Debate Tournament and fifth by the Cross Examination Debate Association.  This marks the latest in the season that the Madison debate team has been ranked this high.  The team finished fifth and 12th in the nation, respectively, last year.
The rankings are based on team members' performances in regional and national tournaments during the academic year. The JMU Debate Team competes with teams from Harvard University, Northwestern University, Liberty University, the University of Kansas and other traditional forensics powerhouses.
JMU director of debate Dr. Michael Davis attributes his team's success to preparation. "I preach process over product," he said. "You have to prepare well to win."
Davis said varsity debaters — those with the most tournament experience — spend 30 to 40 hours a week researching a predetermined policy topic that will be used in tournament debates for the entire year. This year, the topic is whether government should increase incentives or decrease regulations to spur the use of alternative energy sources.
"Our varsity debaters do the equivalent of a master's thesis worth of research every semester — on top of their other coursework," Davis said.
The other key to the JMU Debate Team's success is camaraderie. Davis and his assistant coaches work hard to foster a sense of family among team members.  "Like any family, we have our ups and downs. We win together and we lose together." 
JMU debaters are coming off strong showings at the Franklin R. Shirley Classic at Wake Forest University as well as at the Appalachian State University Debate Tournament.
At Wake Forest, the varsity teams of Oliver Brass ('13) and Nick Lepp ('16) and Elyssa Miller ('14) and Jacob Bosley ('14) went 4-for-4 in the preliminary rounds.  Their records keep them in good standing in the national rankings as they seek to qualify for the National Debate Tournament in the spring.
At Appalachian State, Cari Rand ('15) and D.J. Spiker ('14) made it all the way to the semifinals in their first varsity tournament of the year as a team, eventually losing to a team from the University of Michigan.  In the novice division, the team of Sam Kelaher and Samantha Perez also advanced to the semifinals.  Perez was named the top speaker in the novice division, while Spiker and Kalaeher were ranked fifth best individual speaker in their respective divisions.
The JMU Debate Team will take the next month off before beginning the stretch run to nationals in the spring. 
###
Dec. 5, 2012
Published: Wednesday, December 5, 2012
Last Updated: Thursday, October 20, 2016