Being the Change
Mike Thomas ('76, '77M)
---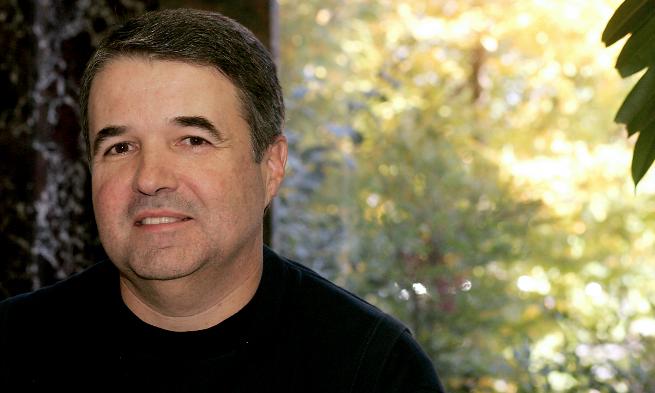 The 2012 Inez Graybeal Roop Distinguished Alumni Service Award winner Mike Thomas ('76, '77M) knows the value of giving back to JMU
By Kelley Freund ('07)
Mike Thomas ('76, '77M) says the personal side of his life is what's most important to him. And for the Thomas family, JMU is personal. Thomas and wife Kathy ('78) have sent three daughters to JMU. Two have graduated and met their significant others at Madison. And Thomas says the people he's closest to all these years after graduating are the people he was close to at JMU.
Thomas is a senior vice president at Booz Allen Hamilton, a strategy and technology consulting firm that currently employs over 175 JMU alumni. Prior to joining the company in 2010, he was the president of Lockheed Martin's. But despite a demanding professional career, Thomas has not forgotten what's personal. He's taken the time to give back to his alma mater, in the past serving as a member of the Presidential Search Committee, and currently serving as a member of the Board of Visitors and the College of Business Executive Advisory Council. Because of his dedication to the university, the JMU Alumni Association has awarded Thomas with the 2012 Inez Graybeal Roop Distinguished Alumni Service Award. The award recognizes alumni who have given notable service in promoting the mission of the university or alumni association and is named in honor of Inez Graybeal Roop ('35), a former member of the Board of Visitors and the JMU Alumni Association Board of Directors.
"I hope the award serves as a role model for my kids and those that I have encountered at JMU over the years, that service back to JMU is a meaningful thing in one's life," says Thomas. "I came back and got involved because a Dean asked me to re-engage. I stayed and continue because I have seen how powerful the network of faculty, staff, administration, alumni, friends of the university and students can be in positively changing lives. This award really does recognize all those people and what they do each day. I never expected to receive any awards; the enjoyment of these past 14 years or so alone has been more than I ever expected."
Thomas has many great memories as a student, but he claims his most memorable Madison experiences have come as an alum, many years after graduation, when he began to dedicate time back to JMU. About 14 years ago Thomas was contacted by Dr. Robert Reid, then the Dean of the College of Business and was asked to join the COB Executive Advisory Council.
"I had been back a few times, gone to a Homecoming or two, donated to the Duke Club, and frankly thought about JMU mostly as a great memory," says Thomas. "But as I became more involved in the COB and the overall university, as I learned about the needs of higher education in Virginia and as I reconnected with a school that I remembered so positively, it became obvious to me that giving back could be as important as anything I do."
While serving on the COB EAC, Thomas and the rest of the committee spent a lot of time talking about the need for additional support to the faculty, as the salaries of JMU faculty were below the national averages. When Thomas and his wife thought about how fortunate they had been in their lives and how they owed so much to what they learned at JMU, they decided to create a faculty support fund. The fund was named in honor of Thomas' father.
"I thought about how my parents had never doubted that my sister and I would go to college and always encouraged us to get a college degree. This commitment, coupled with a desire to really tell my parents how much their support meant to me, made this an easy investment. This also is one of my great memories from JMU. I framed and gave the certificate that described the Faculty Support Endowment to my father, and he was speechless. He ended up hanging it in their house in a place of honor and I realized that it was a fitting tribute to parents that had really provided me the chances that allowed my sister and I to succeed. My dad passed away this year, and his face when I gave that frame to him is one of my great 'Dad' memories."
Another great memory for Thomas came back in 2010 when he was asked to be the commencement speaker for the COB graduation. "My daughter was in that class, Dean Reid had become one of my best friends and I really didn't want to let either of them down," says Thomas. "Having done hundreds of speeches over the years, that one made me more nervous than any I had done before or since. Thankfully it turned out very well and become another chapter in my over 30 years of great JMU memories."
Thomas has worn many different hats for the university, from student, to parent, to BOV member, each teaching him something new. "In each role I have learned more about the university and the history and needs of the institution," says Thomas. "I am more convinced than ever that this university is a special place that ties all of us together. I have come to better understand the power of giving back, not just financially, but also of time. JMU really was the beginning of what I was able to achieve professionally and personally, and for that I am grateful and hope to see many more Dukes have the chance to succeed and pay it back."
Published: Saturday, September 1, 2012
Last Updated: Thursday, October 20, 2016