News
Google Online Marketing Challenge professor
---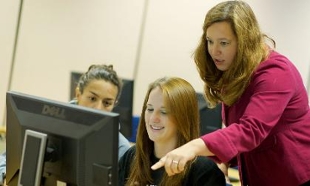 When your classes have produced three of the past five winners of the Americas Region in the Google Online Marketing Challenge, and placed 20 other teams in the top 100 worldwide, the search is on for the secret to your success.
Dr. Theresa B. Clarke, professor of marketing in James Madison University's College of Business, first incorporated the Challenge into one of her classes in 2008. "That year we were a finalist in the Americas Region — in the top 10," she says. The following year, despite having to recruit a group of students to take a class centered around the competition for no credit, one of Clarke's teams won the region, which covers all of North, Central and South America. A JMU team won the Americas region again in 2011.
This year's winning team consisted of 2012 marketing graduates Rachel Krause, Nicole Behr and Tara Goode, who created a Google AdWords campaign for Triple C Camp, a youth camp and challenge course in Charlottesville. The JMU trio outperformed more than 11,000 students in 86 countries. This weekend, Clarke and the students will tour the Googleplex in Mountain View, Calif., where they will receive laptops and other prizes.
Challenge participants create online marketing campaigns with AdWords, a pay-per-click service using customized search terms, to drive traffic to their client's website. The teams choose a business or nonprofit organization that has not previously used AdWords, then meet with the client to discuss their marketing and advertising needs. From those discussions, the students develop a four-page report that outlines their strategy. Then, armed with a $250 budget, they execute that plan over a period of three consecutive weeks. At the conclusion of the campaign, each team drafts an eight-page report, which is sent to both the client and to Google for judging.
"The project is unique in so many ways," Clarke says. "It's real world, it's real life, it's real money and real time. The students learn about AdWords, then they have to go out and learn client skills and how to run a live marketing campaign, which entails everything from developing the ad to bidding on key words to optimizing client accounts, testing and research."
For the past three years, Clarke has taught the class in the spring as a special-topics course (Marketing 490), with the Challenge serving as her students' semester project. Clarke runs the course, which is capped at 15 students, very much like a graduate seminar. "I like to have students up and running on the first day of class," she says. "That requires that they do some studying over winter break, and they take what amounts to a final exam in the second week of the course. But I expect them to know the material so they can apply it. I set the bar high, but they always seem to rise to the occasion."
For purposes of the Challenge, Clarke divides her classes into teams, each with a team leader, a strategist — a big-picture person who serves as the primary contact with the client — and an analyst, who is focused on achieving results during the campaign. "That works pretty well," she says.
Clarke then provides students with some proven strategies to help their clients stand out along the congested information superhighway. "From a marketing standpoint, when consumers are searching, it's important to get your product or service to appear high in the list of results," she says. "There's a big difference between an ad appearing on page one versus page two."
She also invites JMU alumni who are working in the field of online advertising, such as Janet Driscoll Miller of Search Mojo in Charlottesville and Joe Erfe and Andrew Nelson of Silverback Strategies in Alexandria, to be guest speakers throughout the semester. "I have so many alumni, especially the younger ones, who get satisfaction from coming back and talking to students," she says.
This month, Clarke will lead a workshop at the Marketing Management Association Fall Educators Conference on how to successfully implement the Challenge in the classroom. And for the first time in the spring, she will offer the Google Online Marketing Challenge experience as part of a special-topics course, Online Search Advertising, within the Innovation MBA Program at JMU.
Dr. Clarke blogs at http://theresabclarke.com. 
###
By James Heffernan ('96), JMU Public Affairs
Published: Friday, September 21, 2012
Last Updated: Thursday, October 20, 2016