Miss America 2008 Brings Battle Against Eating Disorders to JMU
---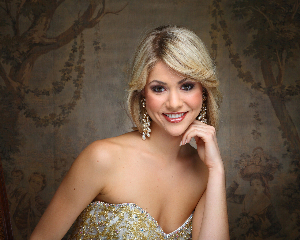 Miss America 2008 Kirsten Haglund's experiences with eating disorders are personal and powerful. 

As a sufferer of anorexia for several years who encountered firsthand the epidemic of eating disorders in the entertainment and beauty industries, Haglund will share her unique story and brand of advocacy with the Shenandoah Valley and James Madison University community as part of the school's observance of National Eating Disorders Awareness Month. 

Haglund will speak at 8 p.m., Friday, Feb. 20, in the Grand Ballroom of the Festival Conference and Student Center on the JMU campus. 

She created the Kirsten Haglund Foundation for Eating Disorders to bring hope and a voice to those struggling with eating disorders. Her advocacy has included lobbying Congress to pass legislation improving mental health efforts aimed at reducing the prevalence of eating disorders as well as doing interviews for "EXTRA," "Entertainment Tonight," "Access Hollywood" and SHAPE Magazine to expose the dangerous reality of eating disorders. 

For information about the Haglund Foundation, visit www.kirstenhaglund.org. 

Who: The public and the JMU community are invited to hear Miss America 2008 Kirsten Haglund share her story. 

When: 8 p.m., Friday, Feb. 20 

Where: Grand Ballroom, Festival Conference and Student Center, JMU Campus 

Parking: Free parking for the public will be available without a permit in the D3, C11 and C12 lots off of Carrier Drive and the D5 lot off of Alumni Drive bordering the Festival Center. View a map of the area 

Information: Event is free. For more information, contact Ann E. Simmons, coordinator of JMU Student Wellness and Outreach, at 568-3503 or simmonae@jmu.edu. 
Published: Thursday, February 5, 2009
Last Updated: Monday, February 26, 2018