Adult Programs at the Arboretum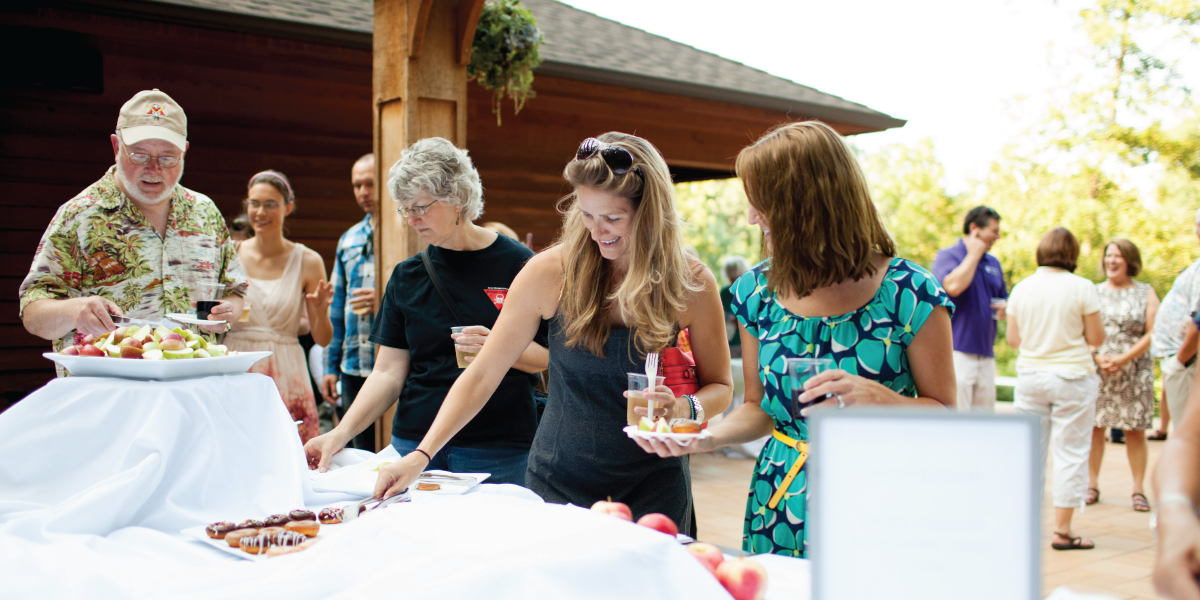 Summer Wine & Cheese 
Featuring | Shenandoah Valley Organic
FRIDAY, AUGUST 31 | 5:00 - 7:00 PM
Join us for our Summer Wine & Cheese featuring local poultry company, Shenandoah Valley Organic (SVO). Working with local and regional farms, SVO produces non-GMO, humanely raised and certified USDA organic chicken to grocery stores along the East Coast. We'll learn about how they got started and about their partnerships with local farms. Special menu item featuring SVO chicken, cheese platter and 2 drink tickets included in registration.
$20/GUEST
Fall Tai Chi
Instructor | Grayson Pritchard (Blue Heron Healing Arts)
FRIDAY, SEPTEMBER 7 | 12:30 - 1:30 PM
FRIDAY, SEPTEMBER 28 | 12:30 - 1:30 PM
Join instructor Grayson Pritchard of Blue Heron Healing Arts for Friday lunchtime sessions of light exercise among the trees and stillness in the EJC Arboretum! These are outdoor sessions and intended to be on the lawn or within the Arboretum, see rain dates below.
9/7 rain date will be 9/14
9/28 rain date will be 10/5
Meet at the Frances Plecker Education Center.
$12/Class
Monarch Tagging Workshop
Instructor | Gail Napora
SATURDAY, SEPTEMBER 15
11:00 AM | Lecture & Tagging (Pavilion)
12:00 PM | Butterfly Release (Monarch Waystation/Butterfly Garden)
Join us with butterfly expert, Gail Napora on Saturday September 15th for our Monarch Tagging event. Gail will give a lecture about tagging migratory monarchs followed by a demonstration and release. The lecture is free and open to the public.  $12 registration fee (per butterfly) for tagging and releasing your own monarch (butterflies provided) a small quantity will be available for day-of registration as well. Meet at the pavilion, release at 12:00 PM at the Monarch Waystation/Butterfly Garden.
$12/Monarch 
Zen and the Art of Composting

Instructor | Joe Murray
WEDNESDAY, SEPTEMBER 19 | 1:00 - 4:00 PM
Join us for an informative workshop all about the world of composting!
Compost happens. Just as there is an impulse in nature to build complex structures from simple compounds, there exists a corresponding impulse to disassemble those complex structures back into their original simple compounds. The art of composting works with the latter impulse, orchestrating the interaction between compostable materials and organisms responsible for the disassembling. Composting connects us with the "other-half" of nature associated with dying, death, and decay. Often, gardeners focus solely on the germination, growth and harvest of plants and pay scant attention to the remainder of the greater cycle at play in their gardens. Actively becoming involved in composting provides a sense of balance to the garden and gardener as well.
About the Instructor
Joe's educational background includes the completion of a Masters of Science in Plant Pathology from Virginia Tech, Masters in Teaching from the University of Richmond, and a Bachelor of Arts in Biology from Radford University. Joe is a certified arborist, certified utility arborist, and a Tree Risk Assessment Qualification instructor. Joe, a former college biology professor, is a trainer for the Mid-Atlantic Chapter of the International Society of Arboriculture and an independent consulting arborist.
$35 Registration
Fall Plant & Bulb Sale

FRIDAY, SEPTEMBER 28 - SATURDAY OCTOBER 6
**CLOSED SUNDAY SEPTEMBER 30** 

9:00 AM - 3:00 PM
Come celebrate fall here at the Arboretum! Shop from a wide array of bulbs, native perennials, shrubs and trees! This ongoing sale takes place at the Frances Plecker Education Center/Ernst Tree Terrace.  
ANNUAL ADULT & FAMILY EVENTS
February
Valentines Day Carriage Rides
Frances Litten Botanical Lecture & Invitiational Reception
Birding Workshop

March
Workshop and/or Wine & Cheese

April
Rise Good Friday & Easter Sunday Services
Guided Bird Walks
Guided Wildflower Walks
Spring Celebration Plant Sale

May
Guided Wildflower Walks
Wine & Cheese on the Ernst Tree Terrace
Mother's Day Carriage Rides
May Plant Sale with Butterfly Release

June - August
Summer Brown Bag Lunch Lecture Series

September
Wine & Cheese on the Ernst Tree Terrace
Fall Plant & Bulb Sale

October
Remarkable Trees Field Trip
Fall Color Carriage Rides
Monarch Tagging Workshop

November
Workshop

December
Festive Greens Workshop
Holiday Carriage Rides
April - October | Private Greenhouse Shopping by Appointment
$50 Minimum purchase required, call (540)-568-3194 to schedule
Edith J. Carrier Arboretum
780 University Blvd, MSC 3705
Harrisonburg, Virginia 22807
(540)-568-3194 | ejcarboretum@jmu.edu 
Grounds | Free to the public | Dawn to dusk | 365 days a year
Frances Plecker Education Center | Monday - Friday | 8 AM - 4 PM