Adult Programs at the Arboretum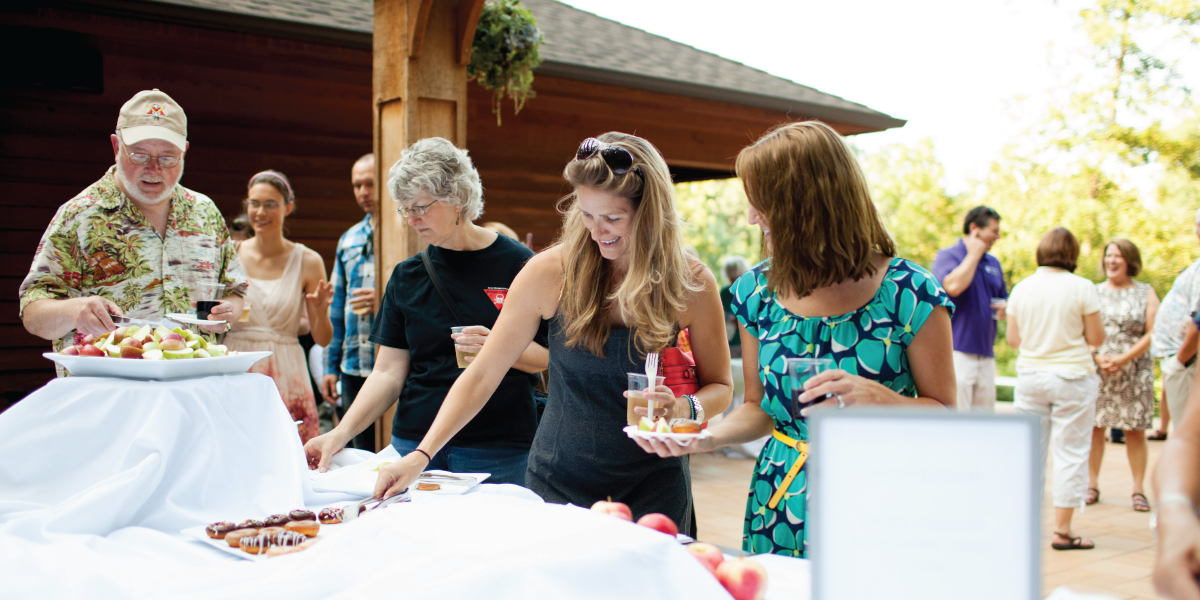 Summer Tai Chi Series
Fridays | 6/1, 6/8, 6/15
1:00 - 2:00 PM
Join instructor Grayson Pritchard of Blue Heron Healing Arts for a lunchtime session of light exercise among the trees and stillness in the EJC Arboretum! This is an outdoor event and intended to be on the lawn or within the Arboretum. Meet at the Frances Plecker Education Center.
Cost: $12/Class
Summer Brown Bag Lecture Series 
Bring your lunch, join us for a new guest speaker each week! 
Wednesdays| 6/27, 7/11, 7/18, 7/25, 8/1
12:00 - 1:00 PM
**Location varies, please take note**
6/27 | From Monticello to Your Backyard: Growing Your Own Historic Garden
Speaker, Sari Carp
The history of Virginia's gardens mirrors that of its people. We'll survey Virginia garden history from the time of the early settlers until today, and discuss how to incorporate elements of historic gardens on your own property. "Heirloom" plants are making a comeback, especially in areas like ours, with such a rich history and so many historic houses still standing. We'll talk about how to design a historically accurate garden, or simply integrate a few historically relevant trees, flowers, and edibles into your current landscape.
Frances Plecker Education Center
---
7/11 | The Feltmaker's Journey, Passion and Process
Artist, Dabney Kirchman
July-August artist, Dabney Kirchman will discuss her inspirtaion, motivation and technique behind her felt wall hanging artwork with a special short felt-making demonstration. 
Frances Plecker Education Center
---
7/18 | Edible Wilds
Speaker, Diana Woodall
Diana Woodall has been a yoga teacher since 1990,  and is a life-long self-taught  lover of herbs and wild foods.  She grew up eating lambs quarters, wild elderberry jelly, and milkweed pods. Her mother was a fan of Euell Gibbons, author of Stalking the Wild Asparagus.  Come learn about edible wild plants that are easy to identify, super nutritious, and probably in your back yard, including:dandelion, elderberry, lambs quarters and amaranth. 
Pavilion  
---
7/25 | Bird Migration
Speaker, Diane Lepkowski
We'll visit the amazing ability of many birds to navigate between breeding and wintering grounds, some traveling thousands of miles each way.   How do they succeed, and what perils might they face?  We'll also highlight some of the species that rely on the Arboretum for their rest-stops along the way.
Frances Plecker Education Center
---
8/1 | Master Naturalists Info Session
Speaker, Sandy Greene
Have you ever been curious about the Master Naturalists and want to know more? Join Sandy Greene for an informative talk where she'll give an overview of the organization and answer any questions you may have including how to get involved! 
Pavilion
ANNUAL ADULT & FAMILY EVENTS
February
Valentines Day Carriage Rides
Frances Litten Botanical Lecture & Invitiational Reception
Birding Workshop

March
Workshop and/or Wine & Cheese

April
Rise Good Friday & Easter Sunday Services
Guided Bird Walks
Guided Wildflower Walks
Spring Celebration Plant Sale

May
Guided Wildflower Walks
Wine & Cheese on the Ernst Tree Terrace
Mother's Day Carriage Rides
May Plant Sale with Butterfly Release

June - August
Summer Brown Bag Lunch Lecture Series

September
Wine & Cheese on the Ernst Tree Terrace
Fall Plant & Bulb Sale

October
Remarkable Trees Field Trip
Fall Color Carriage Rides
Monarch Tagging Workshop

November
Workshop

December
Festive Greens Workshop
Holiday Carriage Rides
April - October | Private Greenhouse Shopping by Appointment
$50 Minimum purchase required, call (540)-568-3194 to schedule
Edith J. Carrier Arboretum
780 University Blvd, MSC 3705
Harrisonburg, Virginia 22807
(540)-568-3194 | ejcarboretum@jmu.edu 
Grounds | Free to the public | Dawn to dusk | 365 days a year
Frances Plecker Education Center | Monday - Friday | 8 AM - 4 PM