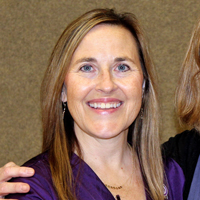 Karen Rothenberger ('93) joined Women for Madison's Executive Advisory Council in 2019, serving as a speaker at the 2019 Women for Madison Summit. She and her husband, John ('88), are steering committee members for Unleashed: The Campaign for James Madison University. In 2019, they established the John C. and Karen H. Rothenberger Centennial Scholars Scholarship.
They also support the Duke Club, Madison Vision Fund, A. Jerry Benson Faculty Engagement Award Endowment Endeavor, Leslie Flanary Gilliam Center for Entrepreneurship, Rothenberger Faculty Development Fund, College of Business, Art Auction (2007), Centennial Scholars and the Karen ('93) and John ('88) Rothenberger Endowment for the Center for Entrepreneurship.
Karen earned her health science degree with a concentration in athletic training from JMU.  She worked in the health and fitness industry and earned fitness instructor certifications through AFAA (Athletics and Fitness Association of America) and ACSM (American College of Sports Medicine).  She then earned her master's degree in occupational therapy from Midwestern University. She has worked in a variety of settings as an occupational therapist, including Loudoun Hospital and as an adjunct professor at Shenandoah University. Karen currently works as a Health Educator for Inova's Healthy Plate Club, which is a program aimed to reduce obesity rates among low-income children by helping them develop a love for vegetables and healthy eating. She has volunteered extensively with Fairfax County Public Schools, the Connelly School of the Holy Child, Girls on the Run of NOVA, Together Rising and the Board of Rustic Love Vienna.
Currently, Karen's daughter is a freshman at James Madison University in the Music Industry program.
She enjoys cooking, traveling, practicing yoga, and spending time with her two children.