Spotlight Series on Environmental Stewardship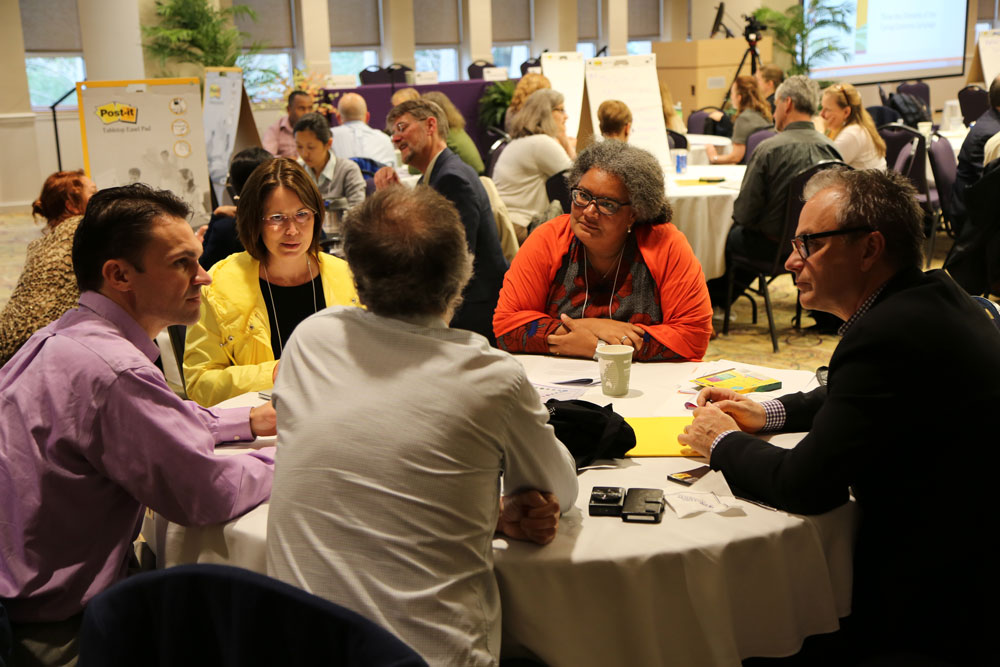 The Spotlight series showcases some of the many sustainability efforts underway at JMU.
JMU's Cultivating the Globally Sustainable Self Summit Series Selected for the 2017 Sustainable Campus Index 
James Madison University's Cultivating the Globally Sustainable Self Summit Series was selected for inclusion in the 2017 Sustainable Campus Index (see p. 16). Published by the Association for the Advancement of Sustainability in Higher Education (AASHE), the 2017 Sustainable Campus Index includes innovative and high-impact initiatives from colleges and universities that submitted a STARS (Sustainability Tracking, Assessment & Rating System) report in the 12 months prior to July 1, 2017.  According to AASHE, initiatives selected to be showcased demonstrate "significant leadership" and a "commitment to advance sustainability." The Summit Series is highlighted under the category of "Campus Engagement." Learning, civic, and community engagement are highly emphasized at JMU (see http://www.jmu.edu/engagement/).          
Cultivating the Globally Sustainable Self is a multi-year, multi- institution initiative that promotes transformative teaching and learning in research and practice. The Summit Series is centered on five broad and urgent global themes: 1) conflict resolution, 2) human rights, 3) sustainability, 4) global education, and 5) religious and cultural understanding. Hosted by JMU, this endeavor brings together leading interdisciplinary scholars, educators, and practitioners from around the world to confront these issues head-on and apply themselves to unlocking human learning, understanding, and engagement (see https://www.jmu.edu/summitseries/CGSS-Summit-Overview.pdf). 
This knowledge-building and knowledge-sharing approach is built upon a "four-legged stool," which includes 1) establishing a local and global community of scholars, educators, practitioners, students, and leaders, 2) developing and publishing a book  that includes theory-to-practice chapters by teams of summit participants, 3) producing a Summit Media Package, which translates Summit projects into accessible and compelling short films, and 4) creating web-based academic curricula and materials that further explain and explore Summit concepts and findings.   
The Summit Series was initiated in 2015 and meets annually to further a wide range of activities and projects, many of which will be featured in a forthcoming book with Oxford University Press entitled Cultivating the Globally Sustainable Self: How the Human Species Might Fulfill its Potential.  With the aim of reaching and teaching a young audience of high school and college students in the U.S. and internationally, the next step is a video initiative that features youth-driven and youth-captured film content from at least six different countries across six different continents / regions (Africa, Asia, Australia, Europe, North America, and Central America). 
The fourth annual Summit will be co-hosted by the University of Alberta July 5 – 8, 2018 at the Centre for Arts and Creativity in Banff, Canada.  For more information, please see www.jmu.edu/summitseries.