School of Integrated Sciences - Symposium Photo Guidelines
We highly encourage students to schedule a photography session; however, students who are experienced in photography may opt to submit their own photo.
Schedule your Photo Session
Prepare for your session
Talk with your team members and decide beforehand
Where would you like your photo taken – in a lab or out in the field? (If you plan to take photos in a lab, make sure to bring safety goggles.)
Pick an activity. What would you like to be doing in your photo? What is your project about? (Sitting in front of a computer is not an activity.)
Photos should appear candid and natural – working on your project as you normally would.
Do not look directly at the camera and avoid pointing. (See example below.)
Make an appointment
The team lead is responsible for scheduling photos through the online booking system. https://jmucisemediabooking.10to8.com.
Dress appropriately
Dress as you would on a normal day of classes.  Please do not wear sweatpants, pajamas, any clothing that is ripped or torn, or clothes with words or graphics, or that could be considered inappropriate. Formal business attire is discouraged.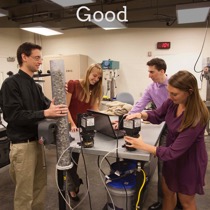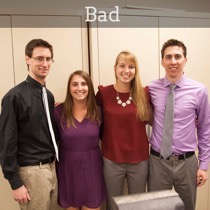 Submit your Own Photo
High resolution only
Photos should be at least 3200 pixels wide by 2400 pixels tall.
Quality photography
Photos should have good lighting. They must be clear, and crisp, not blurry. Avoid trash and clutter. Take several photos of your group so we have many options to choose from.
Candid photos
Everyone in the group should be interacting and working together on the project, not looking directly at the camera.
Students who opt to submit their own photo should do so prior to the deadline. If submitted photos do not meet our criteria for the publication, students will need to schedule a photography session.
Stock Photography
Students (teams) who do not wish to be pictured in the book may choose a stock photo (that closely represents the project) from one of the following websites.  
The photo must meet the guidelines and be submitted for review to cisemarketing@jmu.edu prior to the deadline.