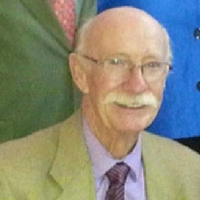 Dr. Jay Kain Years - 1980-1989
Dr. Jay D. Kain, Ph.D (Minnesota), assumed the position of department head in the Fall of 1980. Dr. Kain, a well-known art educator, had been hired to fill the position of department head through a national search. Dr. Kain's tenure also lent leadership to a number of major events. Professional accreditation by the National Association of Schools of Art and Design (NASAD), initiated under Dr. Diller, was completed in 1981. Dr. Kain also oversaw the final approval of the department's MFA in studio art degree, JMU's first "terminal degree". The newly approved program enrolled its first students in 1980-81 and officially "hooded" the first graduates in the commencement ceremonies of 1984. The department continued to evolve as a professional program with an emerging regional and national reputation. Significant events during Dr. Kain's tenure included JMU's sponsorship of the 1981 Southeast College Art Conference, SECAC, initiation of the Orkney Springs (VA) Summer Art Workshop in 1982, and the statewide Virginia Art Teachers Summer Workshop held on the JMU campus in 1983.

By the mid-1980s, JMU's growing academic reputation had begun to see a large increase in the number of applications for general admission. In response, JMU began to use increasingly stringent academic standards to guide its admission's process. These new standards tended to perceive applicants wishing to major in art as being less competitive in their academic preparation.

Dr. Kain responded to this situation by helping establish an art portfolio review process to advise the Admissions Office about students wishing to major in art at JMU.  Adoption of a portfolio review saw the number and quality of art majors increase significantly in the years following its adoption, and today provides the school with a stable enrollment of talented students. With the portfolio review process in place, the department wished to expand its ability to attract and enroll top students. 
Towards this goal, Dr. Kain helped initiate an annual art auction to raise money to be used for art scholarships. In the beginning, department faculty and students worked together under the leadership of Professor Jack McCaslin to organize the event, and raised about $9000 over a three year period. Then, beginning in 1986, during Dr. Kain's last full-year as department head, the auction received the organizational assistance and financial support of the JMU Foundation. With the Foundation's help, a larger, more publicly visible "JMU Art Auction" was first held in April 1987 at the JMU Convocation Center. Organized as a black-tie affair, exhibit and dinner extravaganza, this formal event was later moved to the Homestead Resort. 

Dr. Kain stepped down in 1987 into full-time teaching with responsibility as the coordinator of the art education area. At the time Dr. Kain rejoined the faculty, the program offered three undergraduate degrees, two graduate degrees, and had graduated over 340 students. Dr. Kain retired in May, 2000 as Professor Emeritus.
The Jay Kain Award is given to rising Junior and Senior Art Education students.