The Office of Fellowships and Awards (OFA) assists undergraduate students, graduate students, and alumni in applying for national and international fellowships and awards. 
Please contact our office by email or phone, or make an appointment to meet with one of the fellowships advisors. 
Our offices are located in Lakeview Hall.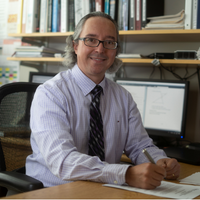 Director, Fellowships and Awards
Dr. Klebert Feitosa became the interim Director of the Office of Student Activities, Initiatives and Research (STAIR) and the interim Director of the Office of Fellowships and Awards (OFA) at JMU in July 2023. He joined STAIR as the interim coordinator of Student Creative Activities and Research in 2022. Dr. Feitosa has extensive experience with undergraduate research; since his arrival at JMU in 2010, he has mentored more than 40 students in research projects. His students have presented their projects in national and international conferences, written undergraduate honors theses, and have co-authored research papers. Dr. Feitosa is a professor in the department of Physics and Astronomy where he has been a student adviser for 13 years. In 2020 he received JMU's Roberts Endowment for Faculty Excellence Award.