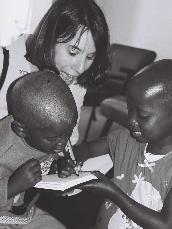 Amy Porter Zacaroli ('88)
Caring for AIDS orphans
"What are we really on this Earth to do?" Amy and her husband Alec weren't afraid to ask themselves that tough question. In 2003, they got the answer. After watching a documentary film about an orphanage in Cape Town, South Africa, that takes in HIV/AIDS infected children, they determined they would make a difference in the lives of people more than 7,000 miles away. The couple founded 25:40, a nonprofit organization dedicated to helping children in South Africa survive the HIV/AIDS epidemic. The organization mission has become a family identity. The Zacarolis always take at least one of their four children with them on their regular visits to South Africa. "I hope they realize that it's our heart and our mission to help others and that's what we're on earth to do," Amy says. The organization continues to grow, finding support across the country. Amy and Alec have inspired others to see the people of South Africa as their neighbors and reach out to change the world for the better.
"We want to help the children in South Africa but also [want] to open hearts here. People have talents, passion and energy; and we want people to find the gift they have and channel that into something good. It may not be 25:40 or kids in South Africa, but everyone has a gift and opportunity for something. Each of us must follow our heart."