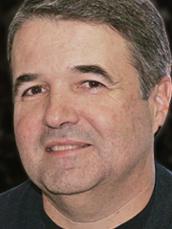 Mike Thomas ('76, '77M)
Industry leader
President of Lockheed Martin's Global Security Solutions Group, Mike leads 8,000 engineers in providing cutting-edge information for national security. As premier providers of geospatial intelligence — analyzing imagery and geospatial data, and generating information that describes physical features and activities on earth — the company delivers some of the most technically advanced systems in the world. An industry leader, Mike is a founding member and is on the board of directors of the Intelligence and National Security Alliance and also serves on the board of directors for the U.S. Geospatial Intelligence Foundation. Despite his demanding career, Mike makes time for his alma mater — in fact, JMU is a family tradition. He serves on the College of Business' Executive Advisory Board; and he and his wife Kathy, also a JMU alum, serve as co-chairs of the CoB Centennial Campaign Committee. The couple recently endowed a faculty support fund in honor of Mike's father. And, two of the couple's four daughters are currently attending JMU.
"I believe JMU continues to provide an environment focused on building teams and working collaboratively with others in the classroom. This culture of collaborative learning and team building has served me in all aspects of my career."