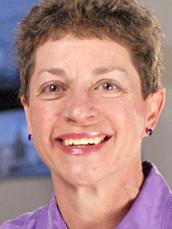 Elizabeth Swallow Physician and School of Music benefactor
When Elizabeth moved to Harrisonburg 20 years ago to practice obstetrics and gynecology, she needed to live near the hospital. "That meant I could just walk over the hill and attend performances at JMU," she notes. Her purchase of a hundred-year-old piano moved her to call JMU professor Eric Ruple and ask for lessons. What happened next was perfect harmony. Through Ruple, she was introduced to Jeff Showell, director of the School of Music, who shared his vision for the school's future. Her decision to donate $1 million to elevate the school to All-Steinway status — the first Virginia school with that designation — was a "no brainer" according to Elizabeth. "It's a winner for the students, faculty and School of Music — and the most fun donation I have ever made!" Today, her energy, vision and generosity have given birth to the Madison Bluestone Art Case Steinway, which will be a central part of the university's centennial celebration. Ultimately, the piano will be sold, and the proceeds will go to the School of Music. Elizabeth also conceived the JMU Centennial Steinway Series — 100 Steinways of all shapes and sizes, one for each year of JMU's history, each with a painting by artist Mia LaBerge ('92) on the piano's music rack. Proceeds from the sale of these pianos will go toward supporting the new Performing Arts Center and to scholarships in the School of Music. "People are amazed that I didn't attend JMU but donate to the university. It's important to give back to the community and school that give me so much," she says. "I only wish it helped me play better."
"Imagine being good at something, being really good at something. That should be encouraged. What would life be without beauty and music and art and dance?"