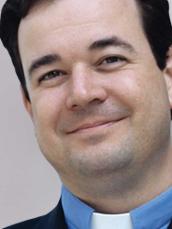 The Rev. Charles Douglas 'Doug' Smith ('93)
While an undergraduate, Doug Smith ('93) found "There was a whole series of sociology professors — including Mary Lou Wylie, Gail Funke and Cecil Bradfield — who really raised up a generation of us asking, 'What will you do for others?'" He'd planned for law school, but accompanying Bradfield on a May-session journey through Appalachia convinced the now-Rev. Smith that "God was calling me to work for 'the least of these'" (Matthew 25:40). As executive director for the Virginia Interfaith Center for Public Policy, the young Disciples of Christ minister conducts lobbying, research and educational campaigns on behalf of the poor and marginalized. Lobbying may tap talents that Smith — whose wife is the former Cindy Whitt ('93) — might otherwise have used in courtrooms. He points out that convincing legislators of a moral policy — such as preventive healthcare for the indigent — is more do-able if he can argue that it ultimately saves taxpayers money. Doug has returned to campus to give back. He has conducted campus workshops on social-justice advocacy.
"JMU has one of the best programs for helping prepare students for the practical aspects of compassion."