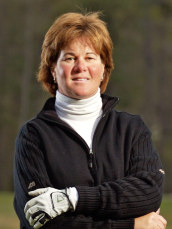 Janet Phillips ('88)
Golf professional and community leader
Janet Phillips' passion for the game of golf began when she was just 8 years old and eventually led her to JMU, where she played on the women's golf team while earning a degree in sports management. Now co-owner of the Windy Hills Sports Complex in Midlothian and a member of the Ladies Professional Golf Association, you might think Janet has fulfilled her dreams. But helping others has become just as important, and being able to help others through the game of golf makes it even better. In addition to forming golf leagues for juniors, women and seniors, Janet organized the Richmond area's first Special Olympics for golf. Her efforts have not gone unnoticed and in 2006 she was named Professional of the Year by the LPGA, an honor that is helping her to do even more. "The award has opened some doors for me to do more public speaking and clinics for special interest groups," Janet says. "Never did I think what I do from my heart would turn into such a prestigious award."
"Working with the underprivileged kids brings me back to the basic things in life that matter. Just respecting each other and giving them positive encouragement let's them see that they can make a difference in this world."