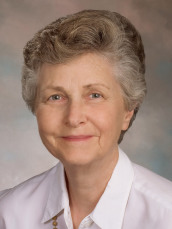 Mary Ellen Garber Otto ('58)
Community leader
Sometimes it is the everyday contributions that make a difference. With the audacity to imagine what's possible and a quiet determination to follow through, Mary Ellen has helped to transform her Fulton Hill community in Richmond, Va., one step at a time. Determined to keep her community from suffering the fate of irreversible decline all-too-common in many older city neighborhoods, she put her energy into creating vital community resources. She helped launch a community association newsletter, which is hand-delivered to every Greater Fulton Hill household. She spent countless hours volunteering at the neighborhood civic association, an essential element for combating crime, engaging youth and building future community leaders. Mary Ellen is a passionate believer in the lifelong value of reading. "At JMU, my study of psychology and education trained me to teach all elementary-level subjects," she says. "I also saw … how reading skills can change the lives of young people." She helped make reading a primary focus at the Fulton Hill Neighborhood Resource Center: "She reads with children from a neighboring daycare every Wednesday and is always trying to figure out how to get more parents in the habit of reading to their children," says director Mary Lou Decossaux. Currently Mary Ellen is laying the groundwork for a new neighborhood elementary school tailored to local needs. She's a shining example of how small, incremental changes can lead to an extraordinary record of accomplishment. "My mother has advocated for many years from a core set of values, respecting other people and helping them live with dignity. As a role model she's hard to beat," says her son Steve.
"Mary Ellen Otto can be counted on to do the right thing, whether popular or not, and she inspires the will to do right in others," — Fulton Hill neighbor Paul DiPasquale, sculptor of the Arthur Ashe Monument located on Richmond's historic Monument Avenue.