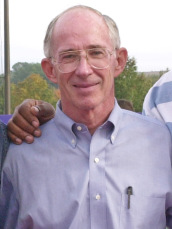 Challace McMillin Professor of Kinesiology
About 60 young men, at least some of them looking like pretty good athletes, showed up one September afternoon in 1972 for the organizational meeting of Madison College's first football team. Madison's first NCAA football coach, 30-year-old Challace McMillin, was pleased with the turnout. His task was daunting. Establish a football program to help propel the former woman's teachers college into a new future. The new coach did a little last-minute recruiting by wandering through the lines for class registration in Godwin Gym. The team ended that first season 0-4-1 and didn't score a point all year. Just three years later, however, the team enjoyed an undefeated season. Challace went on to coach Madison teams that produced a multitude of NFL players, including Super Bowl Champions and contenders and NFL All-Pros Gary Clark, Charles Haley ('87) and Scott Norwood ('82). Challace also set the stage for a future generation of Dukes who would bring home a national Division 1-AA championship three decades later.
Five-time Super Bowl winner Haley said of his former coach, "Coach McMillin, you're a father figure for me. I didn't always listen well, but I heard everything he said.He taught me how to appreciate the game. — I learned that lesson well. He taught me to set my goals high."