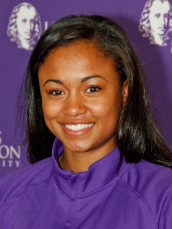 Dawn Evans ('11)
NephCure Foundation ambassador
When JMU basketball standout Dawn Evans discovered she had focal segmental glomerulosclerosis, a serious kidney condition, the All-American athlete faced a tough choice. She could attack this disease and use it to inspire a community or she could continue to pursue an already impressive basketball career. She chose to do both. In 2010, Dawn agreed to serve as ambassador for The NephCure Foundation, an organization committed to raising awareness and research dollars to combat kidney disease. Early in 2011 she was the nation's top scorer in collegiate women's basketball. On and off the court, Dawn inspires. "I know firsthand how FSGS can affect your life, and I hope that by working together we can raise enough awareness that the research dollars can be found to put an end to FSGS," Dawn says. As headliner for the Sign on for Dawn campaign, Dawn reaches out to the community by raising awareness and encouraging others to contribute to the cause. She hopes to raise $10,000 for research through the program. Thousands of people have been diagnosed with FSGS, and this young athlete is adamant about using her time both on and off the court to tackle her condition and to inspire others to make a difference.
"When someone tells me that I can't do something, as cliché as it sounds, I really feel like I have to fight to prove that I can."