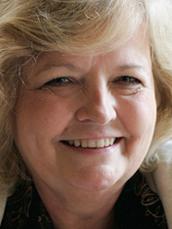 Cynthia Coolbaugh ('70)
International Atomic Energy Agency
When international politics heats up, so does life for Cynthia Coolbaugh ('70), whose Madison years were capped by a student protest that found her and her family disinvited from her own commencement. Years later, handling conflict has become routine for Cynthia in her role as Section Head for Conference Services for the International Atomic Energy Agency. She doesn't dwell on the bomb threats the IAEA receives whenever she's setting up for international conferences and gatherings on the applications and developments in nuclear energy (whether weapons crises, cancer screening, stolen art identification or even tsetse fly reduction). The rewards, however, can be just as sensational. Back in December 2005, her agency and director, Mohamed ElBaradei, received the Nobel Peace Prize. She shared in the celebration while helping to arrange the international festivities held in Vienna (her home) and Oslo. Cynthia — whose family includes son David Doane ('94) — found her Madison psychology major helpful through the years of campus and career politics. Today this former Madison "radical" is proud of her agency's international perspective on world affairs and wishes more Americans would share it.
"I have the best job in the agency, simply because I work with people from all departments and nations," she says.