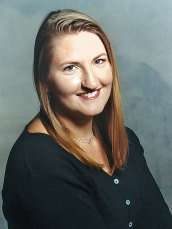 Ginjer Norris Clarke ('94)
Children's Book Author
Ginjer Norris Clarke wrote her first story in third grade. She took her proclivity for storytelling and the fantastical to Madison, where she majored in English and theater and theater professor Pam Johnson served as her mentor. Then, after graduation, Ginjer transported her honed imagination to Florida, where a backyard nest of baby alligators inspired her to write her first book — Baby Alligator. Since then she has been regaling young children with tales starring offbeat characters and drawing them into the worlds of reading, science and fantasy. Her titles include the enthusiastic Sharks! Platypus! Giant Lizards! Wild Dads! Wild Moms! Freak Out! and the soon-to-be released, Gross Out! A viperfish trapping prey with a glowing lure and a meerkat protecting her young with a dust cloud are some of the other persona Ginjer uses to teach reading and science to young children. They, in turn, serve as test audiences for book projects: "They're never shy about the kinds of books they want to read," Ginjer says of the classes of schoolchildren she visits. She and Jay Clarke ('92), who were wed on JMU's Quad and now live in Richmond, also like to read to their in-house audience-in-training: year-old son Dylan.
"They're never shy about the kinds of books they want to read."