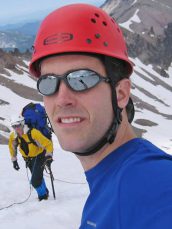 Andy Bacon ('00)
Raising funds for cancer research
Every 12 minutes a woman dies of breast cancer. Andy Bacon ('00) believes in going to extremes to help broaden that time frame. This triathlete and experienced mountain climber has found a way to combine his love of the outdoors with his compassion for cancer patients. For the past two summers, Andy has participated in an eight-member, four-day climb of Mount Rainier as part of the "Climb to Fight Breast Cancer" with funds benefiting the Fred Hutchinson Cancer Research Center. "I have met so many courageous women over the past two years who have successfully battled breast cancer," Andy says. "Each of them has an inspiring story of survival. I have also heard the many experiences of those who fought diligently but lost their battle to this horrible disease. I'm climbing in hopes of hearing less of those stories." This year, Andy raised over $7,500, contributing to a personal total of $13,000 and collective team total of more than $50,000 for breast cancer research. Andy changes the world one dangerous cliff at a time, while reaping the personal benefits, "It feels incredible to finally reach the summit," he says. "Everyone is just so proud."
"After meeting a breast cancer survivor on a flight to Seattle: "She told me that after cancer it became clear what was important — living your dreams, cherishing every day, cherishing life, cherishing friends and family."