Shonta Sellers: Director, Communications & Marketing/Director, DEI Initiatives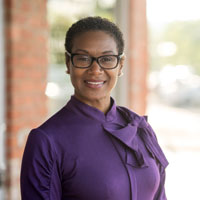 Director, Communications & Marketing / Director, Diversity, Equity, and Inclusion Initiatives
Year Started at JMU: 2019
sellersx@jmu.edu
Contact Info

I am a 20+ year veteran in the marketing industry with experience in multiple industries including consumer packaged goods, manufacturing, banking, early childhood education and adult learning. My experience in consumer marketing research, advertising, brand building, non-profit, and corporate business makes me a catalyst that's ready to put strategies in place that improve business. 
Day to day, I thrive off of the newness and creativity that marketing always offers. As well, I enjoy working in the community as a board member for On the Road Collaborative and Valley Business Keynote. As a member of Alpha Kappa Alpha Sorority, Inc., I serve as the Graduate Advisor for the chapter on JMU's campus. I am also a member of Sisters In Session, a campus organziation for women of color in academia.
Within the unit, I serve an integral role for Diversity, Equity and Inclusion (DEI) initiatives and the operations of marketing for the unit, working directly with several directors, other Colleges, vendors, and contractors. I develop and execute marketing plans for the unit, to include the management of employees, Salesforce, Marketing Cloud, and all marketing operations. Other duties include serving on task force initiatives with the community and supporting other department initiatives and special projects. My role is intricate in developing relationships across campus as well as in the community. As a mentor, I lead also work with graduate assistants within the unit.
I proud graduate of North Carolina Agricultural & Technical State University with a Bachelor degree in Business Management (#AggiesDo) and obtained my MBA-Marketing from Capella University.