SHRM Certification Preparation
SHRM LS - Who Should Enroll
Our certification preparation course is designed primarily for individuals seeking SHRM-CP or SHRM-SCP certification. 

Certification is a great choice for HR professionals who want to:
Increase their knowledge
Advance their skills
Earn recognition from the global community. 
Fall 2017 Course Details
Location:
127 W. Bruce St.
Harrisonburg, VA
Dates/Time:
September 18 - October 26, 2017
5:45 p.m. - 8:45 p.m.
Monday/Thursday


Course Fee:
$1249
$1149 SHRM Members
Eligibility Requirements
To earn your SHRM-CP or SHRM-SCP you must meet specific educational and work experience criteria at the time you submit your application in order to be eligible to sit for the exam.
These requirements are: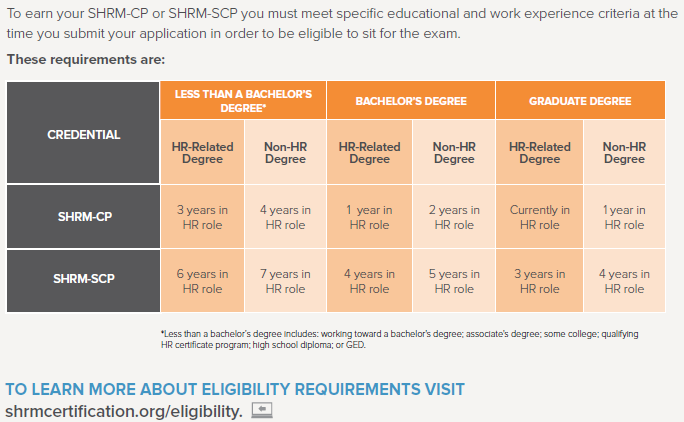 Advancing your career. For those not seeking certification, the SHRM Learning System for SHRM-CP/SHRM-SCP course provides a comprehensive and accelerated option for professional development. Participants gain a generalist viewpoint, refresh key ideas and concepts, strengthen their understanding of core HR competencies and increase productivity in the workplace.