News
Valley Scholars gets middle schoolers ready for college - The Breeze
---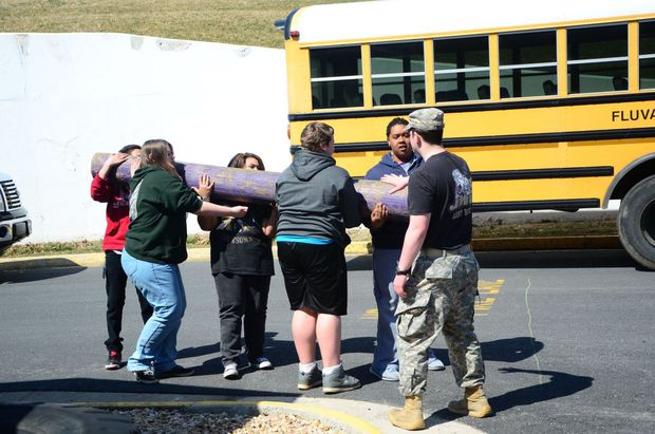 Some middle school students from the surrounding area are already preparing for college.
Eighth graders in the Valley Scholars Program came to JMU on Saturday and participated in team-building activities.
"I love making kids do this," Terrelle Wallace, a sophomore kinesiology major and ROTC cadet said as he coached students through an exercise called the human knot.
In this activity, a group of about 10 students stood in a circle and held hands with other members in the formation. The challenge was to become untangled without letting go of each other's hands; this encouraged communication with the other members of the circle in order to tackle the problem.
"I want the kids to learn how to be able to communicate effectively and also learn how to possibly become better leaders in the future, and we also want them to learn that there is no limitation in terms of what their goals are in the future," Wallace said.
The Valley Scholars Program began last semester and consists of 35 eighth graders. Current partner school districts include Augusta County, Harrisonburg City, Page County, Rockingham County, Shenandoah County, Staunton City and Waynesboro City schools. As part of the program, these students visit JMU's campus about 13 times a year to engage in activities with numerous academic colleges and offices on campus. The students also have JMU student mentors who meet with them once a week at their schools.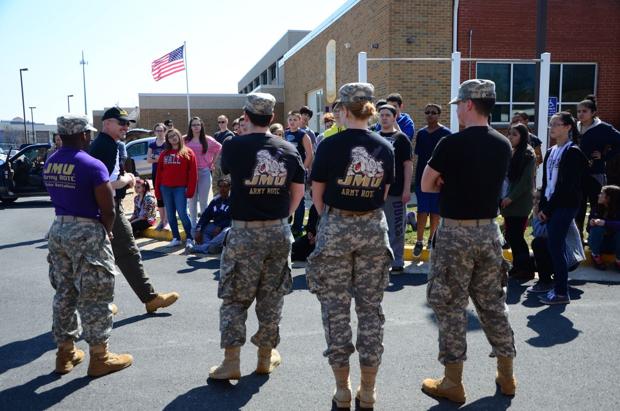 If the students continue through the program, they will receive a full scholarship to JMU. The students must maintain a 3.25 GPA from eighth to 12th grade and attend all program events.
About five to 10 volunteers from Student Ambassadors help the young students when they participate in activities on campus, according to Adrienne Cardulla, a sophomore anthropology major and Student Ambassador who volunteers with the program. Cardulla is involved in Pride, a committee within the Student Ambassadors that encourages first-generation college students to apply and enroll in college.
The ambassadors and six cadets from the ROTC program assisted with Saturday's event, leading the younger students through different exercises. One involved transferring a log from one end of the parking lot to the other. Another included moving water jugs in the same fashion. There was also an "amoeba race," which required groups of six to link arms and run in a circle around the parking lot. The students then paired off into "battle buddies," where they linked arms with their partner and tried to stand without putting their hands on the ground.
According to Shaun Mooney, the director of the Valley Scholars Program, students selected for the program demonstrate motivation, academic achievement and a desire to learn and experience new things. The students will be first-generation college students and must come from families who face financial obstacles and challenges that make going to college difficult.
According to a 2013 study by College Board, 82 percent of non-first-generation students enroll in college immediately after completing high school. Fifty-four percent of students whose parents only completed high school enroll in college immediately and 36 percent of students whose parents had less than a high school degree enroll in college immediately.
"The goal is for all of them to eventually go to college and go to JMU," Mooney said. "Whether they come to JMU or they enroll in an institute of higher education that's not JMU, that's a success for us regardless of where they choose to go."
Many of those involved in the Valley Scholars Program believe that a student's success in middle school can impact the rest of their education.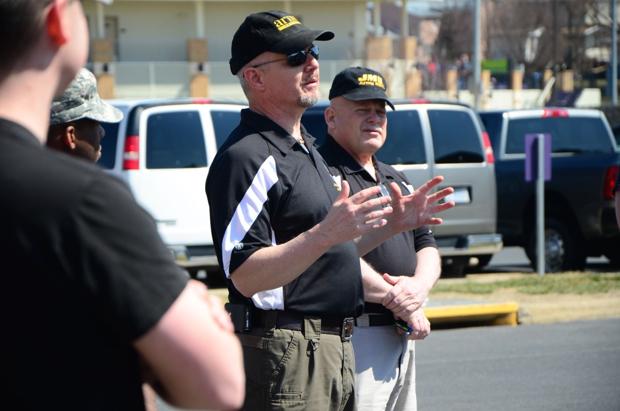 "We wanted to really help out these people because we wanted to get into middle schools because sometimes if you don't take certain classes and do certain things in the eighth grade you're not going to be in a good position in high school to get yourself into higher education," Cardulla said.
Nigel Stewart is an eighth grade Valley Scholar from Kate Collins Middle School in Waynesboro, Virginia, who wants attend JMU.
"It has a variety of classes, it is close to home and it has a nice campus," Nigel said.
Though the Valley Scholars Program only visits the JMU campus, some participants don't plan on going to JMU.
Pierre Mbala is an eighth grade Valley Scholar at Skyline Middle School who doesn't want to go to JMU because he plans to study architecture.
"I heard that JMU doesn't have an architecture program yet and I want to go to a school that does," he said.
The program encourages students to apply for means of higher education, even if JMU isn't their perfect match.
"We want them to learn that they can do anything they put their mind to," Wallace said.
Published: Wednesday, March 25, 2015
Last Updated: Friday, April 6, 2018