University Recreation
Upcoming UREC programs
View our list of events and registration instructions
---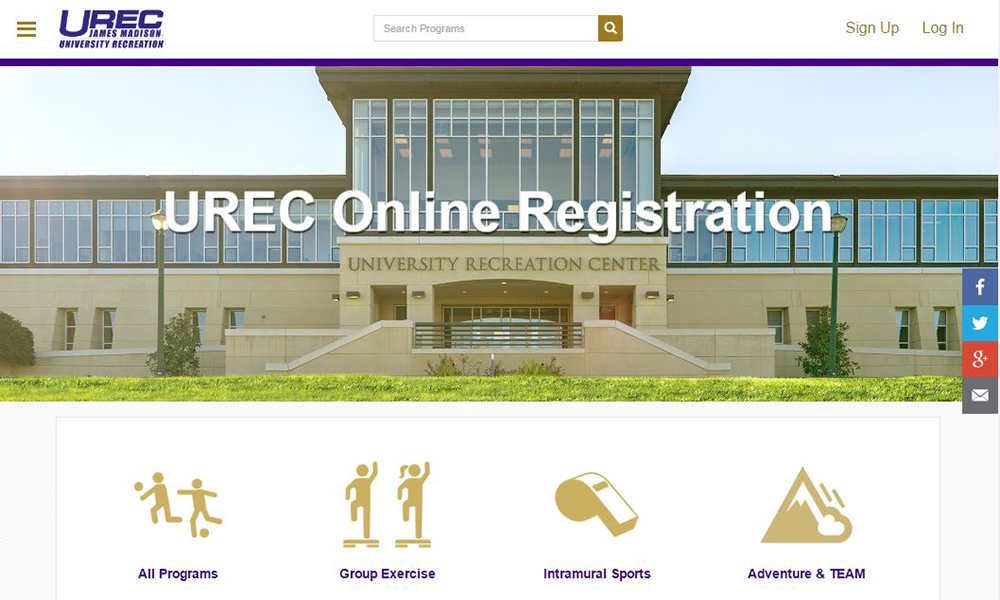 UREC offers hundreds of educational recreational events every year!
Upcoming Programs and Events
There are several ways to view upcoming programs and events scheduled at UREC.
Registration Information
Most of our programs require pre-registration at URECregister.jmu.edu.
JMU students, faculty, staff, your local account is your JMU login and password! Use your e-id (what comes before your @dukes.jmu.edu or @jmu.edu email address) and JMU password to login. DO NOT "sign up" for a new account.If you forget your JMU password, please contact the JMU Help Desk. If you have questions about registration, please contact the UREC Welcome Center at 540-568-8737.
To view and filter through all of UREC's offered programs, participants can select the "All Programs" icon from the home screen. To get more specific categories, use the "categories" tab on the bottom left. Click on a category, and then you will see subcategories below it. For example, from "All Programs," click "Adventure," then click "Cycling" to see cycle programs only.
To register for a program, simply click on the program and follow the prompts given by the site to complete the registration process.
UREC Homepage / Facebook / Twitter
Published: Saturday, July 1, 2017
Last Updated: Wednesday, January 2, 2019