University Recreation
Design the Intramural Sports Champion Tee!
---

UREC's Intramural Tee Shirt Design Contest 2014-15
Do you want to leave your mark on JMU's Intramural Sports program? Then this is your chance! You could win bragging rights, an Intramural Championship Tee shirt, and a UREC prize pack!
Submit your design for the 2014-15 Intramural Sports Champion tee shirt to gibsonkj@jmu.edu. Designs are now posted and we will add any more entries up until Wednesday, September 24. All designs will be uploaded to the UREC Facebook page and voting will take place through Thursday, September 25. The design with the most likes, positive comments, and that follows the guidelines below will determine the winner with the final decision of the winner resting with UREC professional staff members.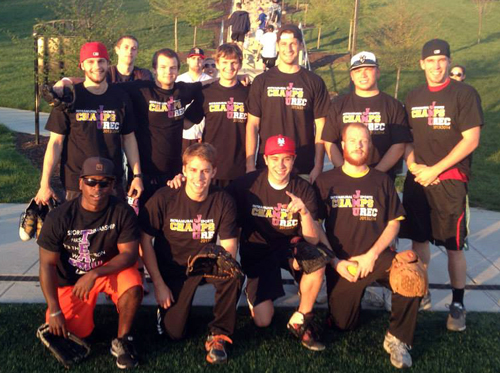 To be eligible for competition, your design must:
Include the following words:

UREC and JMU –or- James Madison University Recreation
Intramural Sports
Champion or Champ
Sportsmanship

Be three colors max (example, shirt color - gold, imprint color purple and white)
Be submitted as a JPG or PDF file.
Be appropriate and not offensive.
Not include the Duke Dog or JMU Sports logos.
Other details:

You can submit a front design only, or a front and back design.
Incorporating the names or symbols of the Intramural Sports at UREC is encouraged.
You may submit up to three designs, but they must be submitted as separate entries.
Your design must be completely original. By submitting a design you are guaranteeing that you hold rights to everything on it, and that it does not contain any copyright material.
UREC will have all rights to the winning design. By submitting you agree that if your design wins, it will be distributed to all Intramural Champions on campus.
UREC reserves the right to make adjustments to the winning design to meet our brand standards.
Yes, you can help promote your design. Find the photo on Facebook during voting, and share!
UREC Homepage / Facebook / Twitter
Published: Thursday, June 26, 2014
Last Updated: Wednesday, February 1, 2017