You are in the main content
Welcome - August 2014
Dear JMU family,
I hope you have enjoyed a fun and productive summer. I want to warmly welcome you to the new academic year and share some news and photos of activities and developments on campus as we prepare for classes to begin. Please forgive the length of this message, as there is much to report. You can click through the various links to read about those specific topics:

JMU named a "great college to work for"
I am pleased to announce the university's inclusion in The Chronicle of Higher Education's "Great Colleges to Work For" list. We've all known for a long time that JMU is an extraordinary place to work, learn and live—and now the word is spreading nationally. The university's commitment to professional development was cited in particular. See http://www.jmu.edu/news/2014/07/21-great-colleges-to-work-for.shtml.

JMU enrollment and Class of 2018
JMU's overall projected enrollment for fall 2014 is 20,191 students (up slightly from last year). The freshman class is projected to be 4,380 students, and the graduate program will welcome 773 new students. The university received a total of 26,281 freshman and transfer applications, and once again was the Virginia leader for in-state freshman applications at 13,750. The incoming students represent 36 states and 35 countries.
The 10 most popular majors are nursing, biology, marketing, health sciences, finance, psychology, interdisciplinary liberal studies, management, accounting and engineering.

Annual accomplishments
The University's annual list of accomplishments from the past academic year has been completed and is online. This report reflects the efforts of everyone on campus. While the highlights are too numerous to mention here, see http://www.jmu.edu/jmureports/accomplishments.shtml for the full report.

New Strategic Plan
The Madison Plan, JMU's new Strategic Plan, took effect on July 1. It includes a new vision statement: "to be the national model of the engaged university – engaged with ideas and the world." At a time when many people are asking about the value proposition for higher education, our plan provides some powerful answers for the relevance and worth of a JMU education. The plan centers on three forms of engagement through which we transform lives:
Engaged Learning: Developing deep, purposeful and reflective learning, while uniting campus and community in the pursuit, creation, application and dissemination of knowledge (examples of such high-impact practices include, among many others, undergraduate research, study abroad, capstone projects, teamwork and collaboration, interdisciplinary classes and programs).
Civic Engagement: Advancing the legacy of James Madison, the Father of the Constitution, by preparing individuals to be active and responsible participants in a representative democracy dedicated to the common good.
Community Engagement: Fostering mutually beneficial and reciprocal partnerships, ranging from local to global, that connect learning to practice, address critical societal problems and improve quality of life.
Please visit http://www.jmu.edu/jmuplans/jmu-strategic-plan/index.shtml for detailed information on the Madison Plan.

Advancement update
We have worked hard to prepare for a second comprehensive campaign for the university, and have forged a renewed partnership with the JMU Foundation with a focus on growing the endowment beyond $100 million. We have been through a thorough and inclusive process to get input about "big ideas" to share with prospective donors, and we've integrated these efforts with our Strategic Plan. We successfully completed our first formal campaign feasibility study with the help of our partners at Marts and Lundy.
We are pleased to have added a new Corporate and Foundation Relations office led by Cannie Campbell. The new Women for Madison philanthropy and leadership affinity group is preparing for its inaugural events later this year, and our first university-wide Center for Entrepreneurship event is planned for September 12.
The university continues to strengthen its alumni base as private support becomes ever more important. For example, we recently formed our first international alumni chapter in London, England. Reflecting our theme that relationships are at the heart of the Madison experience, we also launched a special campaign this spring aimed at inviting alumni and others to make a gift in honor of a professor, mentor, friend, parent, or someone else who made a difference to them at Madison. More than 365 such gifts have been made to date, and the program is ongoing.
I would like to thank those who have participated in this campaign to honor and celebrate the relationships that mattered most to them here at James Madison. To learn more about how you can let someone know you still remember and appreciate them, please visit: http://www.jmu.edu/relate.
Budget updates and state funding
Continuing to improve compensation for all of our employees remains one of our highest priorities. Unfortunately, the Commonwealth of Virginia has experienced a worse-than-expected revenue shortfall this year. As a result, the higher education budget was significantly cut at the end of the process (including no state money for salary adjustments)—and the state has also informed us that we may receive instructions to reduce our budget even further this fall.
Our initial recommendations for this year included a combination of salary increases, bonuses and equity adjustment funding. Until we know more from the state, it will be difficult for us to be specific about what we will be able to afford—but we will do everything in our power to continue to improve compensation for all of our employees. We will continue to consult with the Compensation Advisory Council on this front, and we hope to be in a position to finalize the 2014-15 budget by mid-October. We greatly value and appreciate the work of all of our faculty and staff members, who are the most important resource we have.

Community and diversity: Valley Scholars Program
The university has a strong commitment to access and inclusion for individuals of all backgrounds, and this fall marks the start of an exciting new initiative to provide access for students from our own region who might otherwise not dare to dream that college was an option for them. Thanks to a generous grant from the duPont Foundation, we will pilot the program starting this fall. JMU will work with school districts throughout the Shenandoah Valley to identify middle-school students with academic potential who come from first-generation and economically disadvantaged backgrounds.
The university will work with these students, their families and support networks to help prepare them for college. Valley Scholars will be promised full-tuition scholarships to JMU if they are admitted. The initial pilot will include a total of 35 students from seven school districts. A kick-off celebration is planned for September 13, 2014.

Furious Flower Conference:  Seeding the Future of African-American poetry
The Furious Flower Poetry Center presents its decade-defining conference September 24–27, 2014, at JMU. The three-day event features readings by many of the very best established and emerging African-American poets writing today, and all of these readings are free and open to the public. Dedicated to Rita Dove, the 2014 conference also recognizes literary trailblazers Toi Derricotte, Michael Harper, Yusef Komunyakaa, Marilyn Nelson, Ishmael Reed and Quincy Troupe with Lifetime Achievement Awards. To attend the awards banquet, concerts, and all of the conference events, please reserve your place now. See http://www.jmu.edu/furiousflower/2014-conference.shtml.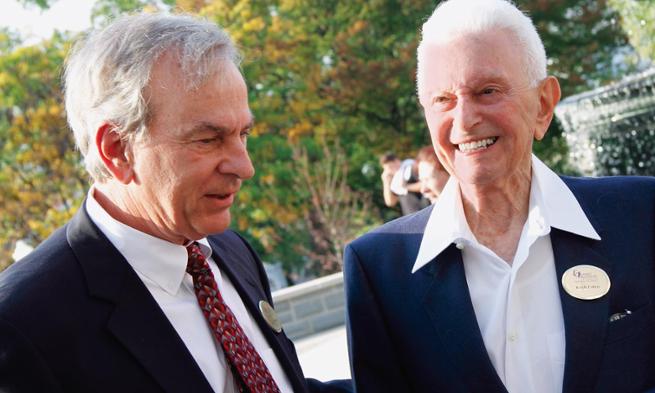 Grand opening of the Cohen Center
JMU will hold a grand opening for the Cohen Center for the Study of Technological Humanism next month. The Cohen Center was created by a gift from JMU's first Provost's Distinguished Professor, Ralph Cohen, and his late wife, Libby Okun Cohen. It will host internationally acclaimed speakers, support graduate students and graduate faculty research projects, offer experimental courses combining multiple disciplines, and support inquiries into transforming graduate education. Dr. Larry Burton will serve as director of the Cohen Center.
Campus safety and sexual assault
Part of being a community and family is to provide a safe environment for everyone. The issue of campus safety—and sexual assault in particular—has been very much in the news as a national issue this summer, affecting all colleges. As many of you know, there were media reports this summer about a student who filed a complaint under the student judicial process at JMU. While I can't discuss the details of an individual case due to federal privacy law, let me make several points.
First, all of us take this issue very seriously. As a father, a university president, and a lawyer with a civil rights background, I understand and care deeply about these issues. Student safety is a top priority for all of us. Sexual assault has no place in our community, and we will not tolerate it.
We need to respond to this issue using our critical thinking and problem-solving skills—and with balance. In some instances this summer, media and social media reports have been sorely lacking on that front. We have too often seen a rush to judgment and finger-pointing based on incomplete or inaccurate information. That is not how to solve this problem. We must all work together to be part of the solution and also to understand and respect the rule of law and due process. We know that JMU is a caring and compassionate community, and the responsibility to address these issues falls on all of our shoulders (not just here at JMU, but in our society).
Since this past spring (and before any media reports about JMU), we have been undertaking a comprehensive review of our policies, procedures, training and support services to align them with the latest federal guidance and evolving best practices nationally. We've met and spoken with student leaders and others on campus over the summer about ways to increase and improve training and prevention efforts, and we will continue to work with our students and other constituencies together to address these issues. This is an example of where JMU can be a leader in dealing with a difficult societal issue. Here are some of the steps we've already taken:
We've streamlined and updated our student complaint resolution process.
We've changed the composition of hearing panels for sexual assault cases filed against students—so as to include only faculty and staff who are thoroughly and professionally trained on these issues.
Information on sanctions has been updated to reinforce the fact that a full range of sanctions, up to and including expulsion, has always been available, depending on the facts and circumstances of a case.
The university's employee, affiliate, contractor and visitor complaint resolution procedure is undergoing extensive revisions and is expected to be completed this fall.
The university has created a new position for an assistant director for LGBT and Ally Education and has commenced a search to fill this role.
A case management team has been established to provide further support for student victims of sexual misconduct.
The university is augmenting training and prevention efforts with faculty, staff and students (e.g., including bystander training).
The university is working with the governor's office, the attorney general's office, and other colleges across the state in sharing best practices.
The university has made arrangements to provide a new safety app for our students called LiveSafe (available for both Android and iPhone devices), which makes it easy for users to share safety information (anonymously, if they wish)—including reporting information which can include pictures or audio/video clips, contacting police, and a "Safewalk" feature that helps friends keep track of where you are when walking home.
Of course, there's still much more work to be done, and we'll be continuing our efforts with our faculty, staff and students throughout this coming year. We can make great strides by working together and recognizing that we all have responsibility to create a safe environment.
Vice provost for research and scholarship
Dr. Yvonne Harris has arrived on campus and begun her tenure as Vice Provost for Research and Scholarship. Dr. Harris will work closely with the faculty research council, academic deans and the Office of Sponsored Programs to enhance the climate for, and visibility of, research and creative activity at JMU. Dr. Harris is excited to join a student-driven institution that values undergraduate research.

Madison Collaborative: Ethical Reasoning in Action
This signature program focused on ethical reasoning in our personal, professional, and civic lives will be introduced to incoming students again this year through Eight Key Questions. This program is being incorporated across the curriculum and operations of the institution, and is becoming a national model of education on ethical reasoning. See http://www.jmu.edu/mc/.

Madison Vision Series
We will kick off our second year of the Madison Vision Series lectures with a visit from Virginia Supreme Court Justice William Mims on September 17 as part of our Constitution Day celebration. Jeffrey Rosen, president and CEO of the National Constitution Center, will join us on October 16, and on November 5 we will host the Rwandan Debate Team to round out our fall lectures. See the full schedule at http://www.jmu.edu/president/mvs/.

Forbes Center Season
We hope you can come to one or more events at the Forbes Center for the Performing Arts this year (see the schedule at http://www.jmu.edu/forbescenter/index.shtml). The Forbes Center is one of the great jewels of the university and the Shenandoah Valley, and is a showcase for our superb performing arts programs. With talent such as Garrison Keillor and Roseanne Cash, you will want to be a part of this season!
Facilities and construction updates
We've been hard at work over the summer, making improvements on campus. Here's a quick update on some key projects (among many others):
Student Success Center and Health Center: These facilities in the former Rockingham Memorial Hospital complex on North Campus are now open for business. The Center includes 21 different departments and several dining options, and is already being recognized as a national model for student support services. The ribbon cutting and tours will take place Friday, September 19.
Grace Street Housing Project: Construction continues on this future site for apartment-style housing for 507 students; completion is expected in summer 2015.
UREC Expansion and Renovation: This large project is under way, with an anticipated completion date of 2016.
Health and Human Services Building: Construction will start once the East Tower is demolished (which should occur by Oct. 1) and the site is cleared. Construction is scheduled to be complete in 2016.
Newman Lake Dam Repair: The dam is being upgraded to comply with state regulations; the project should be completed in December 2014. A turn lane will be added to Bluestone Drive as part of the project. While traffic will be inconvenienced, it will remain two-way for the duration of the project. The most interesting items we found when draining the lake were rusty bikes!
Bike/Walking Paths:
The city's first phase of Bluestone Trail, a bike path that comes on to campus at the Port Republic Road and Bluestone Drive intersection, is complete.
The Bicycle Master Plan was completed in the spring semester, and the first phase of construction has begun. This phase picks up the Bluestone Trail as it crosses Port Republic Road by Lake View Hall (the former WVPT building) and continues around Newman Lake. This phase will be completed during the fall semester. Work will continue on additional phases in the future.
Carrier Drive Improvements: A stop light was added in front of Festival, along with a left-turn lane to assist with traffic flow. When coming onto campus from Reservoir Street, a right-turn lane was added to the parking lot to avoid traffic jams during peak hours.
Design efforts are continuing concurrently on three additional capital projects. Madison Hall renovations are progressing through the design and regulatory review phases. The University Services Annex and the Mason Street Parking Deck are just entering the design phase.

Athletics
A new era of JMU Football begins this fall, as Everett Withers takes over as Head Coach. After spending the past two years at The Ohio State University, Coach Withers has invigorated the football program with his energy and passion. It seems fitting that this season marks the 10-year anniversary of JMU's football national championship, as the sky is the limit for what is possible in the new era of Madison football.
The Dukes of the Gridiron are not the only team gearing up for their season this fall. Men's Soccer, Volleyball, and Cross Country will all start their seasonal play. Field Hockey is celebrating its 20-year anniversary of JMU's first NCAA National Championship and welcomes back the coach of that championship team, Christy Morgan. Women's Soccer is kicking off its 25th season as an intercollegiate program and looks to build on their CAA regular-season championship from last season. It promises to be an exciting fall season for JMU Athletics.
Coaches Withers and Morgan aren't the only new faces, as a handful of new coaches take over programs at JMU: Sarah Sargent (Women's Golf) and James Bryce (Women's Tennis) join the JMU family, and Ta' Frias (Track & Field and Cross Country) and Dane Pedersen (Swimming & Diving) take over as head coaches of their respective programs.
The schedule of fall sports events can be found at http://www.jmusports.com/. We hope you can join us to cheer on the Dukes!
As you can see, it has been a busy and productive summer, and we have big plans for the upcoming year. On a personal note, this semester I will be co-teaching an Honors seminar on Leadership with Brian Charette, as well as representing JMU in presentations to the American Association of State Colleges and Universities, Northeastern Educational Research Association, Association for the Study of Higher Education, and American Council on Education's Institute for New Presidents. I look forward to a new year of learning and growing together.
With all best regards,
Jon R. Alger
President