You are in the main content
Summer Update - June 2014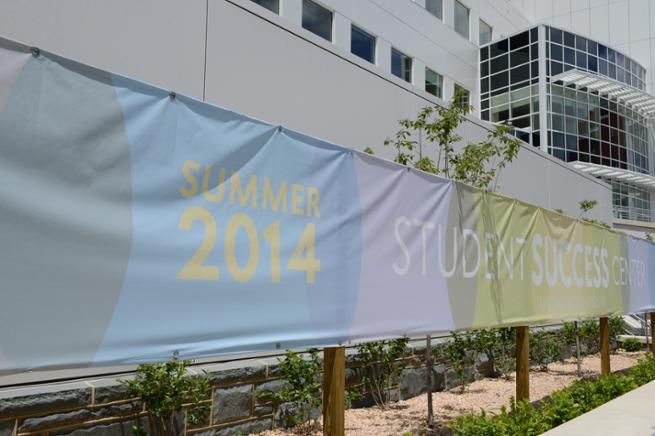 A different kind of hectic arrives on campus when most students leave for the summer. Construction and maintenance projects are in full swing. Orientation is already happening, and preparations for 1787 are at their most frenetic. And we are getting ready to transition from the university's previous six-year strategic plan implemented ably by Dr. Rose, to the first strategic plan under my administration. It is with great expectations that we want to share an update with you on new developments at Madison:
Congratulations Class of 2014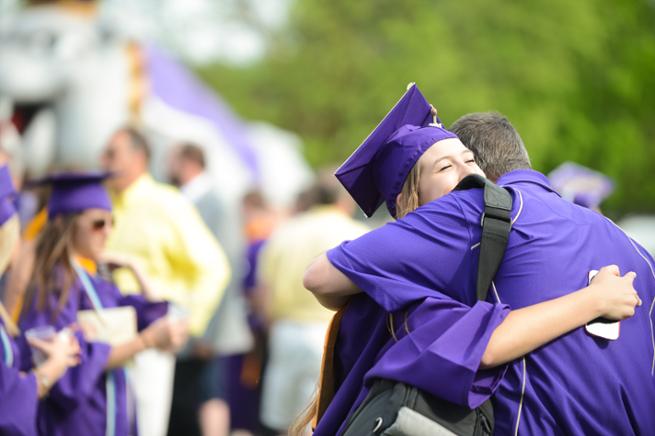 May commencement exercises for the James Madison University Class of 2014 combined festivity and tradition to celebrate the accomplishments of approximately 3,525 undergraduate and graduate-level students.
I addressed approximately 576 graduate-level students Friday morning in the JMU Convocation Center. And Dr. Matthew Wasniewski, historian of the U.S. House of Representatives and a JMU alumnus, spoke at the University Ceremony to approximately 2,929 undergraduate students receiving degrees. Wasniewski, a "double Duke" who earned a bachelor of arts degree in 1991 and a master's degree in 1994, offered graduates and their families and guests a history lesson in the often contentious relations in the U.S. House of Representatives, dispelling contemporary thought that incivility among legislators is at an all-time high.
"James Madison would take great pride in this place that bears his name," Wasniewski said, urging the Class of 2014 to help make democracy work. "JMU has provided you the tools to be an engaged citizen," he said. "Use the gift of your education to make a difference."

See more at: http://www.jmu.edu/news/2014/05/09-commencement-wrapup.shtml#sthash.JaopH0kC.dpuf
Board of Visitors Update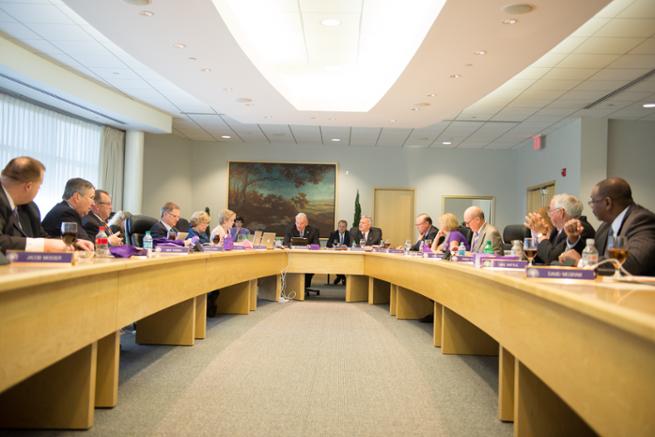 The James Madison University Board of Visitors met on Friday, June 6, 2014 at 1:30 p.m. in the Board Room of the JMU Festival Conference and Student Center and took the following actions:
Approved tuition and fees for the 2014 – 2015 academic year:
| | | | |
| --- | --- | --- | --- |
| | 2013-14 | 2014-15 | $ Change |
| Virginia Student | | | |
| Tuition & Fees | $5,104 | $5,406 | $302 |
| Comprehensive Fee | $4,072 | $4,256 | $184 |
| TOTAL COMMUTER COST | $9,176 | $9,662 | $486 |
| Room & Board | $8,519 | $8,828 | $309 |
| TOTAL ON-CAMPUS COST | $17,695 | $18,490 | $795 |
| | | | |
| --- | --- | --- | --- |
| | 2013-14 | 2014-15 | $ Change |
| Non-Virginia Student | | | |
| Tuition & Fees | $19,582 | $20,266 | $684 |
| Comprehensive Fee | $4,072 | $4,256 | $184 |
| TOTAL COMMUTER COST | $23,654 | $24,522 | $868 |
| Room & Board | $8,519 | $8,828 | $309 |
| TOTAL ON-CAMPUS COST | $32,173 | $33,350 | $1,177 |
| | | | |
| --- | --- | --- | --- |
| | 2013-14 | 2014-15 | $ Change |
| Graduate (per credit hour) | | | |
| Virginia | $410 | $434 | $24 |
| Non-Virginia | $1,095 | $1,135 | $40 |
Approved the 2014-2015 budget:
| | | | | |
| --- | --- | --- | --- | --- |
| | 2013-14 | 2014-15 | $ Change | % Change |
| Education & General | 257.9 | 275.2 | 17.3 | 6.7% |
| Auxiliary Enterprises | 169.9 | 177.1 | 7.2 | 4.2% |
| Financial Aid | 12.1 | 13.2 | 1.1 | 9.1% |
| Sponsored Programs | 36.9 | 36.9 | - | 0.0% |
| Total Operating | $476.8 | $502.4 | $25.6 | 5.4% |
Elected board officers for the 2014 – 2015 term.
Mr. Mike Thomas has been elected to serve as rector and Ms. Carly Fiorina has been elected to serve as the board's vice-rector. Ms. Donna Harper, vice president for Access and Enrollment Management, will serve as secretary.
New board members named
Governor Terry McAuliffe recently announced the appointment of several new members of the James Madison University Board of Visitors. The appointments are effective July 1, 2014. The new members are:
The Honorable William T. Bolling of Mechanicsville, Senior Vice President and Managing Director for RCM&D and former Lieutenant Governor of Virginia
Warren K. Coleman ('79, '81M) of Henrico, CFO of Harper Associates LLC
Vanessa M. Evans ('93, '97M) of Charlottesville, Associate Director for Ron Brown Scholar Program
Lucy Hutchinson ('06) of Falls Church, Senior Manager for Executive and Commercial Recruiting of Capital One
Edward Rice of Vienna, Consultant
Five visitors are leaving the board following years of dedicated service to JMU. They are:
Ron Devine ('78), eight years
Lois Forbes ('64), eight years
Susan Allen ('10P), four years
Ken Bartee ('83), four years
Steve Smith ('79, '12P), four years
I thank each one of them for their commitment to James Madison University and for helping us prepare to launch our new strategic plan and our new vision to become the national model of the engaged university. 
See more at: http://www.jmu.edu/news/2014/06/10-bov-appointments.shtml#sthash.o4GUvT1u.dpuf
New Developments in Richmond
As many of you know, the Virginia General Assembly adjourned March 8 in a budget stalemate. This situation, of course, has made setting the university budget difficult. But late on Tuesday evening June 10, a breakthrough occurred in negotiations. We are hearing that a budget may be adopted as early as Thursday evening June 12 or Friday June 13. Obviously, the university has a lot at stake in the outcome of these negotiations, especially in terms of faculty and staff compensation. Our top priority is to continue the forward progress made last year with compensation. In fact, much of the tuition increase approved by the JMU Board of Visitors on June 6 is going to fund employee benefits including increased health insurance costs and a higher contribution rate to the Virginia Retirement System. We hope that the General Assembly will adopt a budget that is favorable to JMU so that we can further extend these gains. As details emerge from Richmond and once we are able to analyze the outcome, I will communicate with you as soon as more definitive information is available.   
Latest Faculty Accomplishments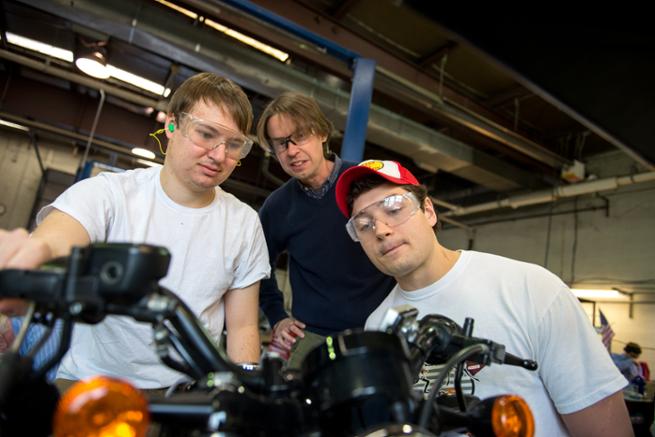 Many of you may have seen the recent fundraising solicitation giving those connected to JMU an opportunity to make a gift to the university in honor of a relationship that meant a lot them while on campus. As evidence that they are hands-on and student-focused, a majority of the gifts made were in honor of JMU faculty members. Every month we collect the latest accomplishments of our distinguished faculty, and you can stay up to date by clicking here: Latest Faculty Accomplishments 
Icebreaker: Gov. McAuliffe cuts the ribbon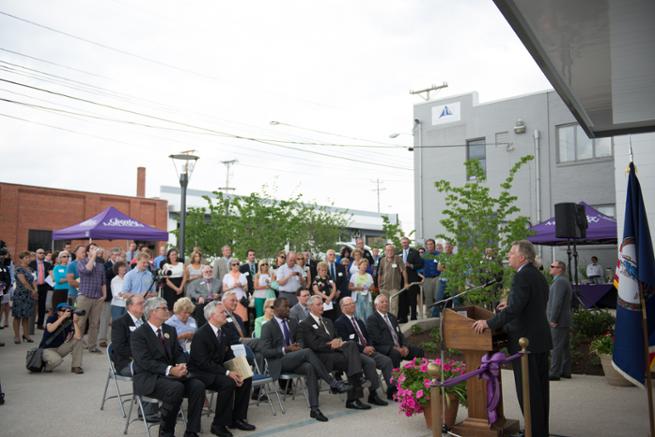 JMU is enjoying a new primary point of interface with the community at the Ice House, an innovative redevelopment project of a former ice factory in downtown Harrisonburg.
Several university departments are leasing 30,000 square feet of office space on four floors in the facility, which is a short stroll to Harrisonburg's flourishing downtown district and a half-mile jog from campus.
Virginia Governor Terry McAuliffe acknowledged the value of the initiative when he toured the facility and spoke at a grand opening celebration along with JMU President Jon Alger and Vice Provost for Outreach and Engagement Jim Shaeffer.
See more at: http://www.jmu.edu/stories/2014/ice-house.shtml#sthash.yUtN2Q47.dpuf
JMU launches Madison Center for Community Development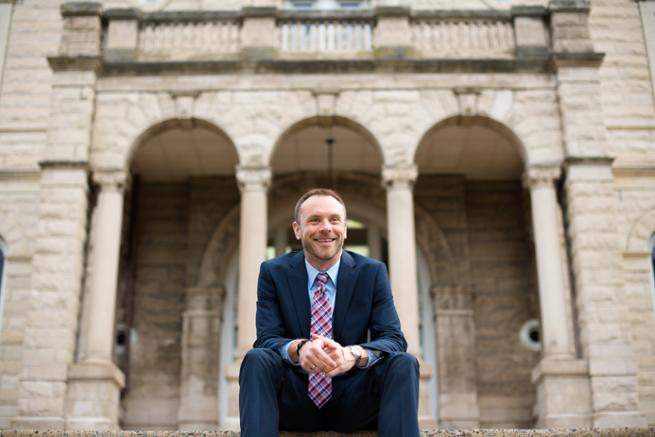 Dr. Nick J. Swartz, associate professor of public policy and administration, serves as director of the new Madison Center for Community Development, a resource for local governments and community organizations in Virginia.
James Madison University has launched the Madison Center for Community Development, a resource for local governments and community organizations in the Shenandoah Valley and throughout Virginia.
The center will draw on the expertise of JMU faculty and students to provide assistance with strategic planning, economic development, needs assessment, grants management, training and monitoring, program development and evaluation, and more.
See more at: http://www.jmu.edu/news/2014/06/10-madison-center-for-community-development.shtml#sthash.PKFGsgEM.dpuf
Campus Construction
We have many projects in the works and details for each are available if you're interested in tracking their progress.
2014 Summer Improvements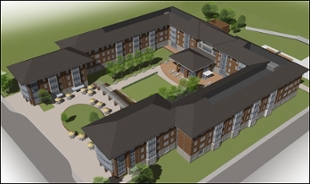 Summer is an opportune time to undertake a wide variety of campus improvement projects designed to enrich the learning environment and improve accessibility, efficiency and safety.
Listed below are approximately 50 projects underway or planned ranging from capital construction projects to the replacement of fire alarms.
JMU also is excited to welcome our new partner, PepsiCo, to campus. The JMU community and visitors will enjoy a wider variety of choices among the portfolio of global brands that PepsiCo will offer.
See more at: http://www.jmu.edu/news/2014/05/12-summer-improvements.shtml#sthash.Sdu3fkFJ.dpuf
Students help shape White House efforts to prevent sexual assault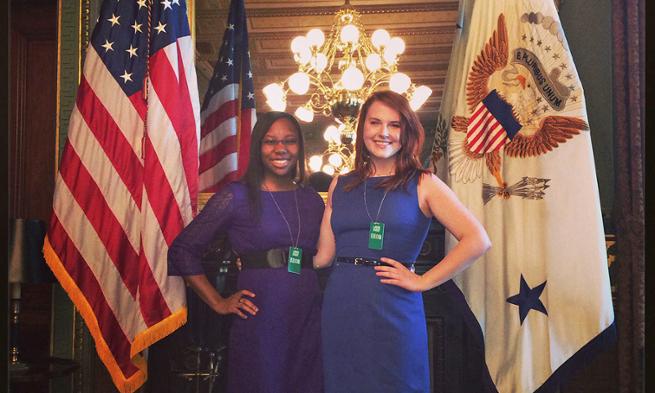 Sexual assault is a topic justifiably receiving a lot of attention recently. And recommendations from a White House task force to prevent sexual assault on college campuses include key contributions from two James Madison University students.
Kim Johnson, a first-year graduate student in psychological sciences from Springfield, Va., and Raychel Whyte, a senior health sciences major from Manassas, Va., were invited to the White House on three separate occasions this semester to advise President Obama's White House Task Force to Protect Students From Sexual Assault. The two were also present for the formal release of the task force's report on April 29.
See more at: http://www.jmu.edu/news/2014/05/09-students-at-white-house.shtml#sthash.qLubX89s.dpuf
Enjoy the rest of the summer!
Jon Alger, President