News
President's keynote to Mad-Rush Undergraduate Research Center
---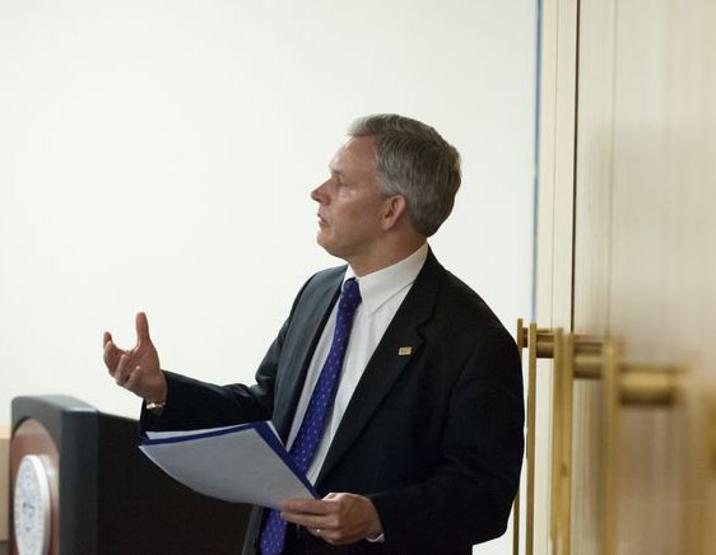 President Jonathan R. Alger: "Liberal Arts and the Real World: Perfect Together."
Saturday, March 23, 2013
Taylor Hall
I want to give a special thanks to the students who are presenting their papers, and the faculty members who have worked with them.
Note the title for today's talk: "Liberal Arts and the Real World: Perfect Together." In line with this title, I believe a liberal arts education is needed more than ever in this age of information and technology.
Just over a week ago, a liberal arts graduate who majored in political science and minored in history at Swarthmore College was inaugurated as president of James Madison University. I cannot imagine a more important part of the job than this role in being here to celebrate the importance of undergraduate research—particularly in the humanities and social sciences.
I never dreamed that my liberal arts education would take me to this leadership position here at James Madison University. For the students in this room today, your journey is also just beginning. The life of the mind can take you to unexpected places.
The student-faculty relationship exemplified in the research today is at the heart of what James Madison University stands for. Even as the University has grown and evolved, this relationship has been at the very heart of our identity and our mission. I have heard this time and again on the Listening Tour. These relationships change people's lives! And how fitting is this idea for an institution named after James Madison, the Father of the Constitution and one of the intellectual giants among our Founding Fathers. James Madison himself benefited greatly from his close interaction with tutor Donald Robertson, and then John Witherspoon at Princeton. These teachers took a special interest in him, and that tradition continues today. Students, please thank your faculty for their time and attention. They have shared their passions and intellects with you. These are wonderful gifts!
As we go forward, there are some key questions we must ask ourselves. Why does liberal arts education matter? How can undergraduate research in the humanities and social sciences help you for the rest of your lives?
We live in a fast-paced culture of instant gratification and the bottom line; we are being pushed to demonstrate "accountability" by measuring things quickly and easily. In higher education, that has meant being measured by job placement statistics. It is interesting that the key statistic being used to measure the success of colleges right now is the starting salaries of their graduates—their very first job out of college. I would have been a failure by that standard. My first summer after an expensive college career with lots of debt, I worked as a paralegal and earned just above minimum wage. I also held jobs at a day care center, in retail, as a babysitter, and at a concert tent as a bouncer while at Swarthmore! I learned a lot about life from those experiences that would help me later in my career.
We certainly care about making sure our students have the practical skills to help them get jobs out of college—and our students here at James Madison University do well. But our responsibility—our mission—also talks about preparing educated and enlightened citizens who will lead productive and meaningful lives. We are in this together for the long run, not just the short term.
Through the kind of undergraduate research exhibited here today, you are developing skills in critical thinking, research, and communications that will help set the stage for the rest of your life. Most of you will not have the same job your whole life. In fact, many of you will have jobs that have not yet been invented. You will need to engage in lifelong learning.
You will often encounter challenges and issues where you do not have all the facts or information in front of you. You will need to learn new areas you have not studied previously.  The challenges you face may be multifaceted, or include multiple constituencies with which you must deal. The answers will hardly ever be black and white. You will need to know how to ask the right questions, and how to identify and gather information from multiple vantage points; you will need to learn how to exercise judgment, often under time constraints that do not provide you the luxury of gathering more information (even if it were available); you will need to know how to interact with people who come from different backgrounds, training, and perspectives.
Thus, in talking to employers about what makes people valuable to an organization, we hear about broad critical thinking, analytical, and communication skills—not just about narrow technical skills. In fact, people who know how to communicate with other individuals who have different kinds of background and training are highly valued. As a lawyer myself, I have given most of my presentations to non-lawyers.
I predict that you will be surprised sometime in your life by how your liberal arts training has prepared you for moments when you least expect it—I know it has surprised me. As a young lawyer at a big law firm, I helped to sort out a significant labor law dispute involving workers in different branches of the federal government by applying the "separation of powers" doctrine I had learned in political science. Later, at the Office for Civil Rights and then the University of Michigan, I applied theories I had learned in political theory about factions and civil discourse to help shape theories of the educational benefits of diversity, which became a core principle in arguments adopted by the Supreme Court. As part of that effort, I used my liberal arts training to help design a research study at the AAUP on the educational benefits of diversity from a faculty member's perspective—a study that was cited in legal briefs in federal court.
Research in the humanities and social sciences helps you to ask and address difficult questions, to look for nuances, and to follow leads down pathways even when you do not know where you will end up. That is what true discovery is all about.
The process is often more important than the end result or conclusion. The learning that takes place along the way and the relationships that are developed are often most critical. By engaging in these research projects, you have chosen well. Keep asking hard questions, and foster your curiosity about the world.
Think about how you can use your mind and your gifts to make a difference in the world—if you do so, you will lead a meaningful and productive life!
Thank you so much and good luck to all of you!