Child Development Clinic Doubles in Size
---
For 30 years, the Shenandoah Valley Child Development Clinic has been located on the JMU campus. In 2003, when the clinic relocated from Roop Hall to join IIHHS at Blue Ridge Hall, the staff was seeing about 150 clients a year. In the year to come, that number will double.  
"We've gone from a requirement of doing 150 evaluations a year to 300, starting in July," says Diana Pereira, CDC's director of operations. When the Virginia Dept. of Health decided to cease offering child development services through its local health departments, it fell to the contracted clinics to pick up the slack. The IIHHS clinic now includes the Winchester service area. That brings the total area to 16 counties and the cities therein.  
Up until the expansion, the CDC had one full-time clinician in each of the four roles. Now they have  two psychologists, two educational consultants, a social worker, a nurse practitioner and a registered nurse. In addition to Pereira and Ginger Griffin, clinical director, there are several office staff.
"We've always wished we had more staff," Griffin says. "We had a long waiting list."
The increased capacity, says Kim Hartzler-Weekly, CDC's program director, is "ultimately a great opportunity to serve our region."
What the CDC does
"We gather information from a variety of sources," says Pereira, who has been with CDC for eight years. With that information, the CDC evaluates children and adolescents with developmental, behavioral, emotional and health problems. They can be referred by a social worker, primary care physician, counselor or other professional source. A caregiver can also make the referral themselves. Either way, their caregiver (parents, grandparents, foster parents) accompanies them and participates in the evaluation.
It's an interprofessional approach that looks at the whole child. The psychologist tests the children's cognitive, emotional and behavioral aspects. The educational consultant looks at their school achievements. A social worker may interview the family for their history. The nurse practitioner looks at their medical condition, all the way back to their mother's pregnancy.
"Our strength is in our comprehensive evaluation," says Griffin. This is important, for instance, in the case of foster children, whose information may be scattered in many places. Another example might be a child who was born prematurely, say at 25 weeks. Some experts might focus on a current cognitive or behavioral challenge while overlooking influences from the premature birth."He's going to have medical problems as a result," Griffin says. "The nurse practitioner will add that piece. We can explain the child in a deep and meaningful way."
Once all the information is gathered, it is compiled into a report. The clinicians meet to discuss what they think is going on with the child, make recommendations and write a final report. Then the care coordinator meets with the caregiver. In the past, it has taken up to six months from the client's referral call to their evaluation appointment. With the CDC's expanded capacity, it currently takes only six weeks, which is much better for the clients.
"Our focus is on evaluations and subsequent recommendations for specialized services, like follow-up medical care, counseling, or support services,"
 Griffin says. "There may be things the parent or teacher can do to help the child and we do offer suggestions, but we don't tell them what to do." Sometimes the evaluation itself results in changes. For some caregivers, it may be the first time they have vocalized their child's difficulties. As they talk, they hear themselves and each other and recognize the problem in a new light.
"Even during the initial phone call, I ask them about their concerns and it opens the floodgates," Pereira says. "The parents are putting it into words for the first time."
During an evaluation, the clinician will often make suggestions. When the caregivers return for their next meeting, many have already made changes and seen results. The decision to access specialized services that are recommended remain with the caregiver, but thanks to the CDC's evaluation they have a comprehensive understanding of their child's needs to help guide those decisions.
The CDC also provides screenings for the Individual and Family Developmental Disabilities Support Waiver. The DD waver, as it's called, is for children and adults with developmental disabilities such as autism. Among other things, it makes them eligible for community-based services like job training and respite care for the caregivers. "That area has doubled too," Pereira says. "We've had a significant increase in requests."
A learning place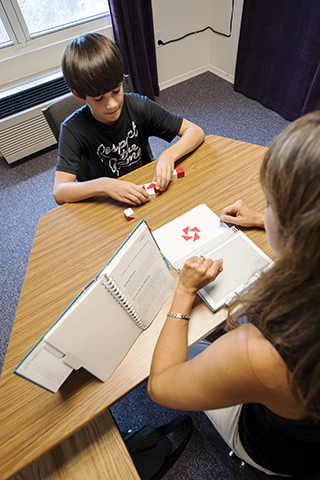 The CDC is also a place for JMU students to "be the change." As a graduate student at JMU, Rachel Beizer did a standard practicum for her school psychology course, but it was her graduate assistant work at the CDC that really put her classroom learning into practice. 
"The clinic was a whole different level," says Beizer, 25, of Richmond. "Every experience where I interacted with parents and children impacted me."
When Beizer began working at the clinic, she was doing clerical tasks during her first year. As she progressed through her program, her ability to take on additional responsibilities grew. She then began taking on additional tasks such as intakes with parents and psychological assessments. She also stayed with children—with developmental delays, severe emotional issues, learning disabilities, autism—in the waiting room while their parents were being interviewed.
"I always had supervision, but I felt like I was an assessor," says Beizer. Beizer earned her master's in school psychology in May 2011 and her education specialist degree in August 2013. She now works as a school psychologist for Louisa County Public Schools.
The CDC gets mostly psychology students, but also social work and nursing students. "Students have said they learn a lot here," Griffin says. She hopes the expansion of staff and services will lead to even more student involvement in the years to come.
Published: Monday, July 7, 2014
Last Updated: Friday, July 7, 2017