Gus Bus and Migrant Education Host Summer Camps
---
Aug. 1-5 was for rising 1st and 2nd graders and the other, held Aug. 8-12 was for rising 3rd and 4th graders. The theme of the camps was Ecology and Environmental Stewardship.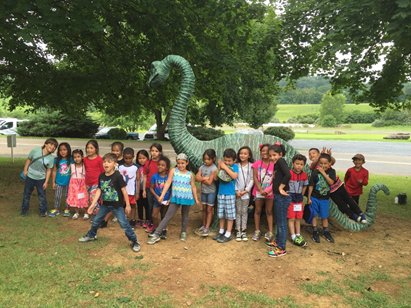 Based at JMU's Festival Center, the groups met for activities in the morning and took field trips in the afternoons. They talked about soil layers and had a soil layer snack that involved chocolate as bedrock (rocks never tasted so good). The students were challenged to undo water pollution, which led into lessons on recycling, reusing, and composting. At lunch, their trash was disposed of buckets to be either recycled, reused, composted or put into the landfill. This provided a graphic representation of the trash we throw away.
Students got a firsthand look at composting through magnifying glasses. They watched their own compost degrade through the week. One of the highlights of the week was when Ms. Rosemary, from the Va. Cooperative Extension Service, came with her composting worms. The students loved separating the worms from the castings. They took the worm castings to the JMU greenhouse and made terrariums.  
In keeping with the environmental theme, the children made solar tea and solar oven s'mores. Ms. Lindsay, also from the Va. Cooperative Extension Service, brought herbs donated form Shenandoah Growers to make herbed butter, herbed play dough, herbed vinegar, and salsa with cilantro. The room smelled wonderful that day!
At the JMU Arboretum, Gail Napora shared her love of butterflies. She told them about pollination and how the need to protect the butterflies' habitats to ensure there will be enough butterflies to pollinate plants for the food we eat. They also visited the bee hive at Shenandoah Caverns to better understand bees and tried to find the queen in the hive.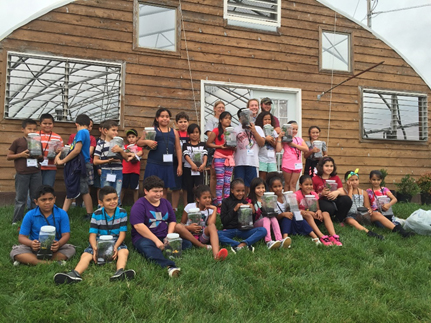 At the Project Grows Farm in Verona and the Mount Crawford Creamery, the children saw firsthand the farm to table concept. During their all-day field trip to Shenandoah Caverns, they learned about the underground karst environment and water pollution. After a picnic lunch, they visited the America on Parade building and the Yellow Barn bee hive.
On Friday the children were treated to JMU's DHub. After feasting on an all-you-can-lunch, they toured the recycling and composting areas there. This showed them what happens to lunch trash at JMU, similar to their own activity but on a much larger scale.
The two fun-filled weeks ended with a reception on Friday, where parents and siblings saw what the kids had done.
To learn more about the camp visit our Facebook page
https://www.facebook.com/Reading-Road-Show-Gus-Bus-102682753103715/
Published: Wednesday, July 13, 2016
Last Updated: Monday, July 10, 2017