News
The Top 10 Concerns of JMU Students
---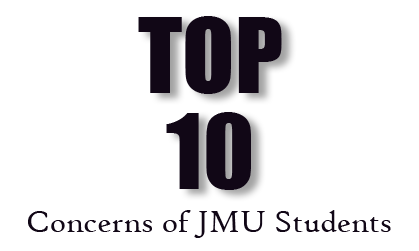 The Counseling Center staff work with JMU students every day so we understand just how challenging college life can be. University students are often juggling several responsibilities and the up-hill battle to get everything done can lead to significant stress, particularly during crunch times like mid-terms and finals.
Based on the results of a recent survey, here are the top 10 concerns reported by JMU students and some suggestions to effectively address them. The Counseling Center can assist students in dealing with every problem in this Top 10 (well, we can't pay your bills...). Our services are free, voluntary, and confidential.
#1. Handling stress and anxiety 
The issue:
A certain amount of stress is actually a good thing. Stress keeps us focused, aware of all of our responsibilities, and motivated to do what needs to be done. At times, however, all of us experience too much stress and/or do not have the proper strategies for dealing effectively with this stress.
There are several signs of stress overload. Symptoms can be divided into physical and behavioral indicators. Review the following checklist to determine if you are experiencing any of these symptoms. Should you find that many of these symptoms describe your current state, you may be experiencing symptoms of stress overload.
Physical
Headaches
Fatigue
Gastrointestinal problems
Inability to focus/Lack of concentration
Sexual problems
Sleep disturbances
Hypertension (high blood pressure)
Sweating palms/Shaking hands
Heart problems (tachycardia, palpitations)
Behavioral
Irritability
Disruptive eating patterns (over eat or under eat)
Harsh treatment of others
Increased smoking or alcohol consumption
Isolation
Compulsive shopping
Difficulty in communication
You might be tempted to:
Self-medicate yourself by overeating, smoking, drinking alcohol, taking illegal drugs, and/or overusing prescribed medications.
Avoid and/or try not to think about stress producing situations in hopes that they will go away by themselves.
Lash out and take your feelings out on others.
But try these instead:
Assess your priorities. By knowing what is of primary and secondary importance, you can order your activities and expectations in light of your energy on a given day. A structure to follow makes it easier to engage in daily tasks, as the stress of trying to remember what you should be doing is eliminated.
Practice. If you know that presentations make you nervous or that a certain subject petrifies you, prepare yourself to deal with the situation before it occurs. Practice is essential. By envisioning the stressful condition and acting out your reaction to anticipated stressors, you can become better prepared for the actual event.
Develop realistic expectations. If you did not study adequately for an exam, rarely attended class, and infrequently turned in homework assignments, it may not be realistic to expect a top grade on a test. A key problem in this area is perfectionism. Stress is highly anticipated if you feel a need to produce 'perfectly' on a consistent basis, try to be someone you are not, or become inflexible with your priorities.
Incorporate healthy practices into your daily schedule. Healthy eating practices, exercise, and relaxation techniques (e.g., yoga, meditation, or breathing) can all help you deal with stress. These techniques can lower blood pressure, strengthen muscles, and reduce tension.
Accept change as a part of life. Stress often results when we struggle to "bend" things our way or maintain the status quo. Sometimes the healthiest approach is accepting certain changes as out of our control and moving forward with our lives.
Develop a support system. A feeling of aloneness often makes feelings of stress especially intense. Having close people (friends, family) who know and care about you can provide a sense of comfort and security that will help to mitigate your experience of stress.
Should you discover that you need assistance in managing the stress in your life, you may want to come in and speak to a counselor at the Counseling & Student Development Center. Many individuals report that the simple experience of speaking with someone trained to listen can be both a release and a relief. In addition, the counselors at the Counseling Center can share with you physical, behavioral, and mental techniques that can increase your ability to handle stress and anxiety.
#2. Procrastination
The issue:
Just like older adults, college students often prefer to put off the unpleasant things in life until the last possible moment. Unfortunately, students frequently find their coursework unpleasant, and they fall behind in their classes and then scramble to catch up as midterms and finals approach. Sometimes it takes feedback in the form of bad grades for a semester to teach the hard lesson of paying now and playing later.
Procrastination is putting off until tomorrow what you should have done yesterday. It is a strategy to cope with situations that produce fear and anxiety. College students procrastinate because of:
Poor time management, often caused by uncertainty about your priorities, goals and objectives.
Difficulty concentrating. Concentration issues often take the form of daydreaming, staring into space, worrying about personal problems, etc. A noisy, cluttered, unorganized, distracting environment makes it difficult to maintain a focus on the task at hand.
Fear and anxiety. You may be overwhelmed with the task and afraid of getting a failing grade. You may think that if you fail an exam, you, as a person, are a failure, rather than that you are a perfectly ok person who has failed an exam. As a result, you spend a great deal of time worrying about your upcoming exams, papers and projects, rather than completing them.
Negative self-talk. Thoughts like "I'll never succeed at this" and "I don't have what it takes to do this well" may stop you from getting things done.
Finding a task boring.
Unrealistic expectations and perfectionism. You may believe that you must read everything ever written on a subject before you can begin to write your paper. Similarly, you may think that you haven't done the best you possibly could do, so it's not good enough to hand in.
You might be tempted to:
Wait until you "feel like doing it" or "the right moment".
Do an easier or more enjoyable task instead of the task that needs to be done.
Overestimate your ability to do quality work in a pinch.
But try these instead:
Don't wait until you are "in the mood". There is no perfect time, so stop waiting for it.
Use a wall calendar or monthly planner. Write in each deadline (exams, papers, projects, etc.) on the day it is due.
Make sure you are clear about what is expected for each task. If you are unclear, ask your instructor to clarify.
Prioritize your tasks. Start with the task with the closest deadline or the one most urgent to complete.
Break large tasks into small goals. This makes those difficult tasks seem obtainable. For example, A ten page paper can be broken into several goals:

Determine a topic
Gather research
Read the research
Make an outline of the paper
Write the paper
Proof the paper and turn it in

Minimize distractions while working.

Organize your workspace.
Only use the computer for task at hand (no Facebook!).
Go to the library if you're unable to concentrate in your room.

Schedule in breaks so you don't burn out or work inefficiently (i.e. no longer than one hour before taking a short break).
Be realistic and don't aim for perfection.
Keep reminding yourself that you CAN do it! Think of strategies that worked before when you were successful and use them now.
Reward yourself for completing a task (e.g. socializing with friends, catching a movie, buying something you want).
#3. Trouble handling money wisely
The issue:
Because of the rapidly rising cost of a college education, student borrowing for educational purposes has reached unprecedented national levels, more than doubling in recent years. Students often attempt to bridge the gap between the money they need and the money they have by working hours that approach a full-time job (to the detriment of their academic work) and accumulating credit debt of thousands of dollars. Even for those who may be receiving money from home, budgeting, managing a bank account, and discriminating between "wants" and "needs" are often new concepts to students, and mistakes are expected but come with a high cost.
You might be tempted to:
Call the credit card companies and ask for them to raise your credit limit.
Donate plasma for financial, rather than humanitarian, purposes.
Rely on your parents to bail you out when things get totally out of control.
But try these instead:
Use credit cards sparingly. For financially responsible students, credit cards are a great way to establish a solid credit history. For those who spend impulsively, credit cards are a great way for students to wreck their financial future. Remember, unlike money that comes from home, credit is a loan that has to be repaid. Your credit history follows you for up to seven years and may be reviewed by potential employers and will definitely be reviewed when you apply for a car loan or house mortgage. Guidelines for appropriate credit card use include:
Watch the interest rates. The low introductory rate you are quoted when you sign up will often climb above 20% within the first few months.
Get a card with a low credit limit (i.e. the total amount that the credit card company allows you to charge on your card). Each time the credit card company tries to get you to spend more by increasing your credit limit, tell them no thanks.
Don't use a credit card for routine living expenses or entertainment purposes. A good rule of thumb is: If you can eat it, drink it, or wear it, don't charge it. Use cash or a debit card (which takes money out of your checking account) for these expenses.
Pay off your entire credit card bill each month to avoid interest charges and penalties.
Closely guard your credit card number and close unused accounts.
Have a plan. The best way to manage your money over a semester is to map out a budget. List both sources of income (e.g. funds from your parents, scholarships, loans, money from summer jobs) and expenses (e.g. tuition, books, food). Give yourself a limit for each week, and stick to it. Keep track of spending, too, because a budget means nothing if you don't know how much you're actually laying out.
Keep an eye out for free money. While it will require a little initiative and effort up front, there are tons of scholarships available to JMU students. To see what is available, go to http://www.jmu.edu/financialaid/scholarships/. If you have a shot for one or more scholarships, apply.
Leave the car back home. Cars are expensive (e.g. gas, maintenance, parking, etc). Use the buses that constantly run through campus.
Get the most out of your Duke Card. Rather than paying a restaurant bill, use your meal plan swipes to take advantage of campus dining options that are consistently rated in the nation's top ten for "great campus food." Cutting out a few fast food bills each week will save you over $1,000 over the course of a year (Are five trips a week to Starbucks really necessary?). Further, take advantage of all the free activities that take place on campus (e.g. UREC, movies, athletic events, speakers).
Get a work-study position or a part-time job with tips. Some work-study positions may be related to your major and provide practical experience towards your future career. The tips that come with some jobs (e.g., waiting tables) will often exceed the hourly wage.
Avoid the tax on stupidity. Parking tickets are a high price to pay for not reading the signs and following the rules. Return your library books and rented DVDs and pay your bills on time so that you avoid the "stupidity tax" that comes in the form of late fees.
When you get in a hole, stop digging. As soon as you find yourself unable to meet your credit card payments or other bills, reach out for help from a professional credit counselor and/or a family member or friend. The longer you put it off, the worse things will get.
#4. Feeling better about my body and how I look
The issue:
Although most students (and older adults) experience dissatisfaction with parts of their body on occasion, many students have a distorted perception of their physical appearance and worry obsessively about how to change the shape of their bodies. Individuals with a distorted body image misperceive parts of their body (e.g., some body parts look larger than they are in reality), feel ashamed and self-conscious about their body, and compare themselves to others who they believe have the "perfect" (usually unattainable) body.
Numerous factors likely contribute to students' dissatisfaction with their bodies. For example, messages from the media and even from family and peers can create insecurities about appearance and a desire for a "perfect" body in both men and women alike. Although a distorted body image is more common in college women, college men also report dissatisfaction with their bodies. While women typically strive to be as thin as possible, men usually associate their attractiveness with increased muscle definition and are concerned about body shape.
You might be tempted to:
Try to eat zero grams of fat
Exercise excessively
Diet like crazy two weeks before spring break
Weigh yourself one or more times a day
Give up and allow your self-worth to continue to be determined by numbers on a scale
But try these instead:
While we may all have days we feel dissatisfied or uncomfortable in our bodies, it is important to appreciate and respect our bodies and disconnect body image from self-worth. Here are some suggestions to help you to experience your body in a more positive and accepting way:
View social and media messages about appearance critically.Question assumptions made by marketing ads and TV shows and films that imply that one has to be "attractive" to be happy and successful. Challenge the truthfulness of images that depict men and women without any physical flaws. Seek out and show support for media images that promote positive messages about differences in body shape.
Stop criticizing yourself in the mirror.The body you see in the mirror maintains and nourishes your life on this planet. It is the greatest tool you'll ever own. Treat it with the respect and love it deserves. Recognize that our bodies come in many different shapes and sizes and focus on the things you love about your body.
Think about all of the things you are missing out on with the time and energy spent on worrying about your body. Don't let your body shape concerns prevent you from participating in activities you love.
Refuse to accept criticism from anyone about your body—including yourself! Challenge any negative thoughts you may have about your body with positive affirmations.Tell others that body criticism has a very negative effect on self-esteem, and that it poisons the trust and security in your relationship.
Find friends who are not overly concerned or critical about weight or appearances. Surround yourself with positive people who appreciate you and your inner strengths.
Wear clothes that make you feel good about your body and reflect your personal style. Learn to appreciate the way your favorite clothes feel and look on you.
Find a method of exercise that you enjoy and do it regularly. Learn to see exercise as a great way to improve your health and strength instead of a way to "control" or "fight" your body. Take time to appreciate the positive changes in your emotional and physical well-being when you exercise (i.e., feeling happier, more energized).
Read something other than the popular media. The following books provide a good start:

Transforming Body Image by Marcia Germaine Hutchins
The Beauty Myth by Naomi Wolf
Body Traps by Judith Rodin
Reviving Ophelia by Mary Pipher

Seek Professional Help. The staff at James Madison University's Counseling and Student Development Center is able to appropriately guide you to the most appropriate services addressing your concerns. That may include participation in a group, workshop, or a referral for individual counseling either at the Counseling Center or with a community therapist.
#5. Confusion about my academic major and/or career
The issue:
College students often possess a wide variety of academic interests and skills, making the process of choosing an academic major and/or career path feel overwhelming. It is normal for students to be confused about their choice of a major and a career, especially during their freshman and sophomore years. On average, students change their major two or three times before finally deciding upon an area of study.
Factors which can add to the difficulty of this decision making process include:
Conflicting expectations and feedback from family, friends, and professors as to the best major and career for the student.
Personal pressure to "get it right", because choices now must be lived with forever.
Fear of not being financially successful.
Fear of being unhappy in a career.
You might be tempted to:
Make a career decision immediately and stick to it even if you don't find it satisfying.
Listen to and be influenced by other's ideas as to what is best for you with little or no self-exploration.
Go for the money. Choose a major or career based solely on a desire for the most lucrative career.
But try these instead:
Visit the Career and Academic Planning web site at www.jmu.edu/cap/ and click on "Choosing a Major/Career" to view all the resources available to you.
Explore your personal values and how they will be reflected in your career aspiration. What matters more to you? Money? Intellectual challenge? Helping others? Family? Geographic location? How will these values influence your decision of a major and a career?
Explore your academic interests, abilities, and skills. Review your previous work experiences and the parts of those experiences you liked and those you didn't. (CAP paragraph)
Take introductory courses in subjects that interest you (or that are totally new to you) to explore fields of study and majors/careers they offer. Introductory courses are general in nature and provide a good overview to what is studied in the major. In addition, many introductory courses fulfill General Education requirements.
Investigate careers that might interest you and the kinds of academic/experiential backgrounds required for success in them.
Talk to people. Ask your professors what prompted their interest in their subject area. Ask people in the work place what they like and dislike about their careers.
Remind yourself that the job market is constantly changing, and the career you will have ten years after graduation probably does not exist yet. Most people change careers two or three times in their life to accommodate their wide spectrum of abilities, interests and needs, as well as the evolving job market.
#6. Feeling more self-confident
The issue:
College is a time when students are growing into adulthood, and they commonly have doubts about their ability to succeed (e.g., academically, socially, etc.). A lack of self-confidence is so intense for some that they are discouraged from even attempting new and/or challenging tasks. However, self-confidence typically comes through the hard process of meeting life's challenges and achieving important goals.
Self-confidence and popularity are frequently confused in college students. For example, the least popular person may have high self-confidence because s/he is comfortable and happy with whom s/he is as a person. Conversely, more popular people may continually need positive feedback from others to shore up a very fragile sense of self-confidence.
You might be tempted to:
Avoid engaging in new things outside your comfort zone.
Use alcohol and/or drugs to bolster courage in social situations.
Take on the style, appearance, and values of those you envy.
But try these instead:
Be clear about what you want to achieve in life. Set goals and work for their achievement.
Be positive about yourself as often as you can. Remind yourself about your good qualities, your accomplishments, and your contributions.
Work against the human tendency to compare yourself with others. Instead, focus your efforts on fulfilling your potential.
Develop the ability to accept constructive criticism without getting overly upset or defensive. This feedback will provide you valuable information about how others experience you that you can use to improve yourself. At the same time, don't allow yourself to be overwhelmed by criticism that is cynical or meant to lower your self-esteem.
Avoid "sinking ship" individuals who criticize, nit pick, and bring you down with them. If you find yourself in a situation where you must deal with individuals with a negative outlook, confront them on the matter.
Accept the fact that you will fail from time to time. When you fail, simply acknowledge that you have been unsuccessful and consider what you might do differently the next time. Such an attitude will normally help you overcome the most difficult challenges.
Develop the courage and skills to approach groups of people and introduce yourself to them. Listen carefully and attentively to what they say and respond to show your interest.
Self-esteem is dependent upon the feeling of well-being, so take good care of your body. Remember, a healthy body is essential for a healthy mind!
#7. Feeling depressed
The issue:
"Why am I so bummed out? I can't get motivated! I don't care anymore!" Sound familiar?
Depression in college students is very common and is more than the blues or the normal everyday ups and downs. When the "down" mood, along with other symptoms, lasts for more than a couple of weeks, the condition may be clinical depression. Some common symptoms include the following:
Sadness, moods-swings, crying for no apparent reason
Anger/irritability
Feelings of helplessness, hopelessness;
Being overly self-critical
Decrease in physical activity; living the 'coach potato' life
Overeating or loss of appetite; junk food diet
Weight loss/weight gain
Social withdrawal (e.g., from people and extra-curricular activities)
Increased class absence
Difficulty concentrating in class or while studying
Being unmotivated to set or meet goals
You might be tempted to:
Self-medicate by over-eating, binge drinking, taking illegal drugs, or overusing prescribed medications.
Withdrawing from life (e.g. avoiding friends/family, shunning previously enjoyed activities, sleeping in excess).
Surrendering to a pervasive negative view of yourself, the world around you, and your future.
But try these instead:
Get out of bed. One of the most important things you can do is get up at about the same time every morning, including weekends. Such regularity helps your body function more optimally and will help you feel normal.
Lights. Light helps your body function better. Turn on a lot of lights or go outdoors into the sunshine as often as you can.
Build structure into your day. Set small daily goals and stick to them.
Put pleasure and fun into each day. Treat yourself to something that you will enjoy and that will require you to expend some energy.
Music. Incorporate some energetic, happy music throughout your day. Remember to select music that is positive and uplifting.
Keep active. Be active right away -- oxygenate! Mild exercise gets the blood flowing and transports more oxygen throughout your body (especially to your brain), helping you feel mentally alert and alive. So, go to UREC, go for a hike, swim, jog, play tennis, etc. Just move!
Eat balanced nutritious meals. Begin your breakfast with protein (i.e., meat, eggs, peanut butter, nuts, cheese). When you get up, your body chemistry is ready to convert food, especially protein, into long-lasting energy. Limit caffeine and sugar and, of course, cut down on the junk foods!
Rather than bottling them up inside, allow yourself to experience your emotions. Keep a journal of your feelings and thoughts. If you need to cry, do so. If you are angry, find a safe way to express that anger.
Seek out humor. See a funny movie, read a humorous book, or listen to a comedy DVD.
Be kind to yourself. Talk to yourself in a kind and caring way; challenge any negative self talk or messages that you may be giving yourself. Stick with what you know is true, is real, and is observable, rather that jumping to conclusions or making assumptions. Do not focus on the negative; focus on your positive experiences.
Develop and utilize a support system. One of the quickest ways to beat depression is to interact with others. Surround yourself with positive, supportive, encouraging, and uplifting people. You might not feel like doing that - you'd rather avoid people when depressed. However, you are likely to realize how rapidly your mood lifts when you surround yourself with people who care about you.
Get professional help. If symptoms of depression persist, talking with a counselor or psychologist may lessen the severity and duration of depression. Additionally, you may learn skills for solving problems, improving interactions with others, and helping you see the positive side of yourself, others, and your circumstances. Medication may also be helpful.
Remember, no one tip or combination works for everyone. So, experiment to see what works for you.
#8. Fearing that I will be a failure
The issue:
Many students have an unrealistic belief that every decision they make and everything they accomplish (or do not accomplish) has incredibly long-lasting, effects that cannot be altered. No mistakes, or their life is ruined. The fear can be grades, romantic relationships, getting into social groups (e.g., sororities and fraternities), disappointing parents, or a host of other areas. Some students believe that if the "right" decision is not made, or the "right" choices are not followed, then they will be a failure with little hope for a bright, positive future. This can feel overwhelming and discouraging, especially if the student has no one with whom to share these feelings.
You might be tempted to:
Avoid stepping out of your comfort zone and trying new things in which you are not assured of success.
Devote excessive amounts of time and energy, beyond what's reasonably required to attain a goal.
Believe

a

failure equals being a failure.
Continue with a "no mistakes, no failures" approach to life.
But try these instead:
Determine the real fear. For instance, if fears are related to academics, one might consider asking the following questions: Am I afraid of failing a class because of my parents' reactions or that I will receive criticism from friends? Do I believe that an academic failure may change the course of my life and leave no hope for the future?" If fears are related to relationships, questions might include: Am I afraid of being alone? Do I need these relationships to validate my worth?"
Confide in a trustworthy adult, parent, professor, counselor, or advisor. This will assist in getting a healthier perspective on the fear and provide support from people who value you. These people can also offer some suggestions or alternative ways of viewing the fear that may prove helpful.
Set realistic expectations. Whatever the fear is, break it down into tasks or experiences that may make things feel more doable. For instance, if the fear is of academic failure in a class, break down the assignments into reasonable blocks of time and perhaps get a trusted friend to help schedule your time.
Seek out any support services which may be available on campus. The Learning Resource Centers located in Wilson and Roop Halls provide assistance to students in a variety of academic areas.
Imagine trying to overcome the problem and falling short of the goal (failing). Then figure what the worst consequences would be and what could be done about them. If the worst does happen, you're at least prepared.
Give yourself extra chances. If you're not pleased with one outcome, review what you've learned from the experience. Decide if this task, relationship, or goal is really what you want, and institute what you've learned with the next chance. An example of this might be the baseball team whose slogan is, "Wait till next year." Eventually their continued effort will pay off.
Have something to fall back on. Know what your emotional/spiritual resources are. Be aware of what gives your life meaning. Seek people or organizations which share your values as a support and validation of your worth.
Remind yourself that truly successful people not only fail but are normally quite good at failing. In fact, one key to success is learning to fail well – to experience the consequences of failure, to confront the responsibilities, and to develop additional coping mechanisms – and to realize one has survived. There is truth to the old proverb: "He, who never makes mistakes, never makes anything."
#9. Learning to express my opinions and feelings honestly and directly
The issue:
Do you have trouble saying no, even when you really should? Do you feel like people walk all over you? Alternatively, do you have trouble keeping your temper under control? Many college students find it difficult to express their feelings honestly and openly because they lack assertiveness.
Assertiveness is the ability to honestly express your opinions, feelings, attitudes, and rights, without undue anxiety, in a way that does not infringe on the rights of others. Assertiveness is not aggression. Aggression is self-enhancing behavior at the expense of others (i.e. others' rights and feelings are ignored and/or violated). In contrast, assertiveness is a middle ground between being a doormat and a bully.
You might be tempted to:
Continue to refuse to "make waves" and focus on pleasing and/or deferring to the desires and needs of others.
Avoid people and situations that make you uncomfortable.
Persist with the hope that others will read you mind and then act to meet all of your unspoken needs.
Allow frustrations ("I'm such a wimp!") and negative emotions to build up and then either direct them inward (resulting in feelings of depression, helplessness and being out of control of your life) or at others (e.g., exploding in an angry rage).
Settle for shallow relationships in which emotions (both negative and positive) are not expressed and important issues are not discussed.
But try these instead:
Consciously take responsibility for yourself and avoid taking responsibility for others. You have a right to your opinions and decisions.
Learn to discriminate between something that is your problem from something that is their problem.
Recognize yes/no questions. When you are asked a yes/no question respond with a yes/no answer. You do not need to elaborate upon or justify any response you give. A simple "no" is enough, without excuses.
Pay attention to the language that you use.

Practice using the phrase, "I choose to . . ." to replace statements that use "should", "ought to", and "have to".
Eliminate adding qualifying statements to your opinions or requests (e.g., "You'll probably think this is crazy, but...", "I guess", "But that's just my opinion").
Reduce tag questions (e.g., "Does that make sense?", "Is that okay?").

Use the broken record technique: repetition of a simple statement of fact (e.g., "I am not available at 2:00, our original time is better for me").
When involved in a disagreement with another person, avoid using "You" statements that might cause the other person to feel accused and blamed, thus resulting in a defensive response. Instead, use "I" statements that allow you to express your views in a way that the other person can more easily accept (e.g. "I feel ...", "I think ...", "I experience ...").
#10. Knowing what to do to help a friend with a serious problem
The issue:
Counselors are not normally the first people students turn to when they have problems. Students most often initially reach out to friends, resident assistants, advisors, faculty, and family members, confiding in those closest to them when they are having difficulties. At other times, students attempt to hide their problems and struggles from those who care about them and, if approached, may deny that anything is wrong. In either case, here are some signs to look for and suggestion for helping a friend with a serious problem.
Common causes and signs of student distress include:
Changes in personality (e.g., more noticeably sad, irritable, anxious, indecisive, apathetic, etc.)
Changes in academic performance (e.g., skipping classes, failing grades, falling behind, etc.)
Recent significant losses (e.g., ending of a relationship, death of an important person, experiencing a traumatic event)
Withdrawal from others (including friends and family) and previously enjoyed activities
Helplessness/hopelessness (e.g., person may be unable to see a better future; feels nothing will ever change)
Changes in eating patterns (e.g., loss of or increased appetite) and/or sleeping habits (e.g., insomnia or oversleeping)
Abuse of alcohol and/or drugs, especially when substance use leads to antagonistic, impulsive, reckless and/or violent behavior
Financial difficulties
Appearing disoriented or "out of it" (e.g., less aware of what is going on around them, more forgetful, rambling or disconnected in their speech, and/or demonstrate behavior that seems out of context or bizarre)
Talking about committing suicide (ranging from vague statements like "Everyone would be better off without me" and "It won't matter soon" to direct and clear statements like "I'm going to kill myself")
Talking about harming others (e.g., verbal threats, threatening emails, harassing or stalking behaviors, papers/exams that contain violent material)
You might be tempted to:
Do nothing and hope that things will get better by themselves.
Get overly involved and assume the responsibility for solving the person's problem.
Disclose the person's problem to others who don't have the skills and ability to actually help the person.
But try these instead:
Speak directly to the person about your concerns, preferably in a private place. People in distress are almost always receptive to an expression of genuine interest, caring, and concern. It's important to realize that confronting someone doesn't mean judging, attacking, or blaming the person; it means finding the courage to talk with them about what you've noticed, your concerns, and your willingness to help.
Talk about why you are approaching the person and what you hope will and won't happen as a result. Example: "I'm really worried about how sad and depressed you've been. I'm worried that talking to you about this might hurt our friendship, or that you'll just blow me off, but I really want to find a way to help you start to feel better."
Be specific about the behaviors you've observed that have caused your concern. Clearly stating your observations in a nonjudgmental way makes it more difficult for the person to deny that a problem exists and also lets the person know that you care enough to notice. Example: "The last two weeks, you've stopped going to class, you've been drinking nearly every night, you're blowing off friends who are trying to reach out to you, and I've seen you trying to hold back tears on a bunch of occasions.
Express your feelings about the person's situation. Example: "I'm really worried abut you, and it's hard for me when you push me away and won't accept my help. I'm scared to talk openly with you, because it seems like you don't believe you have a problem and you might flip out on me if I honestly let you know how I feel."
Recognize the value of emotional release and encourage the person to "talk it out." Simply talking about the situation and knowing that someone cares can be tremendously healing.
Ask direct questions. Don't be afraid to ask the person directly if they are drunk, confused, or have thoughts of harming themselves or someone else. You will not be "putting ideas into their heads" by doing so. Most distressed students will be relieved and comforted by such and up-front, direct approach.
Be a good listener. Listening to the person is more important than coming up with the "right thing" to say. Even if you don't agree with his or her view of things, the important part is that the person feels heard and understood. A few helpful tips include:
Stop talking. Your objective is to listen, not solve the person's problems.
Ask open-ended questions that encourage the person to go further into the subject, rather than simply give a yes/no answer (e.g., "Tell me more about . . .," "How have you been feeling since that happened to you?").
Check out your understanding of what the student is saying. In your own words, reflect back what they said.
Don't dismiss the person's perspective. What may seem like a temporary or insignificant issue to you may feel momentous and overwhelming to a person in distress. It may be helpful for you to reflect upon a time in your own life when you experienced something similar (remember when your heart was broken for the first time?).
Avoid labeling the person or the person's behavior. For example, don't say "You're an alcoholic" or "You're bulimic." Such labels, even if they are true, can frighten or anger the person and reduce the chances that they'll acknowledge and address the problem.
Frame the decision to seek and accept help as a courageous, mature choice. Suggest that a willingness to seek and accept assistance from others, including a counselor, indicates that the person is not running away from problems. This is an especially important for guys, as men in our society are encouraged to be independent, keep feelings to themselves, and solve problems on their own.
Don't dispense glib advice. While offered with the best of intentions, phrases like "time heals all wounds", "when life hands you lemons, make lemonade", and "this to shall pass" normally cause people in distress to feel misunderstood and as though their problems are being minimized.
Offer alternatives and establish hope. Intense emotional pain frequently blinds distressed people to alternative solutions to their problems. Help the person develop a plan and locate needed resources so that he or she can start to feel more hopeful and begin to act to improve the situation.
Know your own limits. While you may be able to help most people by simply listening to them and providing a little support and guidance, others may require much more than you may want or be able to provide. Signs that you may be over-extending yourself include feeling stressed out or overwhelmed by the situation, feeling angry at or afraid of the person, and having thoughts of "adopting" or otherwise rescuing the person.
Respect the person's privacy, but only up to a point. Confidentiality is vital for trust, so you typically should not share with others what the person has shared with you. However, you must never fall into the "confidentiality trap". In situations involving a serious risk of harm to the person or someone else, don't promise to keep secrets. Despite any protest ("You're making this worse!"), the potential risks must be your first concern. Point out the bind in which the person is placing you (e.g., "If someone came to you with a situation like this, what would you do? Keep it a secret or get them help?").
Recommend that the person meet with a counselor at the Counseling Center. Describe the benefits of counseling. Let the person know that counselors work hard to understand students, to see things from their point of view, and to then collaboratively help them to figure out solutions. Remind him/her that counseling services are free, voluntary, and confidential.
Help the person make an appointment with the Counseling Center (568-6552). If the person is really upset, or if you're worried that he or she might not follow through, suggest making an appointment right then and there. Some faculty, staff, and friends even escort students directly to Varner House when that level of support is necessary.
Follow up with the person. The counseling process is often most difficult at the very beginning, and your encouragement may help to get the person over this initial hurdle. Ask how the first appointment went (you don't need the details, just that they connected with someone). Please remember that, because of confidentiality constraints, counselors cannot talk with you about a person you have referred without a written release.
Call the Counseling Center (568-6552) if, at any point, you aren't sure what to do. The mental health professionals at the Counseling Center located in Varner House are available to support and guide you in your efforts to help a distressed student. We will consult with you about the situation and help you to develop a plan to appropriately address it.
Last Updated: Tuesday, November 7, 2017