College of Visual and Performing Arts
JMU Alum Returns to Alma Mater for Tri-State Jazz Festival
---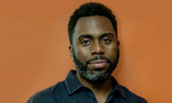 JMU alumnus and acclaimed American drummer, composer, songwriter and producer Ira Nathaniel "Nate" Smith will headline the Tri-State Jazz Festival on Saturday, March 21 @ 4 pm at the Forbes Center for the Performing Arts at James Madison University. The concert celebrates George "Doc" West, the late founder of the JMU Jazz Studies program. The Tri-State Jazz Festival will be renamed in his honor.
Playing in the concert is an alumni jazz ensemble comprised of professional musicians who were students of Doc's over the years. Smith, also a former student of Doc's, will perform with the JMU Jazz Ensemble.
Smith earned a B.S. in media arts and design from JMU in 1997. He recently made cameo appearances in the Oscar-winning film "Birdman," and has played or recorded with many jazz greats including Randy Brecker, Ravi Coltrane, Nicholas Payton, John Pattituci, Adam Rogers and the legendary jazz bassist and composer, Dave Holland. Smith joined Holland's Grammy Award-winning Quintet and Big Band in 2003, and later joined saxophonist Chris Potter and his group, Chris Potter Underground. As a record producer, Smith worked with Michael Jackson and Teddy Riley on the song "Heaven Can Wait" on Jackson's "Invincible" album.
Smith took the time to answer questions from JMU music graduate student, Danyel Reid (M'16).
How were you influenced by George "Doc" West? What does it mean to you to come back and headline the Tri-State Jazz Festival?
Doc was a great musician and a fantastic teacher. He made learning fun, and he taught me the value of humor as a part of the learning process. He also taught me the value of paying attention to all the details in the music, no matter how great or small. Returning to JMU is a huge deal to me, not only because I will have the chance to honor Doc and his impact on my career, but because I will be able to return to my alma mater as a guest artist and hopefully inspire someone to pursue their own dream of a life in the arts.

Why is jazz a significant part of your life?
My dad had a big record collection when I was a kid—mostly late 60s, 70s and early 80s—R&B/jazz artists like Joe Sample, Grover Washington and Bob James. This music was the entry point for me. I really wanted to learn more about what these musicians were doing and how they were doing it. From there, I went on to learn more about the history of the music, a pursuit that I am still following to this day. Jazz is the sound of freedom, and that is why it is so important to me.

How did your career take off after graduating from JMU?
While I was at JMU, I traveled to the International Association for Jazz Education (IAJE) convention in Atlanta with a small jazz group of JMU students. It was there that I met Betty Carter, and she heard me play. I was invited to participate in her Jazz Ahead program. Also, after JMU I participated in the Carpenter Fellowship Graduate Program at Virginia Commonwealth University, where I met the great bassist and bandleader Dave Holland. Holland saw something special in me, and he invited me to join his band a few years later.
If you could change one thing in your career, what would it be?
I wouldn't change anything. I just want to continue to do everything I can to the best of my ability … and hopefully use music to make people feel better.
How did you come to be a drummer, composer and producer?
My first instrument was piano, and I did not like taking lessons. So, I put that aside so I could bang on the drums! Eventually, though, I really got serious about learning about harmony, so I went back to the piano and learned a lot of tunes by ear. Composing/songwriting came naturally to me, as an extension of my desire to learn more about musical language.

What efforts have you made to educate people about jazz?
During 2013 and 2014, I was on the faculty of Betty Carter Jazz Ahead at the Kennedy Center, and I spent two weeks coaching and mentoring young artists. I also participated in the 2014 Thailand International Jazz Conference as an educator and adjudicator.
What has been your most memorable musical collaboration?
There are too many to mention. Each collaboration is an adventure.
How important is networking in the world of entertainment?
I think networking is important, but forming real relationships with people is most important. Networking can be done at a cocktail party for 90 minutes or a couple of hours. Forming real
lasting relationships with people takes time. There is a big difference.

What advice can you offer current music students at JMU?
Don't limit yourself. Be open to everything. Be a cool person who is easy to be around. Be patient and always do your homework.

What pieces will you be performing at the Festival?
The program is still in the works, but I know we will be performing two pieces, one called Prelude and Rhythm (composed by Jim McNeely) and Power and Water (composed by John Hollenbeck and
orchestrated by Chuck Dotas).
Published: Tuesday, July 25, 2017
Last Updated: Wednesday, August 9, 2017