College of Visual and Performing Arts
Be the Change: Junior Lexie Thrash
---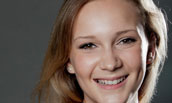 Lexie Thrash continues to make the most out of her time at JMU. A junior from Frederick, Maryland, Thrash is double majoring in dance and School of Media Arts & Design (SMAD) with a concentration in corporate communications. Thrash has wanted to dance since she was young, but loves her SMAD major as well—and particularly enjoys incorporating the two. As a sophomore, she interned with the College of Visual and Performing Arts Public Relations/Marketing office, where she furthered her interest and skills in developing promotional items to sell a show. Thrash creates posters and videos for upcoming dance events while managing a busy class and performance schedule.
A full calendar seems to feed Thrash's desire to be involved and leave her mark. Since arriving on campus with a "yes" attitude, she has since seen many opportunities come her way. Thrash was chosen as one of two freshmen to attend the 2013 American College Dance Festival (ACDF) and was selected to perform as a substitute the next year. She has performed in seven student dance concerts, in New Voices in Dance as a member of the Contemporary Dance Ensemble last spring, and will perform in four pieces in this year's Dancescapes as a member of the Virginia Repertory Dance Company.
As a member of Virginia Rep, Thrash dances "all of the time," rehearsing during the week and participating in guest artist residencies during the weekend. The ensemble also makes time to perform shows and work with high schools and colleges throughout the region. "It's an honor [to be a member of Rep]," says Thrash. "We get to be ambassadors for JMU dance."
In addition to traveling locally, Thrash had the opportunity to study abroad in the London Dance Intensive this past summer where she got "to understand the different ways that people work and create work" and to interact with professionals who fueled her artistic energy. She says she came out richer, and more confident and authentic from the experience, which resulted in greater success with her choreography this past semester. Two of her pieces, Still I Rise (a solo work) and It's a Beautiful Thing to Carry (a group work), were featured in this year's Fall Student Dance Concert.
Thrash says the trip to London also gave her hope that she "could be a professional dancer and make a living." For now, Thrash is "very passionate about dance, about being an artist, about learning and growing, about meeting people, and getting involved." That involvement includes serving as the education director for her sorority, Tri Sigma. Thrash is also in the Honors Program.
Thrash recently learned she was accepted to study in the JMU in LA: The Entertainment Industry program this summer!