//www.jmu.edu/africana/images/march-newsletter
African, African American, and Diaspora (AAAD) Studies Center Newsletter: March 2022
News
AAAD Studies Center Newsletter: March 2022
Brought to you by the African, African American, and Diaspora Studies Center
---

This newsletter is created each month by the African, African American, and Diaspora Studies Center. For more information, visit our website.
Giving Day was a Huge Success!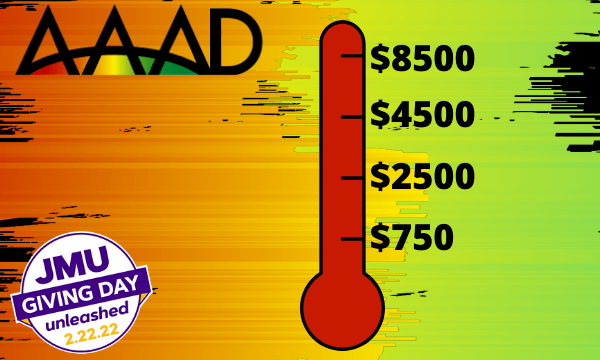 Thank you! With your help, we surpassed our fundraising goals last Giving Day. Your donations to the AAAD Studies Center will not only help us fund our new AAAD Faculty and Student Research & Development Awards but will also support other amazing AAAD programs like our AAAD Global South Fellowship program and more! We truly couldn't do this work without you. Thank you!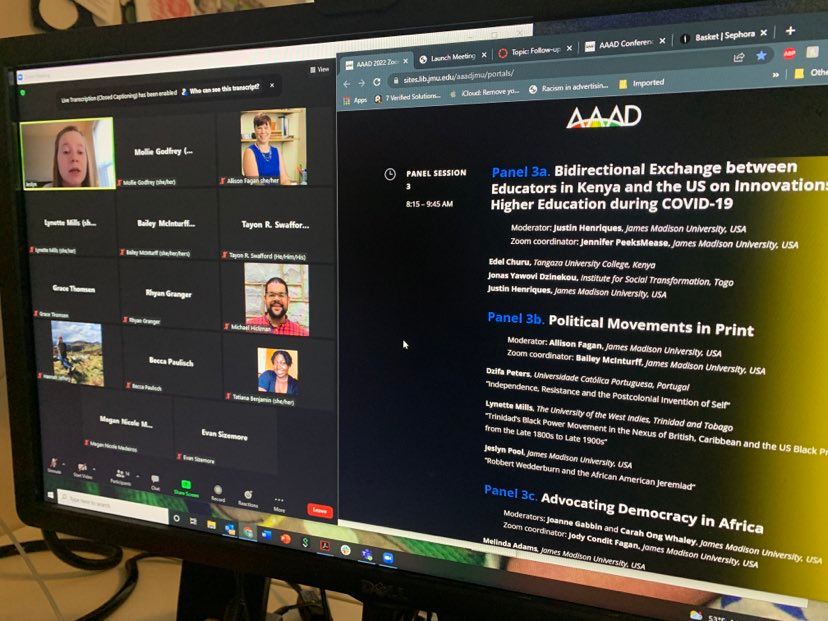 We also had an incredible showing at this year's 12th Annual AAAD Conference. In addition to keynote presentations by Dr. Dorothy Roberts and Dr. Andrea Ritchie, this year's conference featured 182 presenters from 18 countries across 5 continents representing more than 40 disciplines. The conference was attended by more than 650 people!
Thank you to David Babcock, Megan Medeiros, Morgan Lyle, Justin Attas, Collin Bright, the AAAD Conference Committee, and our many campus partners for their incredible work putting the conference together.
Finally, we are so excited to announce the official launch of our new podcast, AAAD Presents: Good Trouble, created by our very own Megan Medeiros. In our first episode, graduate students and recent AAAD graduates, Collin Bright and Spencer Law discuss the impact the AAAD program had on their lives and careers. In the second episode (premiering later this week), Drs. Allison Fagan, Amy Lewis, Tolu Odumosu, and Carah Whaley discuss the Antiracist Gen Ed Project, sponsored by JMU X-Labs, AAAD, and JMU Civic.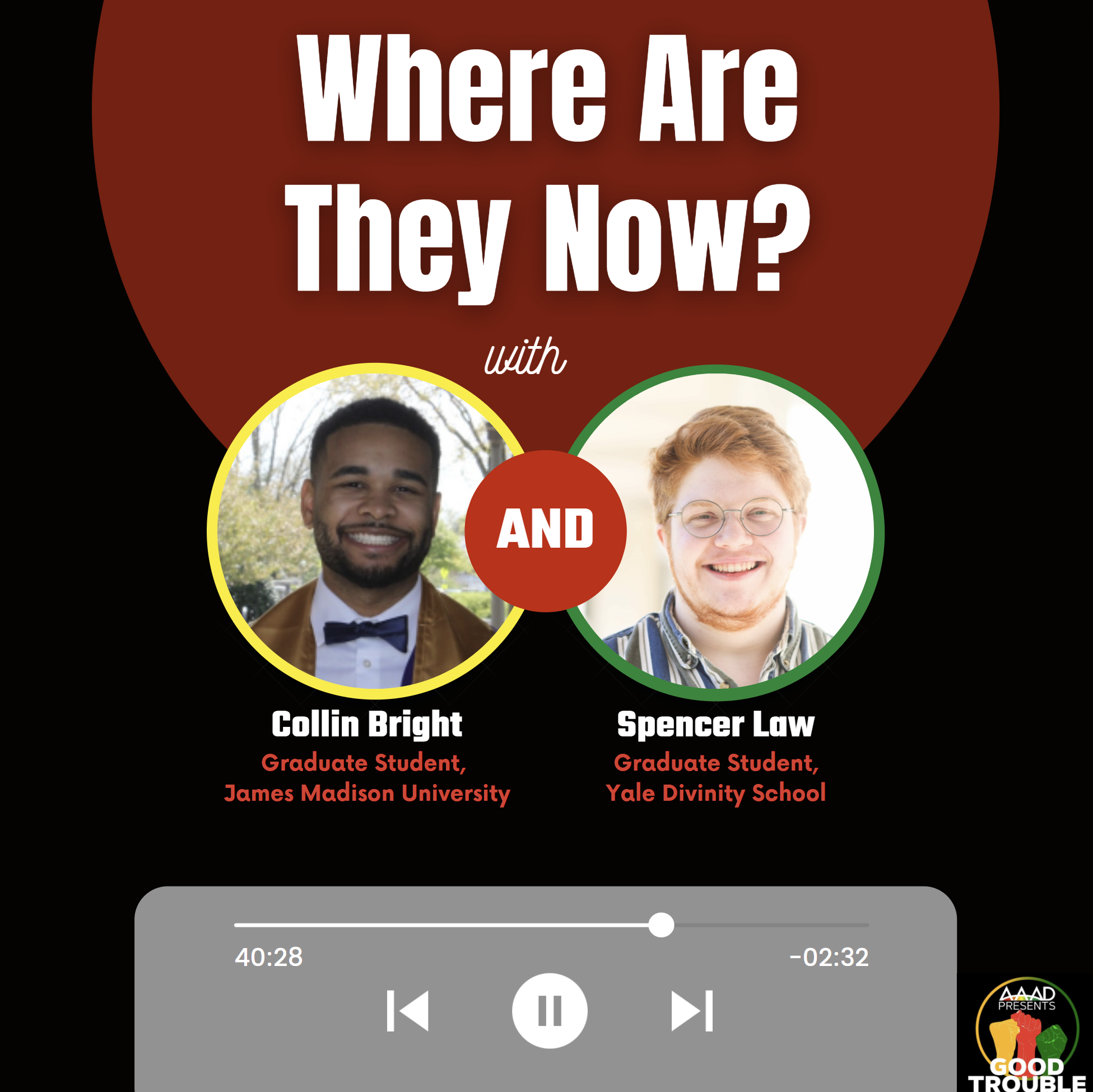 March Events:
Look out for these exciting March events from AAAD and our campus partners!

March 3 | 4pm | Inaugural Terry Beitzel Lecture | Wilson Hall

A lecture titled "The Fall of Kabul: Lessons for Leadership," will be delivered by Samiullah Nuristani, Ph.D., on Thursday, March 3, at 4pm in Wilson Hall. Admission to Nuristani's talk is free and all are welcome to attend. It honors the moemory of Terry D. Beitzel, who died early last year of COVID-19 complications. Beitzel, a professor of justice studies at JMU, had served as the director of the Gandhi Center and was also an active member of the Advisory Council of the James Madison Center for Civic Engagement and a friend and supporter of AAAD. (https://bit.ly/GandhiCenter)

March 3-4 | Furious Flower Collegiate Summit | Virtual

Furious Flower presents the Furious Flower Collegiate Summit with 2021 National Book Award Finalists Doughlas Kearny and Amber Mcbride.

March 8 | 4-5pm | ASW: Dr. Njelle Hamilton | Virtual

The Africana Studies Workshop presents Dr. Njelle Hamilton. This event will be held virtually from 4-5pm. Please contact Becca Paulisch (paulisra@jmu.edu) for more information.

March 8 | 5pm | Police and the High Sheriff Come Riding After Me | Virtual

Performers of country music and its predecessor genres have supported Southern political candidates before country music even became a solidified musical style. One unifying theme from the late 19th century to the present has been that musicians supporting political campaigns have repeatedly borrowed elements and whole songs from African American tradition, while they have also drawn from depictions of Blackness rooted in minstrelsy. This talk, featuring Dr. Peter La Chapelle, will analyze two country music-infused political campaigns - one in the 1920s and one in the 1960s - and then make connections between this history and the role that race is now playing in the modern genre. This event is sponsored by The Cohen Center for the Humanities and is virtual. (https://jmu-edu.zoom.us/j/86386361141)

March 10 | 6-9:30pm | Cultural Heritage Month Speaker: Tianna Soto | Union Ballroom

Sponsored by the Center for Multicultural Student Services, this event features writer, speaker, and educator Tianna Soto. As a Puerto Rican, Jamaican-Chinese woman born and raised in the south in a family of New Yorkers, Tianna understands what it's like to exist between worlds. She encourages students to honor their personal narratives and the qualities that make them unique while sharing practical guidance for mental health and wellness. Her work is heart-centered, service-driven, culturally-informed, and rooted in empathy. (https://bit.ly/TiannaSoto)

March 23 | 8-4pm | Annual Diversity Conference | Festival Ballroom Grand

Sponsored by the Office of Access and Inclusion and geared toward JMU Faculty and Staff, the Diversity Conference is an all-day event located in the Festival Conference and Student Center which allows you to participate in your choice of three informational or workshop sessions (https://bit.ly/DiversityConferenceJMU)


March 24 | 7-9pm | D.E.E.P. Impact Cultural Series Women's History Month Speaker, TBA

Stay tuned for more information (https://bit.ly/DeepImpactJMU)
In solidarity and ubuntu,
Mollie (Center Director)
On behalf of AAAD Studies Center faculty, students, and partners