JMU Health Update - Feb. 26
---
Dear JMU Family,
Update on Cases
The university observed 16 new positive cases of COVID-19 at the Health Center yesterday, putting the total number of active cases at 48. The number of open quarantine and isolation beds is 355 out of 434. More information can be found on the university's Stop the Spread dashboard.
Message from Dr. Miller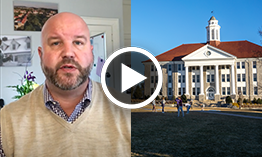 We're all looking forward to warmer weather and the potential to get outside more. Just be sure you're still following the Stop the Spread Agreement by limiting your group to your social bubble of no more than 10 people, wearing a mask and encouraging others to do the same. We've got this, Dukes! Watch the video.
Testing Opportunities
Free COVID-19 testing clinics for students living off campus and for faculty and staff are held on Thursdays in Warren Hall 502. Student appointments are from 10 a.m. to 2 p.m., and faculty and staff appointments are from 8 to 9:30 a.m. and 3:30 to 5 p.m. For additional information, see the off-campus FAQs or the faculty/staff FAQ page.
The University Health Center also has testing available. In most cases, same-day or next-day appointments are available.
Liaison Support
Liaisons are available to help students in quarantine and isolation spaces with services including mail delivery, meals, and correspondence with faculty. Any student in quarantine or isolation can opt in to the liaison program by answering the invitation from liaisons@jmu.edu or by text message.
Quarantine Information
We have updated our quarantine information, as these guidelines have recently changed. The Stop the Spread FAQs are continually updated with current information.
JMU Parent Revamps COVID-19 Dashboard
A unique aspect of our COVID-19 dashboard is the JMU connection. Lee Feinberg, whose daughter is a freshman at JMU, is a data visualization expert who has been crucial to the success of the redesigned dashboard. As JMU continues emphasizing transparency while keeping community members informed, read the full story behind the dashboard.
Stop the Spread HELPline
If students and their families have questions and can't readily find the answers in our FAQs, call the Stop the Spread HELPline, which is open Monday through Friday from 10 a.m. to 5 p.m. The toll-free number is 888-886-3131. And don't forget, many of your questions can be answered here. Call center agents also will be answering questions sent to covid19@jmu.edu, and you can submit questions via a form on the Stop the Spread site. Please note, the HELPline is not for reporting noncompliance with health guidance and the Stop the Spread Agreement signed by all students. Please use the LiveSafe app, which goes directly to the JMU Public Safety dispatch.
Stay safe and download the COVIDWISE app!