Arts and Culture
Look deeper, think better
JMU English professor receives prestigious NEH award
---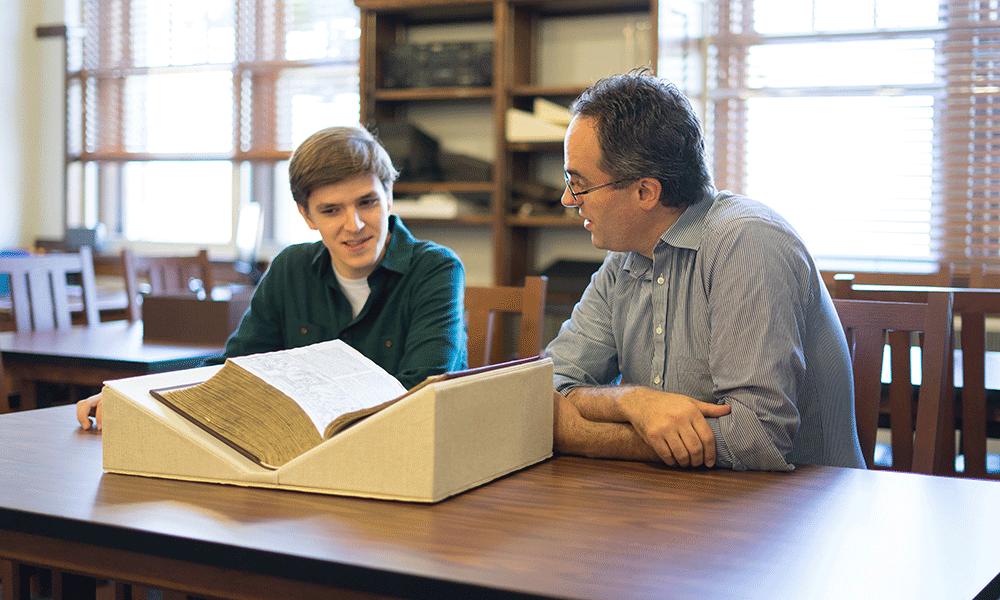 SUMMARY: A prestigious NEH award offers JMU professor Mark Rankin further opportunities for intensive scholarly research
---
From Winter 2017 Madison magazine
When JMU English professor Mark Rankin received word that he had been awarded a three-year National Endowment for the Humanities grant valued at $335,000, he was gratified, to say the least. "NEH's program is very competitive," he says. "It is difficult to get this much money for humanities research."
Rankin will collaborate with professors and staff members at seven colleges and universities to produce scholarly editions of the works of William Tyndale (1495-1536), one of the most significant writers of the English Renaissance. Tyndale is widely recognized for translating the Bible from its original languages into English, but his other writings are not generally available. "Tyndale was a scholar and an important thinker. His works are valuable because they shaped discussion during the English Renaissance and Reformation on topics as diverse as education and political obedience," says Rankin. "He is important to the English Protestant tradition, so he is important to us now."
"Seeking wisdom is one of the great human quests. My goal is to help students become excited by ideas."
- Mark Rankin, English professor
The group of scholars will be examining existing copies of Tyndale's non-translation books and prefaces to his translation, an examination that is essential in gaining an accurate understanding of his work. In Tyndale's time, printers might change a book during printing either to remove controversial passages, add new passages or correct mistakes from accidental omissions or errors. "It's important to look at every surviving copy of a work in its earliest form to determine the specific nature of a text," says Rankin. "I am examining The Practice of Prelates. … We have no Tyndale manuscript of this work, but there are 23 copies of the first printed edition from 1530. And we'll be examining at least one copy of all of the early 16th-century editions of Tyndale's books. Each copy can potentially tell us something different."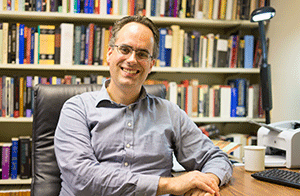 Professor Mark Rankin also received a grant to co-direct an NEH Summer Seminar for College and University Teachers at the Huntington Library in California, one of the world's most important rare book repositories.
Rankin's scholarship is foundational to his classroom teaching. For example, Rankin's English course, Advanced Studies in Textuality and the History of the Book, examines printing technology and the relationship between books and ideas in the English and European Renaissance. "My research literally provides the examples I show students. I give them photos of pages that were changed—the same page from two copies of the same book, but they are not the same. I'll challenge my students to find the difference." The exercise fuels a broader discussion and thought process, fostering the willingness to take a second look. "Showing my students such differences helps them get to the bottom of ideas," he says.
"The study of the humanities reveals that ideas can easily become institutionalized, and people fail to realize their origins—thus, the importance of subjecting ideas to scrutiny. Going from incorrect bias to truth in terms of what the text actually tells us promotes analysis in a way that is extremely useful in society," Rankin says. "The humanities are ideal for promoting critical reasoning and thinking."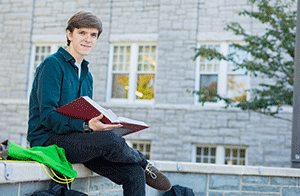 Honors student Michael Hartinger relishes the opportunity to delve into medieval and Renaissance literature. "These works represent important spheres of expression and human thought," he says. "You need to approach [these works] with respect and curiosity."
The challenge of objective analysis in evaluating issues is central to Rankin's teaching. Honors student Michael Hartinger, an English and philosophy double major, says, "I chose JMU because I wanted to study English, and JMU has fantastic medieval and Renaissance scholars, such as Drs. Rankin and Bankert. [Dabney Bankert, head of JMU's English department, specializes in medieval literature.] A professor's research is very beneficial. It illustrates to students just how vast these subjects are and the myriad ways you can approach texts."
Rankin welcomes the opportunities to provoke his students to further inquiry. "Seeking wisdom is one of the great human quests," he says. "My goal is to help students become excited by ideas. I tell them, 'I have office hours, but come anytime you want to talk about these ideas further.'"
Hartinger, who hopes to pursue a career in academia, says, "Professor Rankin always says, 'What you are doing and what I am doing are the same. I've just been doing it longer.' As a budding scholar, to be able to see real scholars and learn how they think about these very important texts is a preview to a career."
Rankin sees engaged learning as a way to pierce "the fog of doubt and confusion to get to more reliable knowledge."
"If my students could gain just one thing from their studies, I would want them to see the benefit of being willing to put aside our biases, to look again, to look deeper to find something more productive than what we started with," he says.
"I want them to think better."
Rankin also received a second grant ($129,535) to co-direct an NEH Summer Seminar for College and University Teachers during Summer 2017 at the Huntington Library in California, one of the world's most important rare book repositories. He is accepting applications from college faculty and advanced graduate students to participate in the program. Learn more at jmu.edu/english or neh/gov.