Instructor, Voice

STATEMENT
Welcome and thank you for your interest in JMU's Voice Area Web Site! I want to use this space to tell you about my journey, because this story is evidence that if you want it badly enough, you can find a way. I had always loved singing, I was pretty good at it, but I was clueless about what I was doing. My relative success was hiding something very wrong. After a few years of directing multiple choirs and singing, even speaking became fatiguing and tense; that is when I sought medical advice. I discovered that my speech was in direct contradiction to healthy phonation.
The journey to vocal health seemed long with lots of twists and turns, but after years of inquiry, voice rest, speech therapy and restorative voice lessons, I gradually made my way back. I returned to voice teaching and performance, grounded in my new understanding – an understanding that guides my teaching every day.
What, I thought, is wrong with this picture? Why had it taken me so long? What had I missed in my training? Why did I not "get it right the first time?" And ultimately, what can I do to ensure this does not happen to any of my students? The answers to these questions were many:
* Voice Science was a relatively new field, but now I could use this understanding of science to teach effective, healthy singing.
* Connections between speech and singing were seldom emphasized, but now I could ensure that my students were also speaking well.
* I needed time when "hurry up and get this" was expected, but I could give each student the time and encouragement they might need to get this right.
Thank you for reading my voice story – a story grounded in mistakes, inquiry and complete recovery. I believe that music matters, and I am delighted to be part of the music-making at James Madison University. If voice is your instrument, contact any of the voice faculty here at JMU. We are all committed to providing the best outcomes for our students. We welcome your questions because we all strive to help our students "get it right the first time!"
BIOGRAPHY
Lucy Owen Hoyt, lyric soprano, is an active recitalist, oratorio soloist and teacher of voice, with a passion for French mélodie and life-long vocal health. Her most recent performances include numerous solo recitals in the greater Shenandoah Valley area and in the Carolinas, as well as a solo recital for the Edinburgh Festival-Fringe in Scotland. Her oratorio roles include Gabriel in Haydn's Creation, the Brahms' Requiem, Mendelssohn's Elijah, Handel's Messiah, Rutter's Requiem, Britten's Ceremony of Carols, and Jonathan Willcocks' Magnificat. In addition to degrees from Westminster Choir College and James Madison University, Hoyt has a Doctor of Musical Arts degree in Vocal Performance from The University of North Carolina at Greensboro. Dr. Hoyt has a special interest and expertise in vocal rehabilitation, which she pursued in advanced studies with Ingo Titze and Katherine Verdolini at the National Center for Voice and Speech. She has presented on the topics of "Vocology: Strategies for Improving Our Voice Teaching" and "Between the Lessons: Teaching Our Students to Teach Themselves" for the
National Association of Teachers of Singing (NATS). Previous voice teachers include Helen Kemp, Sally Lance, LaVerne Roberts, and Robert Bracey with vocal coaching from Margaret Harshaw, Martin Katz, John Wustman, and Elizabeth Daniels. Previously, Dr. Hoyt has served on the faculties of Campbell University, Bridgewater College and Shenandoah Conservatory where she taught undergraduate and graduate Vocal Literature and Diction classes. Dr. Hoyt has served on the Executive Board of the Virginia Chapter of NATS, is currently the advisor of JMU's Student Chapter of NATS (JMU-SNATS), and is a member of The Voice Foundation.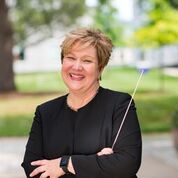 Jo-Anne van der Vat-Chromy
Associate Professor, Director of Choral Activities, Coordinator of Voice Area
vanderjx@jmu.edu
Contact Information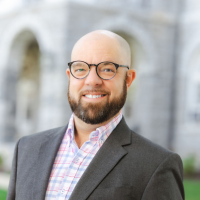 W. Bryce Hayes
Associate Professor, Associate Director of Choral Activities
hayeswb@jmu.edu
Contact Information
Don Rierson
Associate Professor, Director of Opera and Music Theatre
riersodg@jmu.edu
Contact Information