Instructor
Nieves Villaseñor is the Visiting Assitant Director of Bands at James Madison University, where he serves as Assistant Director of the Marching Royal Dukes, Director of the JMU Pep Band, and conducts the JMU Symphonic Band. He also serves as Artist-in-Residence at the Virginia Mennonite Reitrement Community (VMRC) in Harrisonburg, Virginia. Mr. Villaseñor is currently completing his candidacy for the Doctor of Music Arts in Instrumental Conducting with a cognate in Nonprofit Organizations from the University of Florida. 
Mr. Villaseñor hails from the transient military community of Jacksonville, North Carolina. He holds a Master of Music in Instrumental Conducting from Syracuse University, a Bachelor of Arts in Music in Saxophone from the University of North Carolina Wilmington, and an Associate of Fine Arts in Music and Music Education from Coastal Carolina Community College in Jacksonville, North Carolina. 
As a strong advocate for community music and avid collaborator of area musicians, Mr. Villaseñor was the founder and artistic director of the San Antonio Community Wind Ensemble, a program offering of Crossmen Productions, Inc and ensemble-in-residence at Texas A&M University San Antonio. He served as the Director of Secondary-School Music at Jubilee San Antonio Charter School and developed the school's first-ever band and color guard program. Mr. Villaseñor was also a performer in the WGI Independent World Class Silver Medalist Indoor Winds unit, Crossmen Winds, and a saxophonist with River City Big Band based out of San Antonio. In New York, Mr. Villaseñor competed with DCA Open Class Finalist corps, White Sabers Drum & Bugle Corps, was a performer with activist ensemble, Unity Street Band, and became co-founder of the region's first WGI Independent Indoor Winds unit, Vortex Indoors Winds. In 2022, Mr. Villaseñor was selected as the recipient of University of Florida's Graduate Teaching Award for his work with the introductory music-major conducting course. 
Mr. Villaseñor serves annually on the instrumental music faculty of the North Carolina Governor's School East at Meredith College in Raleigh, NC, the nation's oldest statewide summer residential program for academically and intellectually gifted high school students.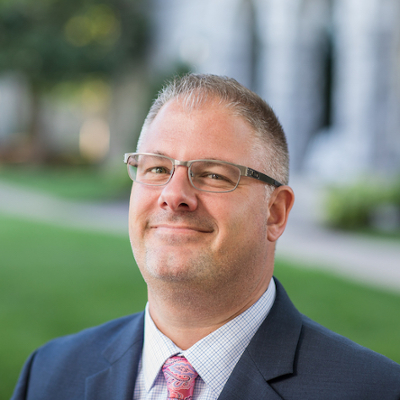 Scott Rikkers
Lecturer
Director of the Marching Royal Dukes
Assistant Director of Bands
rikkersd@jmu.edu