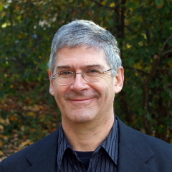 Research Description
I study knots and links. I am particularly interested in unknotting numbers and unlinking numbers. I am also a co-author of a Calculus text.
Education
PhD in Mathematics, 1991, The University of Texas at Austin
MA in Mathematics, 1985, San Francisco State University
BS in Chemistry, 1974, Antioch College, Yellow Springs, Ohio
Select Publications
Kohn, Peter. Unlinking two component links. Osaka J. Math. 30 (1993), no. 4, 741--752. DOI: 1200784732.

Laura Taalman and Peter Kohn, Calculus, WH Freeman Publishers, 2013.