JMU Purple 
 

Pantone 2685
Metallic: Pantone 8802 C

C: 92 M:98 Y:0 K:0
Use solid purple for small emphasis areas (headers, behind white wordmark) and avoid lavender tints.
JMU Gold
 

Pantone 4515
Metallic: Pantone 871 C

C: 0 M:9 Y:50 K:24
Use gold, gold tints or white for large main areas such as behind text. Do not use Pantone 4515 (or lighter) colors for text on a white background.
Accent colors for print
Use accent colors in moderation to emphasize text and small graphic areas in communications. Accent colors are acceptable as long as no rival school colors are used (such as University of Virginia's blue and orange.)
 

C:65 M:37 Y:100 K:18 

C: 38 M:2 Y:100 K:0 

C: 14 M:0 Y:43 K:0 

 

C:80 M:46 Y:33 K:7


C:68 M:28 Y:19 K:0


C:16 M:1 Y:2 K:0

 

C:24 M:98 Y:88 K:18

C:0 M:28 Y:100 K:0
JMU Brand Colors: web guidelines
 

Dark Purple #450084
R: 69 G: 0 B: 132
for titles, background color, linked text, buttons

Purple #B599CE
R: 181 G: 123 B: 206
use for icons, graphic elements


Light Purple #DACCE6
R: 218 G: 204 B: 230
use for graphic elements, background color

 

Dark Gold #AD9C65
R: 173 G: 156 B: 101
use for titles and graphic elements

Gold #CBB677
R: 203 G: 182 B: 119
graphic elements

Light Gold #F4EFE1
R: 244 G: 239 B: 225
background color
 

Slate #333333
R: 51 G: 51 B: 51

Dark Gray #595959
R: 89 G: 89 B: 89


Gray #B2B2B2
R: 178 G: 178 B: 178

Light Gray #D6D6D6
R: 214 G: 214 B: 214

Accent colors for web
 

#5F791C
R: 95 G: 121 B: 28

#ADCC23 
R: 173 G: 204 B: 35


#DEEBA7 
R: 222 G: 235 B: 167


 

#3C738B
R: 60 G: 115 B: 139

#5498B6
R: 84 G: 152 B: 182


#D2EBF5
R: 210 G: 235 B: 245

 

#A4232B
R: 164 G: 35 B: 43

#FFBD00
R: 255 G: 189 B: 0
Web color guidelines
Never put JMU Purple with yellow
Never use tints of the red or yellow accent colors
Red is only used for inline icons, warnings, link hover, etc.
Blue and green may be used as

background color
border
banner

Never combine JMU Purple or Gold with green, blue, or yellow
Never use red or yellow as a background color 
The overall ratio of color on a page should be about:
60% White space and grey
30% Brand Colors
10% Secondary Colors
Red and Yellow are accents and their percentage may not be more than 5% of the page area.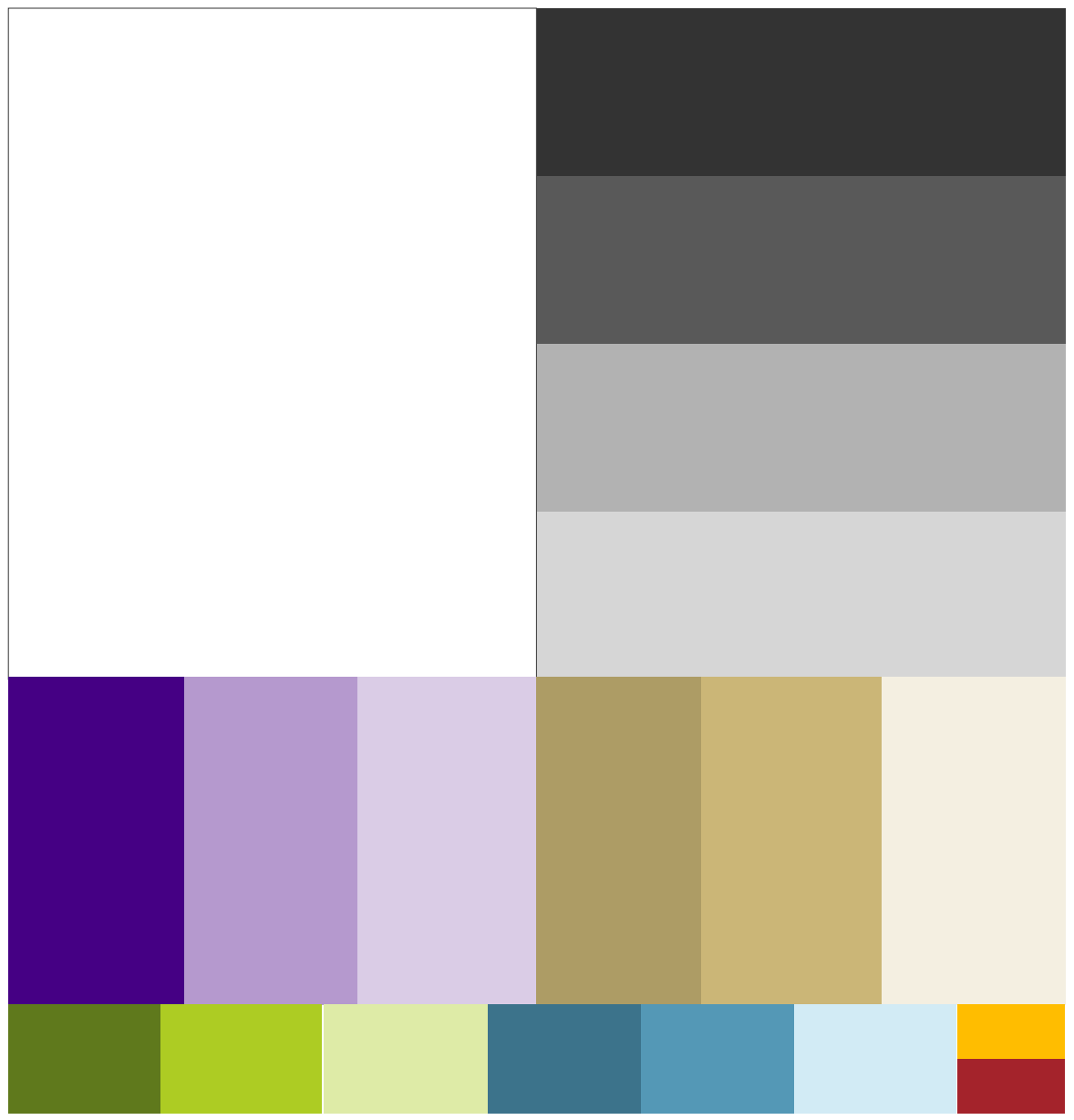 Text and background color combinations.
These combinations are approved, do not use combinations that are not shown here because of contrast issues and legibility.
Background colors with text color #33333
Background colors with text color #450084
Background colors with text color #FFFFFF
Background colors with text color #595959
Text colors on background color white (#FFFFFF)
Background colors with text color #CBB677
H2 & H3 only: background colors with text color #FFFFFF
H2 & H3 only: text colors on background color white (#FFFFFF)
Color guidelines for email
 

Dark Purple #450084
for titles, background color, linked text, buttons

Purple #B599CE
use for icons, graphic elements


Light Purple #DACCE6
use for graphic elements, background color

 

Dark Gold #AD9C65
use for titles and graphic elements

Gold #CBB677
graphic elements

Light Gold #F4EFE1
background color

 

Slate #333333
paragraph text, captions, subheads

Light Gray #D6D6D6
background color

Yellow #FFBD00:
only used for buttons