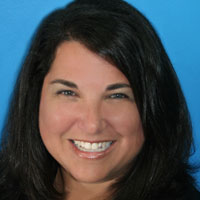 Honors Advisory Council Member

Elissa Mast graduated from JMU in 1993 with a BA in Organizational Communication. She is CEO/Owner of E&R Sales, Inc., a national wholesale balloon distributor headquarted in Midlothian VA. She was also Foundation and Co-owner of retail stores in Richmond and Midlothian from 1998-2007. She's an active volunteer, sitting on several boards and committees. She currently serves as President on the BCA Board and on the Legacy Committee of Congregation Beth Ahabah in Richmond. Elissa is past president of her industry's association, the IBA. She served on the Board of the Virginia Council of the CEOs for ten years, and served as Vice President of the Board of the Trustees for Millwood School.
Elissa is married to Chris. Their two children are also JMU Dukes. She resides in Midlothian, Virginia.