Lauren K. Alleyne: Executive Director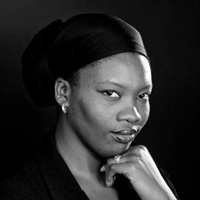 Professor of English at James Madison University, Lauren K. Alleyne started as Furious Flower's Assistant Director, seeking funding through grants and gifts; envisioning and planning events; editing the center's online journal, The Fight & the Fiddle, and other literary projects; and advising JMU's student creative writing organization, Word is Born; on July 1, 2022, she assumed her new role as Executive Director. She hails from the twin-island nation of Trinidad and Tobago and holds an MFA in Poetry and a graduate certificate in Feminist, Gender, and Sexuality Studies from Cornell University. Her fiction, poetry, and nonfiction have been widely pulished in journals and anthologies, and she is a Cave Canem graduate who has been awarded numerous prizes, including the 2016 Split This Rock Poetry Prize, the 2015 Iowa Arts Council Fellowship Award, the 2015 Picador Guest Professorship in Literature at the University of Leibzig, a 2012 Lyrical Iowa Award, 2010 Small Axe Literary Prize, and honorable mention in the 2010 Cave Canem Poetry Prize. 
She is author of two collections of poetry, Honeyfish, and Difficult Fruit.
Selected Publications
Honeyfish, Peepal Tree Press, Leeds, UK. 2019.
"Poetry Workshop After the Verdict," Resisting Arrest, March 2016.
"A Gathering of Light," The Grief Diaries, February 2016.
"Madame X," Feminist Wire, September 2015.
Difficult Fruit, Peepal Tree Press, Leeds, UK. 2014.
"Our Choices, Our Voices: Writing from within the War on Women" New York Arts Magazine, December 2012.
"What Women Wear" Crab Orchard Review, Fall 2009.
(Chapbook) Dawn in the Kaatskills. Longshore Press, Pittsburgh. 2008.
"A Grab Won't Cure My Feminism" Sexing The Political, 2003; Women's Studies Quarterly, Fall 2007.
 "How To Leave Home" The Moveable Nest: A Mother Daughter Companion, Fall 2007.