planetarium
Public Star Party at JMU's Astronomy Park on November 17 at 6p
Fri, 17 Nov 2017 6:00 PM - 8:00 PM
Mark your calendar now for our NEXT public star party on Friday, November 17! Our monthly star parties is the public's opportunity to come on campus, look through our telescopes, and perhaps see our Moon, Jupiter and its 4 Galilean moons, Saturn and its majestic rings, binary stars and oh so much more!
John C. Wells Planetarium Director and staff will be on hand to answer your cosmic questions and provide impromptu live, star talks highlighting the Valley sky! While our skies here in Harrisonburg and on campus are light-polluted, we will still be able to show you objects through our telescope that you cannot see with the unaided eye.
Public star parties are scheduled for the last Friday of every month. If inclement weather forces us to cancel, we will try again on Saturday. The decision to observe or not will be made by 4pm that day and will be posted on the Planetarium website, the Planetarium's Facebook page, and on Twitter. If you're on social media, please "follow" us on Twitter and "like" us on Facebook to find out about all our special events at the Planetarium this year!
Upcoming Dates 2017 -- 2018
NO star party in December
Friday, January 26
Friday, February 23
Friday, March 30
Friday, April 27
NO star parties in May/June/July/August (late sunset times)
Notice of Postponements
If an event must be postponed due to weather, a notice will be posted by 4 p.m. the day of the event on the planetarium homepage, on Facebook and on Twitter. Saturdays will serve as back-up dates.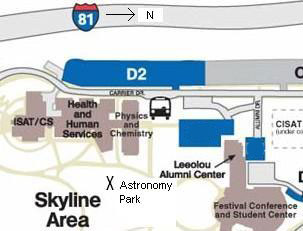 Physics and Chemistry Building Address:
901 Carrier Drive
Harrisonburg, Va. 22807