Furious Flower
Bearden's Odyssey - art and poetry reading
Thu, 19 Oct 2017 4:00 PM - 5:00 PM
4 p.m.
Duke Hall Gallery Court | 820 South Main St.
Surrounded by the images that inspired the ekphrastic poetry of Bearden's Odyssey, co-editors Kwame Dawes and Matthew Shenoda read from the book and discuss the significance of Romare Bearden's contributions to American art. This event, sponsored by JMU's Furious Flower Poetry Center, is free and open to the public.
"Borrowing from Romare Bearden's aesthetic palette and inspired by his Odysseus series, Bearden's Odyssey gathers, for the first time, poems from thirty-five of the most revered African diaspora poets in the United States. Poetic echoes come forth in themes of inspiration with historical intersections of one of the greatest visual artists of the twentieth century." —Northwestern University Press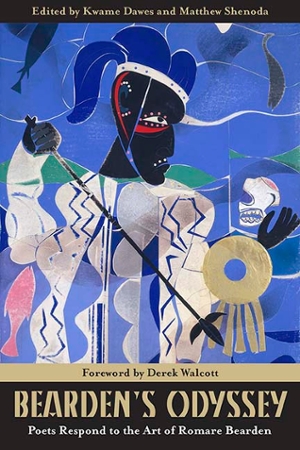 KWAME DAWES is the author of nineteen books of poetry and numerous books of fiction, criticism, and essays. His most recent collection, City of Bones: A Testament will appear in 2016 along with Speak from Here to There, a cowritten collection of verse, with the Australian poet John Kinsella, and A Bloom of Stones, a trilingual anthology of Haitian poetry. He is Glenna Luschei Editor of Prairie Schooner and Chancellor's Professor of English at the University of Nebraska, as well as a faculty member of Pacific University's M.F.A. program. He is the director of the African Poetry Book Fund and artistic director of the Calabash International Literary Festival.
MATTHEW SHENODA's debut collection of poems, Somewhere Else, was named one of 2005's debut books of the year by Poets & Writers magazine and was the winner of a 2006 American Book Award. He is also the author of Seasons of Lotus, Seasons of Bone and, most recently, of Tahrir Suite: Poems, winner of the 2015 Arab American Book Award. Shenoda is the Dean of Academic Diversity, Equity, and Inclusion and Special Advisor to the President at Columbia College Chicago where he is currently Associate Professor in the Department of Creative Writing. He is a founding editor of the African Poetry Book Fund.
---
This event at JMU's Duke Hall Gallery Court is free and open to the public.
Guests do not need a permit to park in the Mason Street Parking Deck between the hours of 3:30 and 5pm. All parking regulations for JMU students, faculty and staff will remain in effect, and students attending the event are required to park in appropriate student parking lots with a JMU parking permit.
Regular enforcement will continue in other parking lots, and you may receive a parking citation if parked in restricted lots. Parking is prohibited in specialty spaces such as Service Vehicle spaces, handicap spaces without proper permit, or expired meters. Parking is also prohibited in Fire Lanes.