The Gmail App is installed by default on most Android phones. If the manufacturer of your phone has chosen to remove it, you can install it from the Google Play Store.
Open the Gmail App
Click the arrow in the bottom right corner
Click "Done"
Click "Add an email address
Make sure "Exchange" is selected then click "Next"
Enter your email and click next
Enter your password and click next
If the "Incoming server settings" page appears, make sure "Username" is your email and "Server" is "exchange.jmu.edu" then click "Next"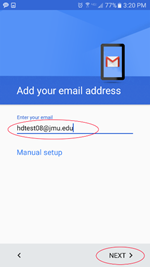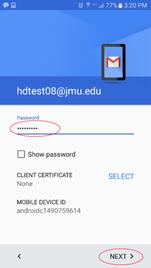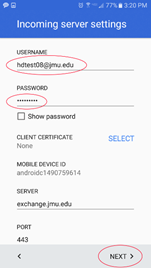 If you receive a "Remote Security Administration" prompt, click "OK"
Select your sync options according to your preferences
If the "Activate phone administrator page" appears, click "Activate"
Enter any display name you like for the account and click "Next"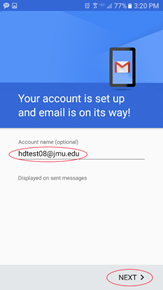 Click "Take Me to Gmail" to finish the set up process.