Two Factor Authentication (Duo) Enrollment Guide
Two Factor Authentication (Duo)
Enrollment Guide
Duo Supported/Recommended Browsers: Current versions of Chrome, Firefox, Safari, Internet Explorer
Click the "Start setup" to begin enrollment in to Duo and to set your JMU e-ID Password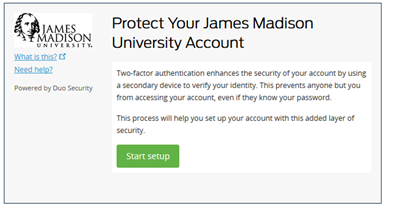 2. Choose Your Two-Factor Authentication Device Type
Click the button for the type of device you are enrolling (mobile phone is recommended), then click "Continue"
NOTE:  Information Technology recommends using a smartphone for the best experience, but you can also use a mobile phone with texting capability, hardware token, or an iOS/Android tablet.
These instructions focus on enrolling a smartphone. For assistance with enrolling other devices, contact the IT Help Desk at 540-568-3555 or helpdesk@jmu.edu.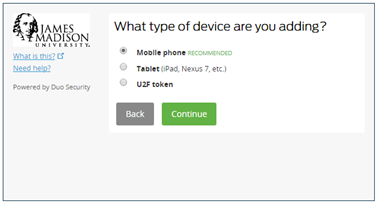 3. Enter Your Phone Number
If you selected a mobile phone, select your country from the drop-down list and enter your phone number.
Review the number you entered and click the box indicating it is correct.
Click "Continue"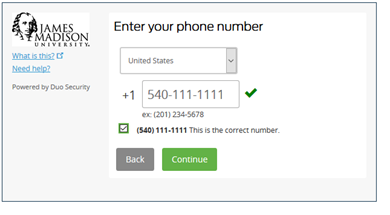 4. Choose the Type of Phone
Choose your type of device and click "Continue"
Note: If you want to add a phone that will only receive text (SMS) messages, click Other. Steps 5 and 6 will not apply.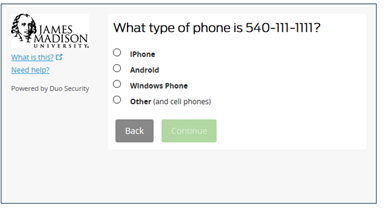 5. Install the Duo Mobile App on Your Smartphone
Why install Duo Mobile? Duo Mobile is an app that runs on your smartphone and helps you authenticate quickly and easily. Without the app, you will still be able to log in using a hardware token or SMS text message, but for the best experience, we recommend you use the Duo Mobile app.
Allow Duo Mobile to take pictures and record video in order to scan the barcode on the next screen. 
After installing the app on your phone, return to the "Install Duo Mobile" screen in your browser and click "I have Duo Mobile installed"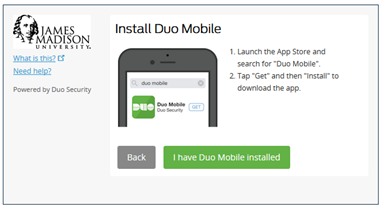 On your smartphone, open the Duo Mobile app and click the + symbol, the key icon, or the key + symbol (depending on the type of device you have)
Next, hold your phone's camera up close to your screen to scan the barcode (QR code) image with the app's built-in scanner
The phone will state "Adding Account"
NOTE: Can't scan the barcode? Click "Or, have an activation link emailed to you instead" and follow the instructions in the email.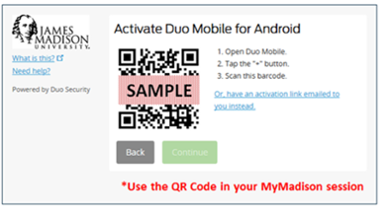 After you scan the barcode successfully, a checkmark appears on the image
Click "Continue" 
7. Enrollment Successful!
Do not logout or close your browser when you see this screen!
Click the word "here" in the message that states "Once you see the 'Enrollment Successful!' screen, click

here

to set your password."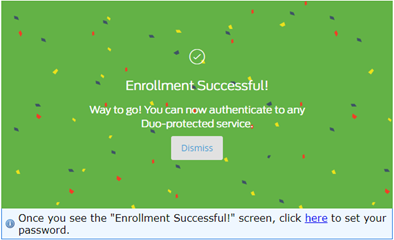 8. Configure Device Option/Add Additional Devices
If you click on "Dismiss" from the Enrollment Successful! screen, you will be presented with some options for your enrolled device or to add additional devices, such as an additional cell phone, token or tablet.   This can also be done later from the Duo screen on the MyMadison MyAccounts tab. 
If your device is the one you will use most often with Duo, you may want to enable automatic "Push" requests. Change the "When I log in:" option from "Ask me to choose an authentication method" to "Automatically send this device a Duo Push"
You can also add additional devices by clicking the "+ Add another device"
Click "Save"
Do not logout or close your browser when you see this screen!
Click the word "here" in the message that states "Once you see the "Enrollment Successful! screen, click here to set your password."
NOTE: With the automatic option enabled, Duo automatically sends an authentication request to the Duo Mobile app on your smartphone.
If at any time the automatic method is not available to you, click "Cancel" on the Duo authentication screen to select a different method.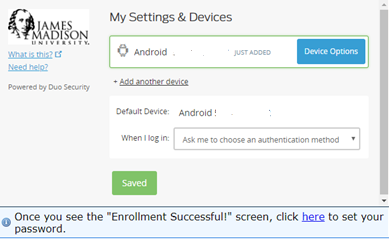 Please jot down your JMU e-ID as this will be your username to log in to most JMU systems and applications
Click "Continue" to set a password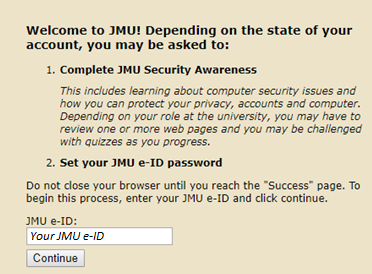 10. Choose Authentication Method
Duo will now prompt for you to authenticate with you newly enrolled device.
The easiest authentication method for a cell phone with the Duo mobile app installed is to select "Send me a Push"
Approve the Login Request on your cell phone to proceed to setting your JMU e-ID password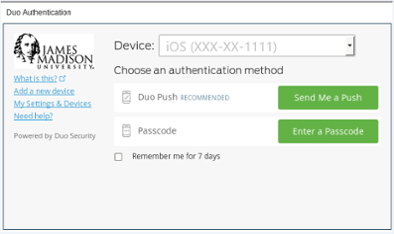 11. Password Set Successfully
You have now successful set your JMU e-ID password. 
Test your JMU e-ID and password by opening a new browser window/tab and logging in to mymadison.jmu.edu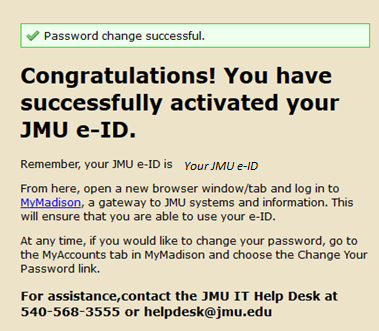 12. General Duo Information
Information Technology will continue to expand the number of applications/services behind Two-Factor Authentication (Duo).
Once enrolled in Duo, you will use your e-ID password and Duo to log in to MyMadison and to future applications and services.
Faculty and staff who do not have access to a smartphone/cell phone may receive a JMU-owned token from the Information Technology Help Desk. Stop by the IT Help Desk on the 4th floor of the Student Success Center.  Please bring  a photo ID for identity verification.
Students may purchase a YubiKey token from the JMU Bookstore CyberZone.
SSL VPN Duo Realm: Two-factor authentication to the SSL VPN service works differently with Duo and does not work with a Black realm SafeNet token.  See "SSL VPN Methods" on the SSL VPN services web page for details.
Questions or issues?  Contact the IT Help Desk at 540-568-3555, helpdesk@jmu.edu, or stop by the 4th floor of the Student Success Center