Deborah L. Warnaar, Ph.D.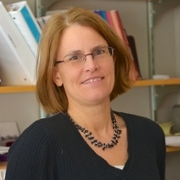 Education, Honors, Awards
JMU Distinguished Teacher in General Education, 2015-2016
National Academic Advising Association Outstanding Faculty Advisor, 2014
JMU Provost Award for Excellence in Freshman Advising, 2013
Lecturer James Madison University (1992-present)
Ph.D. Virginia Commonwealth University (1992)
B.A. Hope College (1981)
Professional Interests
Advising nearly all freshman chemistry majors, guiding their first year experience and academic choices.
Developing, directing, and teaching Science in London, a short-term study abroad program.  This program operates in even-year summers.
Innovations in the chemistry classroom environment.
Selected Recent Publications
Nicholas C. Corsepius, Thomas C. DeVore, Barbara A. Reisner, and Deborah L. Warnaar, "Using Variable Temperature Powder X-ray Diffraction To Determine the Thermal Expansion Coefficient of Solid MgO,"  J. Chem. Educ. (2007), 84, 818.
Deborah L Warnaar, "Science in London:  A laboratory for interdisciplinary learning", ACTC Trends in the Liberal Arts Core:  Cooperative Integration Between the Humanities and the Sciences, Walnut Creek CA, September 21-23, 2006.
Deborah L. Warnaar, "Models for Study Abroad:  General Education Abroad", 2005 AGLS / AIS Joint National Conference, Fairfax, VA, October 6-9, 2005.
Warnaar, D. L.; DeVore, T. C.; Reisner, B. A., Thermal decomposition of metal oxalates: Project laboratories that incorporate thermal analysis throughout the curriculum, Abstracts of Papers, 230th ACS National Meeting, Washington, DC, United States, Aug.28-Sept.1, 2005, CHED-088.