There are two types of feed styles available to you:
The "Top Stories" style feeds -
are 2/3rds wide
have 3

Article

s
have "Top Stories" headings
filter in Articles based on the first page tag
There is an advanced configuration option that allows for more than 3 Articles to appear in the feed.
The "Tabbed" style - supports listing Events along with Articles and should only be used when you have year-round Events maintained in Cascade; otherwise, the Events tab will be empty during certain times of the year.
Option 1 - "Top Stories" style feeds
Add a tag to the page (if you have more than one tag, this feed will only use the first tag)
In a Region on your page, specify this top-stories block
Specify the format
A feed with three Articles will appear in the Region you specified using the first tag on the page to find the Articles.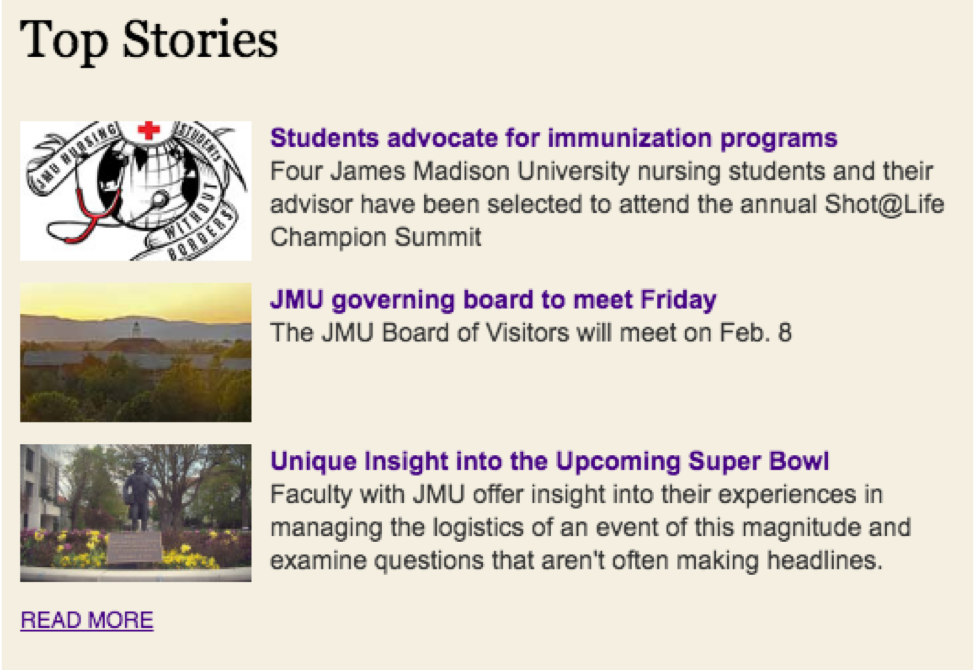 PRO-TIP: This advanced option configures the "Top Stories" feed to allow for more than 3 Articles or a different width than 2/3rds:
Copy top-stories folder into your website's appropriate "_content" folder. Copying the FOLDER preserves the relative links between the two files in the folder; don't copy these files individually.
Go to the page that you want to host the feed
In a

Region

on your page, select the Widget block
Specify the Format
Click Submit
Result: Allows configuration of feed width and Article number
To allow a Top Stories feed to use more than just the first page tag, specify format.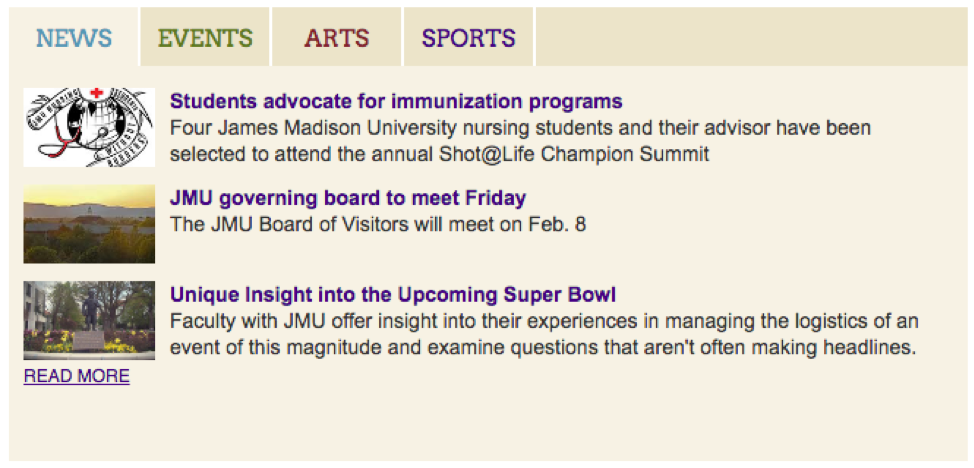 Copy the tabbed feed folder to your website's appropriate "_content" folder

Edit the "

tabbed-feed-widget

" block

Choose the width you would like your feed to be (⅔ and ½ are recommended)

Choose whether or not you want the feed to be a fixed height (example: the news feed on the 

JMU homepage

). If you choose "No" its height will depend on how many articles and/or events you have in your feeds.

Edit the "

tabbed-feed-article-config

" block

Change the "_tags/JMU Home" to your tag
Add more tags if needed
Change the "Number to display" to a value you want. The recommended value for "Fixed Height = Yes" feeds is 3.

Edit the "

tabbed-feed-events-config

" block

Change the "_tags/JMU Home" to your tag
Add more tags if needed

Choose format