Content Creation: Page Creation
"Content" Tab of a Page
On a page, click Edit and select the "Content" tab: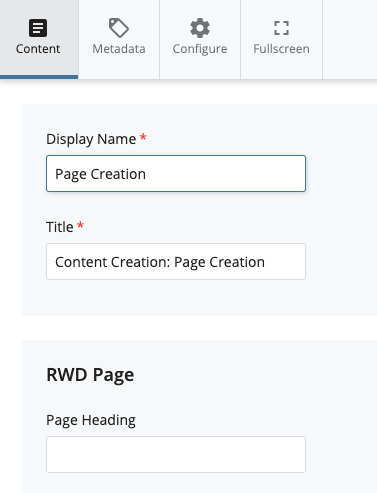 Display Name - If you are using Breadcrumbs or if your website has a Sitemap then you may want to specify a Display Name that is shorter than the "Title", as in the example above.  In that example, having the extra "Content Creation" text in a breadcrumb will take up extra space, and if the breadcrumbs are done well, the "Content Creation" context will already be provided in a previous breadcrumb link.  As for links in the Sitemap, having many redundant "Content Creation:" entries will clutter up the listing.
Title - Choose a descriptive title for the page. The "Title" and "Display Name" should only be identical if you have Breadcrumbs for your pages, or if your website has a Sitemap.  It is important that the Title of the page be descriptive and unique, since the title of the page will be displayed in Google's search results and on social media like Facebook. For example, rather than a generic "Forms" or "Contact Us," use a more descriptive headline such as "Human Resources Student Employment Forms" or "Contact the Human Resources Staff." 


GOOD:

"Apply for a Perkins Loan"
"About the Human Resources Department"

BAD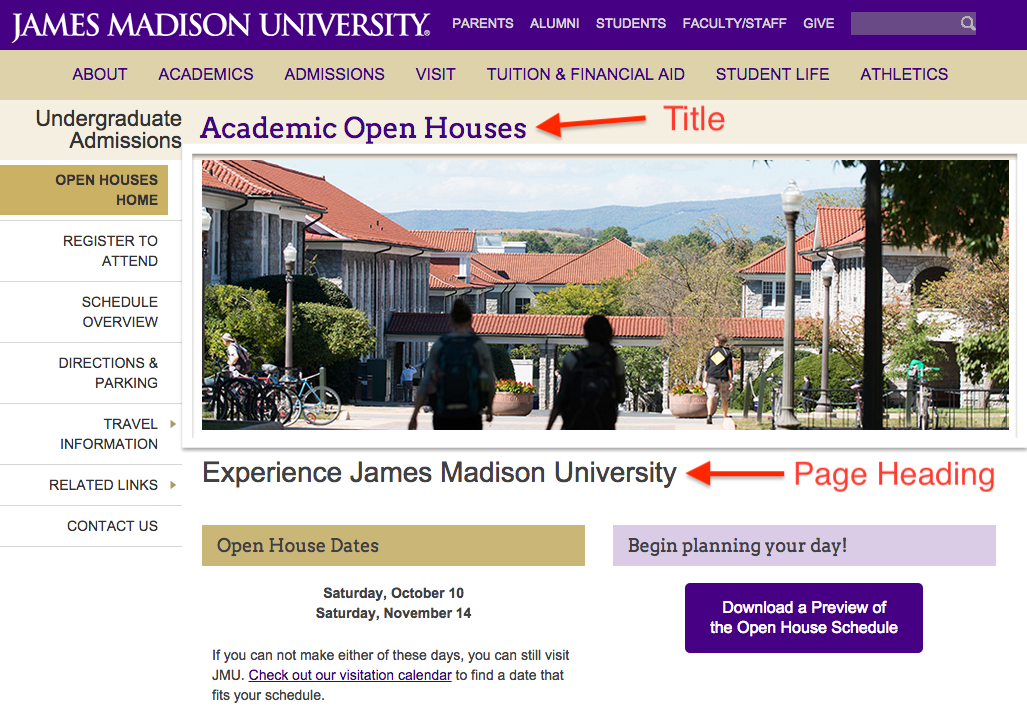 Feature images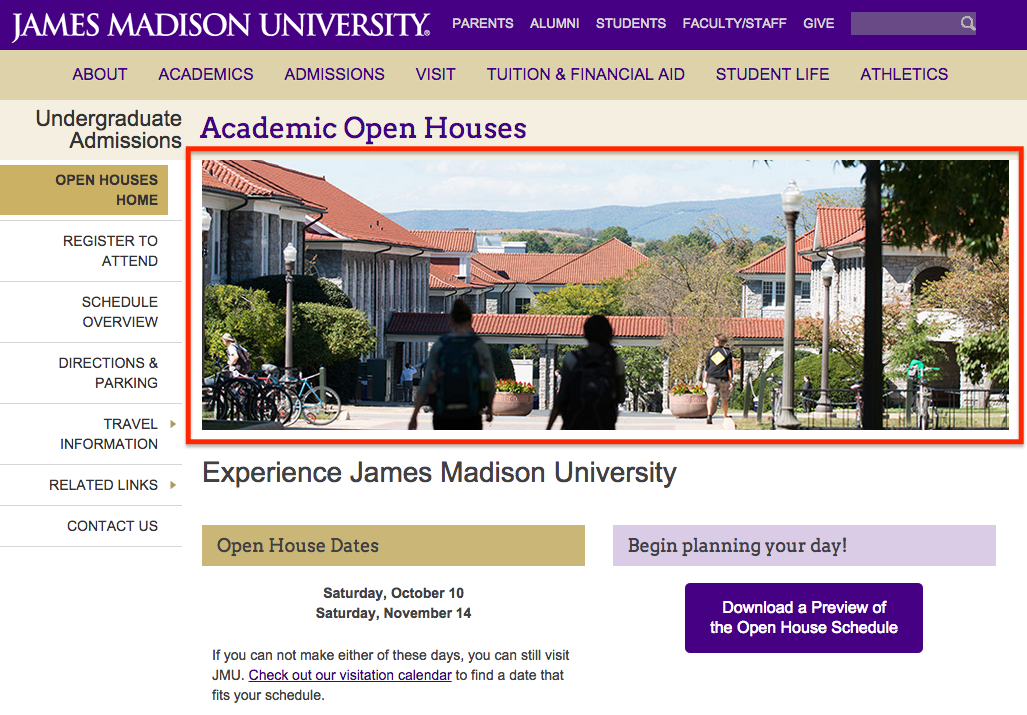 Feature images are full-width by default; some templates may have special fields for feature images. Find ready-to-use images here: _images/_features
Follow these dimensions for using other images: 
Resolution must be 72dpi

Recommended file format is .jpg with quality of 8
 On a page, click Edit
Check the Yes box under "Use a feature image?"

Click Choose File

Upload an image that is 820px wide by 273px high or browse

_images/_features

Click Ok and submit changes
If there is a slideshow on the page, you will have to remove the slideshow to display the feature image. If you want a slideshow, see adding and editing Slideshows. 


Adding go to top icon
In the Edit view of a page, select Yes to apply a "back to top icon" to long pages
NOTE: This icon appears automatically on long pages at mobile screen sizes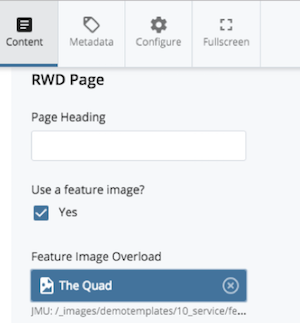 Adding in-page footers
In-page footers display departmental information on a page, and are also referred to as departmental footers. Every page will also have a global header and global footer that displays University information.
In the Edit view of a page, check "Use in-page-footer"
The gray footer containing your contact information will appear at the bottom of the page:

If an in-page footer is displaying incorrect or generic information, contact itweb@jmu.edu for assistance.



Once you have the page set up, there are two ways for you to add content: